Zero-X3 (Brandon Balke)
Jump to navigation
Jump to search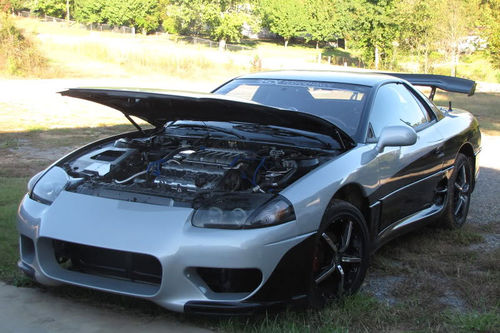 Ride of the Month Submission 3000GT/Stealth International September 2010
Ride of the Month Submission 3000GT/Stealth International November 2009
Performance
Underdrive pully kit
Stage 2 clutch
CryO2 Kit
Custom exhaust with electric cutout
VR4 Injectors
Grounding kit THANKS TO Duttch
Voltage stabilizer
Polished heads
Air intake
high flow radiator
Visual
99 Novara front and rear bumper.
Finishing custom sides for Cianci
Bad boys paint job
koing rims
nexan z tires
99 turn signals
carbon fiber wing
6 million color led kits with wheel light
autoloc smoke screen kit
cryO2 purge kit
custom box with 2 10in orion subs
apc seats
harness bar
camlock seat belts
cianci pillar pod
autometer tach.
autometer a/f
autometer egt
autometer volt
AEM oil pressure
AEM water temp
AEM nos psi gauge
3sx polished intake
3sx polished valve covers
3sx polished fluid covers
3sx polish spark plug cover
Audio
7in lcd touchscreen with dvd mp4 gps with sd car reader
2 10 orion subs
custom box
orion 2000 watt amp
yellow top bat.
capacitor
highs jl audio 6"
mids jl audio 6x9
12" lcd tv
7" lcd tv
My Story
As most of you know my car started out with no trans or engine. And I bought it for $1000.00 dollars. Here it is then: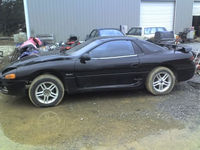 After I bought the car I was in a car wreck that prevented me from doing anything to the car for over a year and a half. I was rear ended by a lady at a stop light she was doing 70 at the time of impact. This is just one image I will post before surgery the rest my wife would have a fit over me posting them.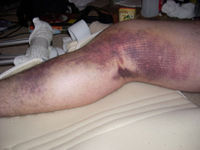 So finally after I was starting to move around more I got to work on the car.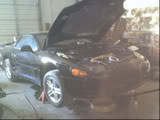 After months of therapy longer than it should have been. But that was my fault I could not stop working on the car. I was able to make it to my first NG09. Wow I never had so much fun with random people I never met.
About a month after that I could really start moving around and decide it was time to really put some time and money into her.
More than anything I owe this car to 3si. You guys have helped with this car on many many occasions. And help me keep my sanity while I was laid off in bed. I have met new friends here. And times that can never be replaced.
I would like to give a special thanks to the people that helped me out along the way: Duttch, Stealthee, VR3.9, SLguy, green-lantern, SpyderGirl for the laughs at NG09, Alan and Lori (for the help on getting to NG09 after my GPS went out). LMAO And last but not least kywhitelightning for the ride around Memphis after my car spun a bearing hes a stand up guy.