Kywhitelightning (Jeff Davis)
Jump to navigation
Jump to search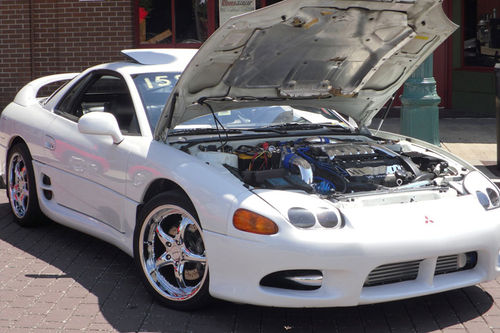 3SI Member #455
Body
Suspension and Wheels
18" MAAS M21's
Kuhmo Ecsta SPT's
KSport coilovers
3SX adjustable rear control arms
Electronics
Blitz FATT
Blitz DSBC
MAF Translator Gen 2 w/ 3" GM MAF
HKS DLI
Snow Performance VC-100
Snow Performance High Flow Pump
Walbro 255
Innovative LC-1 WB controller w/ DB guage
Autometer EGT guage
Interior
Engine
IPS Level 1 19T's
Dejon Intake pipes w/ K&N cone filters
CX Racing FMIC kit
Tial 50mm BOV
Aeromotive A1000 AFPR
PTE 550cc injectors
Ebay precat eliminators
3SX shorty 3" DP
Maximal Performance 3" TP
IPS 3" Quad Tip exhaust
2 375ml injectors for methanol
IPS Street Heads
3SX aluminum LW crank pulley
RPS Street Max clutch & PP
RPS Segmented FW
Mishimoto aluminum radiator
Audio
2 Orion Cobalt 12's
All RF highs
Old school RF Punch 100 driving the subs
Newer school RF Punch 200 driving the highs
JVC deck controlling it all
My Story
In 1998, my graduation year I went to the local Mitsu dealer and wanted to test drive the new Eclipse GSX. I had an older Eclipse GS that I loved to death but was ready for an upgrade. While at the dealership, I saw a white VR-4 spinning on the pedastal on the other side of the lot and fell in love. Knowing I couldn't afford it I didn't pursued it but it then became my "Dream car" right next to a Corvette.
Eight years later I finally got my white 1998 VR-4. Completely bone stock, and leaking some oil I drove 4 hours to pick her up. I fixed the leaks and got her in tip top shape while studying the information here on 3SI for the next 2 years. By then, I had a budget, build plan, a HP goal, and track goals.
In October 2008 the teardown began. My build goal was 400-500WHP, be completely streetable without losing any creature comforts, and run 11.5 in the 1/4 mile. Phase one(see what she can do) mods took me 3 months to install while working full time and going to college full time. She at dynoed 460WHP. I was quite pleased to say the least but, I just wasn't finished yet. Phase two(more power) began the summer of 2009 and produced 594WHP. No track times since phase two, but the NG is rapidly approaching. I am beside myself with this and now it's time to put my focus elsewhere. Phase three(total beautification) is put on hold until after my family and I move to Georgia in 2011. I still have a full weight, full interior car, with great street demeaner, lots of power, and all the factory installed creature comforts. I have never done anything like this before and thanks the knowledge gained here I built her to what she is today. She is my pride and joy. Thanks for reading.
Jeff