DuTTch (Mark Gunter)
Jump to navigation
Jump to search
2008 Ride of the Year

3000GT/Stealth International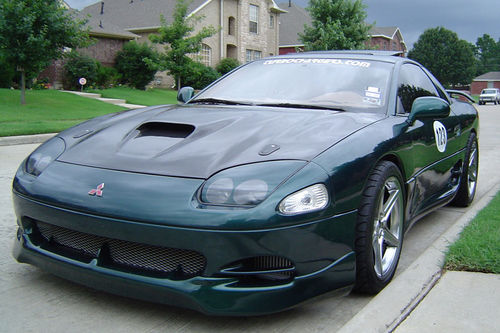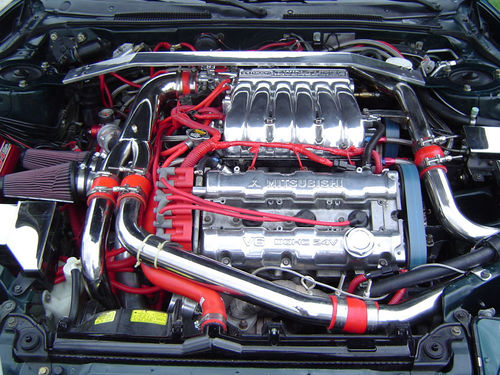 3SI Member #1305
Engine:
AMS Stage Three 0.03 Overbored Ported And Polished Heads With 1mm Oversized Steel Valves
And 99 Lifters With Ross 9:1 Pistons And Pauter Rods
Turbochargers Phantom Turbos With 3SX SS Oil Feed And Return Lines
SBC Dxd Full Face Clutch W/ Ur Light Weight Flywheel
3SX Light Weight Pulley
Hot Wired Walbro 255 High Pressure Fuel Pump
PTE 680cc Fuel Injectors
Tanabe "Hyper Medallion" Dual Exit Catback Exhaust With 4.5"Tips
Stillen Downpipe
DSM SMIC's
Cometic Tri Ply Metal Head Gaskets
ARP Main And Head Studs
GTPro Fuel Rails, 6An Showkiller Dual Feed Ss Fuel Lines With Aeromotive Afpr And Gauge
Kevlar Timing Belt
Dr Polished High Spring Adjustable 14Psi Waste Gate Actuators
Dejon Hyper Silver Intake Runners With K&N Filters
NGK Copper Sparkplugs, Msd Ignition Wires And Coils
EGR Vacuum Hose Reduction And Block Off Plates
Greddy Type R Bov Open Loop
Maximal Performance Solid Motormounts 4X
Earl Oil Cooler With 8An Ss Braided Lines
Samco Red Radiator Hoses
DN Rear Pre-Cat Eliminator
IPS Polished Throttle Body With Adamvr4 Spring Mod
DN Performance SS Intercooler Piping
3SX Krank Vent Kit
Electronics:
HKS EVC II EBC
Apexi Turbo Timer
95 TT ECU With Palm M515 With Mirage Corp. Pocket Logger Hybrid Software
XD1 & LC1 Wideband O2 Sensor And Gauge
Greddy Ultimate Emanage With Boomslang Harnass
Greddy 60mm Oil Temp Gauge With Peak Hold
Greddy 60mm Egt With Peak Hold
Greddy 60mm Coolant Temp Gauge With Peak Hold
Greddy 60mm Oil Pressure Gauge
Greddy 60mm Boost Gauge With Peak Hold
MSD DIS 4 Ignition Amplifier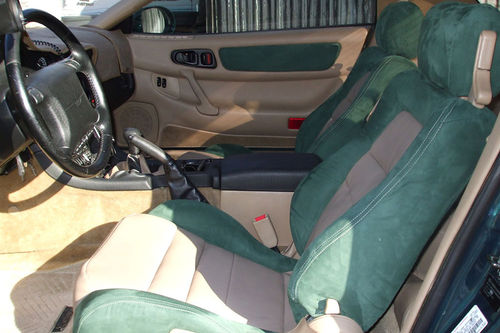 Show:
Charcool Window Tint
Edgavi Custom Designed Tan/Black Shift Boot
Custom Grill With Green Neon Glow Stick
3SX Clear Front Blinkers
3SX Performance Polished "VR4" Spark Plug Cover
GTPro Polished Plenum
3SX Polished Front And Rear Valve Cover
3SX Polished Thermostat Housing
Custom One Of 3S Kind Chrome Door Handles
Chrome Dual Trumpet Horn
Red Vacuum Hosing And Red Wiring Loom
Ultimate Performance Mirror SS Dress Up Kit
Ultimate Performance VR4 Mirror Ss Door Sill
Suspension And Wheels:
Apple Candy Green Intrax Lowering Springs
3SX Adjustable Control Arms
Saner Front Sway Bar
Hyper Silver Mustang Saleen Wheels 18X9 With Bfgoodridge G-Force Kdw Nt 18 X 265 X 35
Polished Tec Front Strut Bar And Rear Cusco Strut Bar
Cross Drilled Slotted Rotors With Ss Braided Lines And Porterfield Brake Pads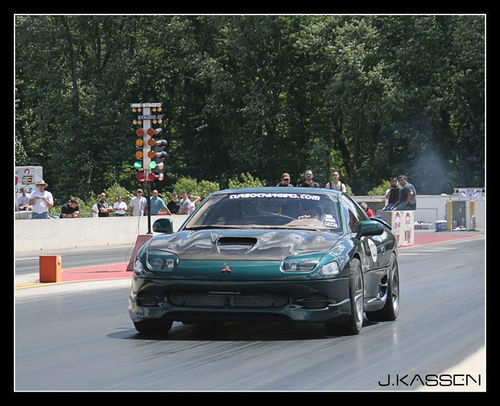 Body:
99 Sail Panels
Bomex Front Lip
Deft Spyder 575 CF Hood With Aero Catch Hood Latches
3SX Hood Struts
Other:
Dual A-Pillar Pod
Red Grounding Wire Kit
SSS Short Shifter
Original Tan Dashmat
Sylvana "Silverstar" 5200K Low Beams 55W
Pursuit Car Alarm
Aprolock Kill Switch
Header Thermal Wrap
Alumnium Battery Box In Rear With Optima Red Top Battery
Maximal Performance 6-Speed Transfercase Bracket
Custom Front Seat Coverings
Liquids:
Pennzoil Synchromesh Tranny Fluid
Mobil 1 Synthetic 15W-50 Motor Oil And Mobil 1 Oil Filter
Motul Break Oil
Not Installed:
Remote Starter
Road Boy Green Fog Lights
Special Oil Cooler Ram Air Mod
eBay SS Front Header
Water Methanol Injection
3SX Radiator
Flexalite Fans
Cxracing Fmic With Piping
K-Sport Adjustable Coil Over Suspension
Denso Supra Fuel Pump
Dual Walbro Fuel Pump Set Up
Wishlist:
IOS 272 Camshafts w/ High Rev Valve Springs
Two Piece CF Drive Shaft
Grayhaze Special Almost Coil Less Ignition Kit
IPS TD05 E16G Complete Turbo Kit
UR Adjustable Cam Gears
Story,
Bought the VR4 locally in Frisco Texas after a year of searching, the car had 78k miles on it and was bone stock and in great shape, the owner said he sold it because his son was turning 16 and he did not want him to have the car so he could kill himself (smart thinking!)-good for me lol. You always wonder why a person sells a car, do they know there is something wrong with it? That thinking process must have jinxed it. The AC compressor went out a few days later, where do you go in a situation like that, the Mitsu dealer and so my wallet was already a $1000 bucks lighter. Great start right! Then replacing two Michelin tires as one had a bubble on it was another $600 and the sunroof had to be repaired, those last two things I knew about when I bought the car. But that was pretty much the beginning of endless pumping of $$$$ into the car.
A few weeks of owner ship I drove home and came across another white VR4 owned by Gordon Totty here in Lewisville my home town, he followed me home and he told me all about all that info out there on the world wide web for these cars specifically 3si.org , oh boy I wish I would have never done that, thanks Gordon! That was the beginning of the end. Now the addiction kicked in. Went to our first meet and met this guy from euless Phil Hosner (show killer) , turned out that he thought he was the duke from euless or something, he drove his car over a curb from one parking lot into another 30 feet thru the air and totaled it, wow these meets are exciting. Then the modding started and it never stopped. When I saw the cars from showkiller and Edgavi, I am like wow that looks cool and its fast. It all started with a K&N FIPK, then the first TX 3S gathering came along and I remember there was a contest , who had the most modifications on their car, and then Phil and Eddie started writing and they never stopped it was one long list. That day I made a vow I need more mods then them together lol. I am getting there for sure!
In the process a few things went wrong of course, which VR4 doesn't! First I had an oil change done by the local mitsu dealer and the mechanic decided to run the engine without any oil, oopsie!! He actually admitted it and the dealer got me a brand new short block- not a bad deal for a car that had about 90k on it at that time.
The at some point in time I got my new phantoms turbos and unfortunately I hadn't turned down the boost enough and was not tuned at all and I got challenged by a trans-am on a local highway going to a local 3S meet with my supporting wife behind me, and yup blew up the engine. Things only got worse from there. I asked Nissan next to my work for a favor and they pulled the engine, I had it rebuild by AMS in Fort Worth and it went back in. As the Nissan mechanic was turning the engine over to get the oil flowing throughout the engine, 1) the engine seized 2) the fuel rails were leaking and got into the starter and set the engine bay on fire, yeaks. Finally Nissan came through and paid for the rebuild and free labor to reassemble it again. This process took about 11 months. And it rose from the ashes and made a nice recovery I think. In that process I had a few forced mods installed of course hehe! We love those forced mods lol. It got proven 400 awhp at 14.7psi with a goal of 500awhp. I am proud of the car and hope to have it for a long time to come. I want to thank my wife (SpyderGirl) for all her support and getting just as addicted to 3S as we now together have a 1996 VR4(speed) a 1996 Spyder SL(show) and 1994 NA(daily driving). Special thanks to Phil Hosner (show killer) and Grayson (Grayhaze) and various other people for all the work they have done on my car.
Awards And Special Mentions:
2004 TX Gathering 2nd Place Best Of Show
2005 OK Gathering 2nd Place Best Of Show
2007 TX Gathering 1st Place Most Awhp
2007 TX Gathering 3rd Place Fastest Tt
2007 TX Gathering 3rd Place Best Of Show
2007 NG 4Th Place 2nd Generation Car Show
2007 NG Final Four Drag Races Unlimited Class
Major 3S Gatherings Attended:
National Gathering In 2003, 2004, 2005, 2006 & 2007
Texas Gathering In 2003, 2004, 2005, 2006 & 2007
Oklahoma 3S Gathering 2005, 2006 & 2007
Rocky Mountain Gathering 2006
Pictures: