IPD (ImperfectDarkness)
Jump to navigation
Jump to search
The Tall Tale: One pitiful 1995 3000GT Base
[
edit
]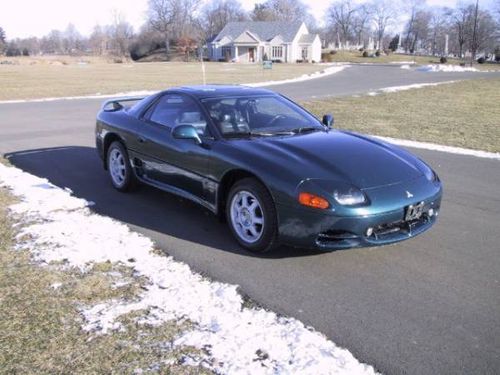 Ride of the Month Submission 3000GT/Stealth International May 2010
Probably the most asinine project ever conceived. Greater success would probably be achieved by mixing Ray P's sweat with IPO's jizz & byebyesti's tears and then uttering wiccan chants over the results. In any case, here she is, the "Mean Machine" (I know she's not actually olive green). :(
It all started...ah, who am I kidding? You don't really give a shit, and my car is just as much of a piece of crap as my opinions are; so this is probably the only time she'll be up for ROTM for a long, long time. (It'll spare you from having to look at my fugly pos) Oh, and vote for "Tool-man"; his car and personality both outclass me. Or vote for "TheOmniscientRT". Anyone but me. Anyhow, I have to make it look like I'm making an attempt with this--so in that light--ON WITH THE MODS!
Body:
amazingly marbleized, fading roof paint (and corresponding "I've been intending to paint the car for 6 years" MAACO re-paint job)
3g front bumper swap with previous owner's "i gave up sanding after i started in the most obvious place possible" mod
half-assed 2g r/t rear bumper conversion held on by only about 1/2 the intended mount bolts
completely useless 4-light reverse mod (aka: wannabee avenger mod)
twice broken antenna mod & matching nearly-useless rear defogger
the "who knew when the ad said 'sunroof' it wasn't a factory one" mod
uber-cheap widebody (aka rubber weatherstrip applied to fenders--well, 3 of them anyway)
"I wonder how long an unfinished fiberglass hood can withstand the elements before it disintegrates" mod
dirty-deal 99 headlights pilfered from my old 99 base (and swapped with my 95 lights after covering them with a crappy black vinyl)
totally-useless but still somehow sought-after mud-flaps
"I'm completely, flamingly gay" purple license plate mod
4-year-since-last-inspection peeling/wearing Ziebart Undercoating
"My car literally took a shit in Shooter83's garage" Great-Stuff mod
"screw it, it's not painted, just clear-coat those rust spots" mod
rattle-can & overspray mod for hood, cowl cover & wiper arms
"the hood looks better with bulges" low-pressure shock mod
"ninja" fog light mod (aka: let's just leave them in place when we swap the bumper)
40-MPH-box-flying-across-parking-lot rear fender mod
Badly-peeling 3SX sail-panel decals
Brakes, Suspension and Wheels:
"negative camber from worn strut mounts is so bad my tires are nearly shot" mod
ultra-expensive wheels with curb-rash mod & cheap e-bay center-cap decal (turns out I wanted wider wheels, and three-spokes)
"upon closer inspection, these tires are too narrow" potenza 960as 275/35r18's
"you can't be serious" 2g n/a front brakes & 2g vr4 rear brakes
"think-fast" mod (aka worn tie-rod ends making the car randomly drift left or right)
"It's ok that I didn't grease these control arms, I can still make the 8-hour trek home" mod
"F-it, it's too much of a PITA to add to this conversion & I'm already flat broke" AWS delete mod
Drivetrain
"Should have started with a vr4" AWD conversion
"Are you completely high, or just stupid? Or maybe you just can't drive stick!" W4A33 transmission swap
"I'm not as girthy" driveshaft (which had to be over-nighted from japan...sort of)
"I'll never have any good LSD or TORSEN components" differential (could be said for the driveshaft too...)
"one good thing done right" transmission cooler & magnetic in-line filter
Electronics:
1g TT ECU miraculously wired not to throw CEL due to lack of O2 sensors
"not a real driver/car-guy" TCU wired for compatibility with ECU
"I asked 3sx for a black gauge in my car to match the stock gauges; they gave me a white one instead" autometer boost gauge mod
stick-on velcro doesn't really hold this in place SAFC2 glovebox mod
"giant bird's nest of wire" r/t blinker box swap
"thank-god it's an ATX" remote start & "these keys actually used to work in the doors?!!???" keyless entry (aka: when the battery dies, crawl in through the hatch)
Big-Lots special DC/AC power inverter
Interior:
"the velcro works, but the adhesive won't work on armor-all" dash-mat
"maybe if we just put the leather cover over the cloth headrest, no one will notice" mod
"why not just go aftermarket instead?" 3g steering wheel swap
"why bother? why not just convert it to MTX?" ATX shifter swap (with newly non-functioning 'OD OFF' light)
"you actually put Auto Zone pedals in your car?" mod
cheapskate-redneck version of corrugated-steel floor mats
clear covers for door lights (nothing bad to say about this)
"Weevil's offerings aren't quite what I'd hoped for" DIN face-plate
"let's do this the easy way & just pull the wires through the console" cruise-switch relocation mod
"they put condoms on the interior lights? GROSS! let's get rid of them!" mod
"hockey-puck" hard aftermarket leather seats with beautiful "cracking" mod (front) and epic-fade mod (rear)
"it only 'looks' like these radio controls work" mod
"did you know that the trunk cover can come completely un-stitched?" mod
"somehow, i doubt this will work over the rear brakes" unmodded spare-tire
"maybe no-one will notice it's empty" 2-gauge pod with only 1 gauge mod
Zoboomafoo
Engine:
"I paid more $$$ than I care to admit, and all I got were a cast crank & 9b's" VR4 engine swap
Lots of boring, run-of-the-mill supporting mods for the above (walbro, resistors, SAFC2, plug wires, ptu, 2" rad, 99 lifters, etc)
"well at least that's good" VSS replacement & 99 lifters
"I'm such a noob I honestly didn't know how to install these" shaved/polished valve cover
"Well...at least it's 'kinda' polished" plenum" (see: "installation" on line above)
"I really hope nobody remembers who AAM is" spark-plug plate
built-in mosquito fogger (aka smoking rear turbo mod)
"a pressure washer operated by Hercules himself could not clean the wax off your engine bay" mod
Exhaust
e-bay downpipe combined with e-bay flex-pipe (surprisingly cheap, actually)
"I wish I a cat, 2 resonators, and some sound deadener" IPS 3" single-shot
Audio:
"someone threw a fit & broke the old stereo" mod (aka: new head unit)
ghetto-rigged door speaker covers (aka: I'm trying too hard to be creative)
long-since-discontinued JBL-220-GTO dash speakers
"probably the best mod on the car" pioneer TS-D 6x9" & 6.5" speaker swap
"wish I'd replaced that" amplifier delete"
-inperfectdarkness -- Member Number? Not a damned clue!
[
edit
]
Real Name? I don't like to publish it; OPSEC reasons. T.S. will do. (Known Aliases: imperfectdarkness, assclown, ATX fanboi, raving lunatic, dangerously unintelligent advice-giver, limp-wrist, and the ORIGINAL "smashed-thumb")
Since I'm already making you suffer through my abominably painful ROTM submission, I might as well force you to hunt for the "NOW" pics and actually click on links. Yes, that's right, the pictures below are the BEFORE pics. Since I'm limited on total number of pictures, I'll just put these pics up here--including "EPIC ROAD RASH!!!" (We'll see how many people only give this entry a cursory glance, see a stock base, and immediately vote for the competition.) And yes I'm too stupid to figure out how to upload and left/right pictures--so these are just HTML links from the gallery.
...and the rest...
http://www.3si.org/gallery/showgallery.php?cat=586

Links
Special thanks to Evan (Shooter83) for these awesome threads, all the pics, and vids.
My Personal Website:
Let's just chalk this up to OPSEC