TheOmniscientRT (Tony Briceno)
Jump to navigation
Jump to search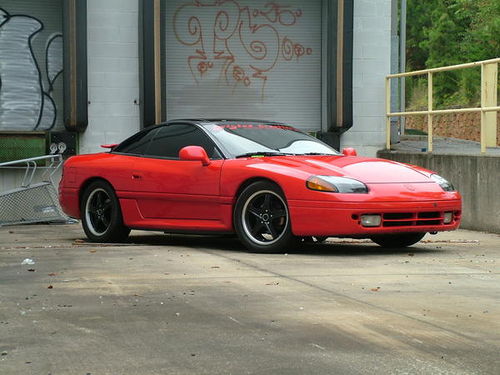 Ride of the Month Submission 3000GT/Stealth International May 2010
Ride of the Month Submission 3000GT/Stealth International March 2009
Car's Name = The Red Stealth (clever huh)
1994 Dodge Stealth SOHC ATX
Firestorm Red with Black Top and MoonRoof
3rd owner, Purchased January 18th 2003
136K on odom then, 203K now
Paid for in full and all mods and maint. paid for by me
All work preformed by me
Fastest recorded time; 16.2 with 2 blown headgaskets spewing water all the way down the track at NG '06
Last weighed in at 3100lbs with driver and no stereo
Won 15 trophies from various shows, races and meets between '03 and '05, including;

1st in class at a random show
Quick 8 NG '05 Non Power adder FWD
2nd in class at Nopi Nationals
The Story
[
edit
]
3SI Member #2211
Where do do I begin?!? So much has happened its difficult to remember it all. So lets start at the begining. I was born on Apri . . . Just kidding!
The obsession started long before I ever knew it. Many years ago, around '94 or '95, the parents decided to go car shoppping and I was drug along. While cruising through a Dodge stealership I managed to break my stare from the Viper in the showroom long enough to see a seemingly unimportant teal 2nd gen Stealth R/T parked in the lot. All I could see was the backend and it was all I needed to see. At that moment I remember saying to myself "I'm gonna own one of those one day". 10 mins later I had forgotten about the car completely. A couple years later I find myself touring Arlington Cemetry with my scout troop and see the most beautiful cars I had ever laid eyes on. A 2nd bright red 3000GT VR-4. Couple days later I had forgotten about it, lol.
Skip forward a few years and the car bug bites me and I find that my '89 Pontiac Gran Prix just is not enough for my 19 year old right foot. So the search begins. With the first install meant of The Fast and The Furious and a recent trip to the Nopi Nationals fresh in my mind, I want a Supra(lol) or a 3000GT(cause heard they are kinda fast). So we head to the big city and hit the strip to find one! And we look. And we look. And nothing. LOL. Then we hit the gimmicky car lot that you see on TV, you know the one with the old guy in a jumpsuit and fake tan with an old dog and a catch phrase. Yep thats the one. We're dealin'!! Anyway, they happen to have a 1994 Firestorm Red Dodge Stealth SOHC ATX with ugly crome 16" rims (which I thought were cool, lol) and bald tires all the way around. Well I wasn't looking for a Stealth, but I knew they were like a 3000GT so it didn't take much for the Arminain (lol, told you this was a gimmicky lot) sales guy and my mom to talk me into test driving it. That's it, I had to have it, but they were asking $800 more then I had, so they knocked down the price (sucker! me not them, cause I later found out how sorry the SOHC was, lol) The next day I was back with a cashiers check valued at my entire savings and my dad to look the car over. 3 to 4 hours later she was mine and my life would be forever altered.
Less than a month later I found myself here on 3SI and a major buzz kill as I found out how low I was on the bottom of the totem pole of 3S's. Not only did I find out I over paid for a slow car, my username didn't even fit! LOL. Me being the Anticonforminty person that I am said screw you I like my SOHC and started sinking every penny I could into. I didnt know jack about cars but could afford to pay some one to work on my so I started learning fast. The valve stem seals started to go and I was pushed into the first major work. I did a full head rebuild complete with a valve job, port matching, and mild polish. It took me two weeks! But I did by myself and the car ran, and ran good! But I made a rookie mistake as I did it right before driving to Atlanta and didn't top of the coolant properly. Air in the hoses, driving like a fool, and 300 miles from home I blew a headgasket. Rookie mistake number 2 came when I replaced the gasket and didn't resurface the heads, it came back to haunt me. The car 'mysteriously' starts overheating and at random times throughtout the next year, more to come on this later.
In December of '05 the brakes started going out due to a loose brakline rubbing the inside wheel weight. I rear ended a mid '90's Caravan on the way to a meet, bungie-corded the hood and kept on going. A month of searching for a glass headlight yeilded nothing so warmed up the plastic an got the '99's to go with the '99 bumper and Cianci Viper Cowl hood. Since the plastic was warm I decided to melt it and bought some Corbeau CR-1's from IPO who was about to end the year long sale on them.
NG '06 starts looming over me and I have to finish my frontend fixes. And on one of my trips to 3SX to get parts it overheats 20mins from their shop and I keep going. 2 mins from the shop it starts makin a funny noise, a block from the shop the waterpump fails and the engine stalls. I coast to the parking lot with a pushing hand from Eric, Josh, and Daniel. Grabbed a waterpump towed it home and started a 2 week long rampage to get ready for NG. I start it up the day I leave for NG and it runs, so I hit the road at about midnight, 6 hrs late. It takes me about 17 hrs to get to Michigan, instead of 10hrs. Both headgaskets are blown! I compete in all 3 events, taking first in the braket races, throw out my shoulder in the Auto-X (still hurts 2 years later) and change the headgasket on the back bank in the hotel parking lot in 6 hours, should have changed the front one too. Drove it home that way and it only took about 24 hrs. BRG was a month away at this point and I made the stupidest mistake to date. Instead of bumming rides for a week like when I redid the heads I bought a second car to drive while it was down. I drove the Stealth to BRG for one last outing before I tore into it.
She sat untouched for 10 month after BRG. Then I worked like a mad man and built an engine from oilpan to throttlebody and finally got it running the day I leave for NG '07. The car runs beautifully and sounded better than ever. I pack the car and head for Michigan again. 5 miles later, no oil pressure. . . I parked her behind a friends business and swapped cars and left. NG '08 came and went and she still rested behind the building incuring a broken back glass from a drunk at a neighboring hotel.
As I first started writing this(august of 2008) she still sat motionless behind that building. I started typing this when I did because I was unsure of when my paid status would end. It took 6 months for me to get the car up and running and I entered in the March of '09 ROTM. I lost cause everyone thought the car was dead, lol, and I got mad. Oh well. Fast forward to another year later and the car is still running, still has no front end, and still has no interior.
So lets enter again.
Outside

[

edit

]

The Engine Bay

[

edit

]

Interior:

Corbeau CR-1 Racing Seats Red on black
Corbeau 2" 5 point Quick release harness
Custom Rams Head Gauges
modified shifter
black interior, pillars up

Audio:

Pioneer Headunit
Pioneer 6x9 speakers
Pioneer 12" subs
Pioneer 760W amps
Boss crossover
various Stinger audio connectors and parts

Electronics:

IPT ATX boost controller
Modified desktop PC w/ 15" monitor
AutoPage alarm w/ remote start and 2-way pager
push button ignition
700w power inverter

'Body:

'99 bumper, modified
3SX 2 piece lip for '99 bumper
modified 2nd gen headlights(still not finished)
Cianci Viper Cowl Hood, modifed
reverse mounted hood, Viper style
Custom Fiberglass fenders
5% window tint
7000k HID's
heated side mirrors from R/T

Suspension, Wheels and Brakes:

17"x7" Koing Regin's
245/40/17 Toyo Proxies4
Ground Control Coilovers
Brembo rotors, slotted and dimpled
StainlessSteel Brakelines
1"Front 7/8"Rear Sway Bars

Proformance:

5angle valve job
port matched heads and intake
mild polish heads/intake & bows blended
DOHC throttle body
e2k plenum spacer
3SX Long Tube Headers, 1st set ever
3SX Lightweight Crank Pulley
Cylinder bored .030 over
balanced and polished crank
CIA w/ Green Filter
Translab shiftkit and modified Valvebody
transmission oil cooler
Custom catback exhaust w/ AeroTurbine Muffler
Denso Iridium Sparkplugs
8mm Accel Sparkplug wires

Other

e2k Poly motor mounts
200amp Iraggi Alternator
Powder coated engine from oil pan to plenum
Custom radiator overflow can
removed A/C and Power Steering componets
crome oil cap
Magna Cool radiator lines
Random Bolts and nuts replaced with StainlessSteel(some allenheads)
Not yet Installed or Finished
[
edit
]
Custom Stereo Box
Custom Fiberglass Console
Modified 1stgen dash to hold 15" LCD monitor
RFID keyless ignition and door locks
reaview camera
R/T sail panels
Aerocatch hoodpins
lightweight camgears
numerous red leds and neons(I know you think they are gay but I like them)
Digital Climate control(I know the A/C's gone but those knobs are gay)
Final Thoughts
[
edit
]
Looking back over the past 6+ years that I have been apart of the 3S world, I can't help but smile. I have made many good friends, learned many great things, discovered new talents, smilied, cried, bled, cussed, been suprised, and left speechless. I find now that 3SI is not the community it once was and i worry for the future of it, but things are looking up. It makes me wonder what it will be like in the next few years, who will I have to share my joy of these priceless gems we call cars with. Only time will tell. At least there are still places inside 3SI where you can retreat to and hide from some of the idiots and douches. I had been putting this off for about a year because I wanted the car finished first. Now that this is finished and I have flipped through old pictures and reciepts totaling somewhere around $20,000 (not including the price of the car, I know Im crazy), I ask myself has it been woth it???
HELL YEAH!!!
I apologize for the long-winded submission, but I have always based my ROTM selection on the story of the car, not just how it looks or how fast it goes. I hope I did not bore you into voting for the other guy either, lol, but I'm fine with losing.
08-18-08; This page was created.
08-19-08; The car has been movd to a working location.
08-22-08; The engine and transmission have been removed.
09-01-08; The engine and tranny put back in(Thanks turbo79,stealthlable,rubix_cube,& 3000gt1999)
09-05-08; Wires, hoses and other brakets done, battery, air filter and fluids are all that remains!!!
09-15-08; Everthing hooked up and started, oil leaking everywhere!
02-20-09; Oil leak finally found and fixed. Car runs with 2 year old gas!
03-xx-09; Replaced mushroomed axle, car becomes a daily driver.(thx stealthlable)
04-xx-09; Aqquired parts to start next big project, never before done to a SOHC.(thx rubix_cube)
06-xx-09; Cheap hoodpin fails and hood flies off car(now sporting a green 1st gen hood).
Future Plans
[
edit
]
Relocate Fuse block to inside car
Swap to TT steering rack, locks in .2 less turns
Rebuild pretty engine
New Rims/tires
Secret project(not gonna talk about it until I can actually do it)
Pictures
[
edit
]