Tool Man (Kevin Dempsey)
Jump to navigation
Jump to search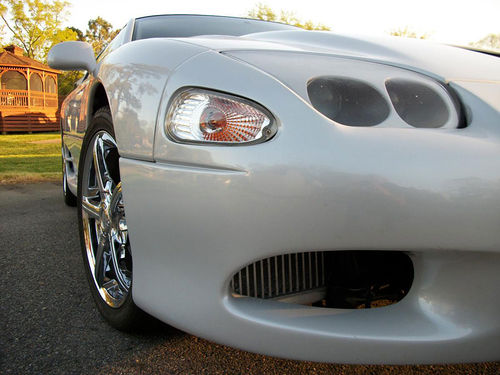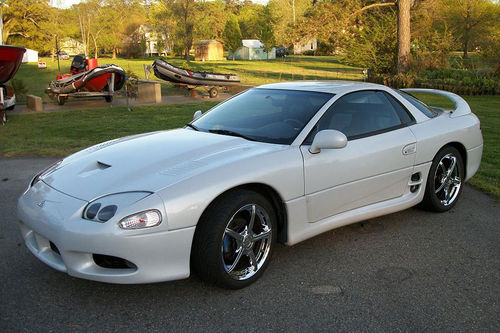 2006 Mod List
2010 Mod List

Modifications

3SX Down Pipe
3SX Lightened Pully
Test Pipe
Polished Front Strut Bar
K&N air filter
IPO 8MM MSD Wires
Big Tlya Grounding Kit
OPTIMA Red Top
DNP Hard Pipe
Polished Radiator Pipes (Lower and upper)
Polished Plenum
Other Engine dress up and polished parts
Intrax Springs
Panasonic 50 X 4 Mosfet Stereo
Planet Audio Mosfet 400W X 4 AMP
Two Orion Cobalt 10" Subs
Clear corners
EXEL H50 Chrome rims
NANKANG 245/40 R18 Tires
Full Custom Interior
Carbon Fiber 575 Hood
98 Front Bumper
98 Hoop Spoiler

Body:

98 Front bumper
98 Hoop Spoiler
Victory hood
Clear corners

Suspension and Wheels:

Intrax springs
Front Strut bar

Electronics:

AEM Wideband
AEM Oil Pressure
Autometer boost
APEXI S-AFC

Interior:

Two tone seats from Leatherseats.com
Cianci 3 gauge Piller
Aluminum speaker covers
Aluminum shifter ring
Aluminum radio surround
Polished door sills

Engine:

Twin Turbo conversion
Rob Beck 13T's
DSM 450 CC injectors
99 Lifters
DSM Side mount intercoolers
Walbro pump (hot wired)
Aluminum crank pully
Nology HotWires spark plug wires
J-spec gutted pre-cats
3SX custom downpipe with 3" high flow Cat
Custom 3" stainless steel catback dual exhaust
K&N Air filter
oohnoo fuel rail loops
Joe P boost controller
Big Tyla Grounding kit
Big Tyla Fuel Pump hot wire kit
Fuel pressure gauge
PMP Polished intercooler piping
Dejon Intake Pipes
A lot of Polished parts!

Audio:

Panasonic 50 X 4 Mosfet Stereo
10" Sub in corner box
My Story (2010)
The car started it's life as a 94 Base model. I originaly bought it for a DD in August of 2003. It had been very well kept and was pretty much stock besides a cheap open filter. I started off with pretty much the same things most NAers do, test pipe, K&N, bought some polished engine parts. First thing to go was the stock rims, I think with a base, that's almost always the first thing to go :p Then I moved to th interior and bought leather from leatherseats.com. I put it in myself, we'll call that a learning experiance. I was one of the lucky ones and got quite a bit of interior aluminum parts from smokinvr4 before things started going downhill for that company. I lowered the car with Intrax springs and converted the body to a 97/98 style bumper/spoiler as well as a CF overlaid 575 hood and Deft Racing VLS. The TT conversion bug kept flying around and finally one day took what turned out to be a pretty big bite. I bought a car that had been converted but had a bad misfire. I stripped the car for what I could and used the conversion it had on mine. After we got it running it turned out the rear turbo was in pretty bad shape. I tried having it rebuilt but that didn't work out very well either. I decided to go ahead and make some changes at this point. I sold the VLS so I would have some cash to pick up a few things. I bought a set of 13T's from Beck, 450CC injectors, DSM side mounts and polished intercooler piping. Had the heads rebuilt, threw in 99 lifters and with a little bit of help got her running and back on the road. I also made a change from the 575 hood to a Victory hood. Since my August 06 ROTM win, I've only put 8000 miles on the car. It's been down and being worked on more than it's been on the road for the last 2 years, but it's finally at the point where I'm driving it when I want to now. The AWD conversion bug is flying around now, but it looks like that will be a few years down the road.
-Tool Man (3SI Member #2117)
More pictures of my car http://www.3si.org/gallery/showgallery.php?cat=500&ppuser=15720

My Story (2006)
I know an NA has a hard time in the ROTM, but I'm giving it my best. I've had the car three years now and it has 91,000 miles on it. It was stock when I bought it, and I've done quite a bit of work to it since then. The car was well taken care of by the previous owners, so I've tried my best to do the same. It's not a daily driver anymore, (yeah, it's turned into a garage queen) but I get it out and run around as much as I can. I have around $7000 into the car since I bought it, none of that was in repairs, as the car has been solid for me. Mods are below, but pictures are worth a thousand words.
1994 Pearl White 3000GT Base / DOHC, 5 Speed
May 2010 Gallery
[
edit
]
August 2006 Gallery
[
edit
]