TTAngel (Adam and Lisa Hafeman)
Jump to navigation
Jump to search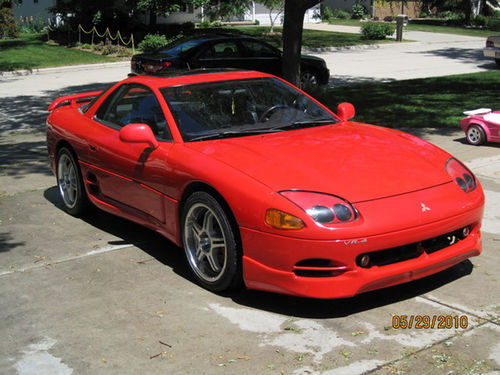 Ride of the Month Submission 3000GT/Stealth International June 2010
Body:
Front Lip
Rear GTO Plate
Painted Brake Calipers
Suspension and Wheels:
Lowering Springs
Fittipaldi Wheels
Electronics:
Boost Gauge
Narrow Band O2 Sensor (Blinky light)
HKS Turbo Timer
HKS EVC-S Boost Controller
Shiver's Hybrid ECU Logger
Interior:
Engine:
K&N Air Filter - Actual 3/S one with carb sticker and everything
HKS SSQ Blow Off Valve
Cat Back Exhaust
Audio:

My story:
Hello everyone.
This is my wife's (and my) new (to us) VR4. She has been attending 3/S gatherings with me for the past few years and has become involved with the group. As I continued to work on my stealth it became apparent that she was sick of me having all the fun with a sporty car, so we began the search for one for her to play with as well.
The car came with the front lip, the HKS Turbo Timer, the HKS BOV, and the Cat Back Exhaust. It had a DSM air filter on it which had rubbed the paint off the inner fender, so we replaced that with the actual K&N air filter for a 3/S and repainted the inner fender. The HKS Turbo Timer also needed to be re-wired. The vacuum lines were a mess, so all of those were recently replaced with red silicone lines. Everything is still functioning, no vacuum reduction here. The car was throwing a check engine light for EGR and also injectors when we got it home, so those two issues were sorted with some injector clips and the new vacuum lines and an EGR valve off from my car. It had a few other wiring issues that have also been sorted and since then has become a real nice summer toy. We then added the HKS Boost controller to the mix because we thought it would be nice to stay with the HKS theme the car had going when we bought it.
Every weekend I take a few things off the car, give them to my wife, and she cleans and paints them. We are not looking to make this car sparkle of chrome in the engine bay, we are just looking to make a clean example of a nice second generation VR4. Her current favorite modification to the car is the painted brake calipers.
The next modification for the car is to change the cat back exhaust to something that is just a touch quieter. The current exhaust makes the car just a touch (ALOT) to loud for my wife, who likes to hear the stereo when she drives. Perhaps we will just go with a resonator added after the cat if we can work it in.