Gabbergod2 (Gabber St John)
Jump to navigation
Jump to search
Exterior Modifications
99' Front End with shaved emblem
3SX 1 Piece Lip
Customized 94' Dodge Stealth Headlights w/Robo Mod, Housings Painted Black And Lens Rings Painted Daytona Blue
Deft Racing HID Headlight Kit
99' turn signals
Daytona Blue Professional Paint Job
Custom Self Made Hood With Integrated Eyelids
Back Up Top Secrect Hood
Custom Billet Grill
2nd Gen Reverse Panel
19x8.5 and 19x9 ADR Cypher Gunmetal w/Polished Lip Wheels
Dunlop 265/35/19 and 275/35/19 tires
99' OEM Combat Wing
99 Sail Panels
Tein Lowering Springs
99' Sideskirts and Door Caps
99' Rear Bumper
35% window tint on sides, 5% limo tint on rear hatch
Cross Drilled And Slotted Rotors
Stainless steel braided brake lines
Metallic Blue Painted Calipers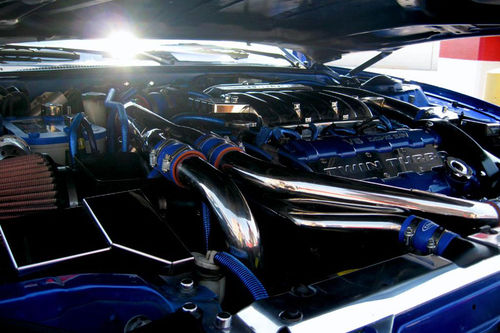 Ride of the Month Submission 3000GT/Stealth International April 2007
Electronics & Audio
Greddy Profec B Electronic Boost Controller
RSX3.5 Car Alarm ith remote start and built in turbo timer
Sony MEX HD5I Head Unit With High Res Color TFT Screen and Uploadable Images
Monster Cable 4 gauge wiring kit
Audiobahn A1300HCT 1200watt Chrome Plated Flame Series Amp
Audiobahn A4401 400watt 4 channel Chrome Plated Amp
2 Audiobahn A65S 6.5" Chrome Plated Flame Series Mid Range Speakers [Reverse Mounted]
2 Audiobahn Crome Plated Flame Series 6x9's
2 Audiobahn 900watt[each] 10" Chrome Plated Flame Subs [Reverse Mounted]
Audiobahn ACAP1 1 Farad Chrome Plated Digital Display Capacitor
Interior
Custom Black and Blue Leather Seats with "Twin Turbo" Embroidered
Custom Aluminum "3000gt Twin Turbo Shift Knob"
Custom Black and Blue Leather Shift Boot
Custom Black and Blue E-brake Boot
L.E.D conversion replacing all stock amber lights with Blue L.E.Ds
Midnight Haze Reverse Indiglo Gauges
Midnight Haze Blue Needle Glow Kit
Custom Subwoofer Enclosure Box Wrapped In Black Vinyl
Hello Kitty Air Freshener (Does anyone even read all of this stuff?)
Custom Silver Door trim
Smokin Vr4 Poilished Aluminum Lower Door Trim with carbon fiber inserts
Black and Blue Floor Mats
Original Brown interior replaced with all charcol pieces
Blue L.E.D's in Clear Lens Door Lights
Blue L.E.D's in map lights
Blue L.E.D. in trunk light
Under Hood
DNP Polished Hard Pipe Kit
Polished Radiator Cover
Chrome Intake Manifold
Mirrored Dress up kit
Polished "Twin Turbo" SPark Plug Cover
Valve Cover Powdercoated Kandy Blue
Chrome Bolt Covers Over Every Exposed Bolt
Custom Metallic Blue Hose Dress Up Kit
Polihsed Fuel Rail
Polished Oil Cap
Polished Radiator Cap
Polished Upper Radiator Hose
Optima Blue Top Battery
Polished Battery Terminals
HKS SSQ Blow Off Valve
Injen Intake
Supermac Strutbar
Blue 8.5mm Wires
Denso Spark Plugs
Under Car
ACPT Carbon Fiber Driveshaft
Stillen Downpipe
Test Pipe
Borla Catback Exhaust

Car History (November 2007)
I don't even know where to start. I have owned several of these cars as many of you reading this probably know. I've had some back luck and the last car I had ended up with a blown engine due to a bad powder coated plenum purchased from latenight custom. After losing my job just before this happened I had no money to get the car fixed and needed money for things like a place to live so I ended up parting the car out. I figured this would be a good time start from a clean state. I was never a big fan of the RT back end so I wanted to get another Vr4. First I purchased a 92' sandstone SL so I would have a daily driver to look for a job as well as get me to and from work once I found one. Bought a project car that was pretty beat front end damage [but the frame was ok] torn interior etc. So I torn the car down and fixed it up. 99' conversion, the 2 piece lip from the stealth, bomex sideskirts, the 3SX combat wing from the stealth etc etc, then had the car repainted the original sandstone color.
Eventually found a job and started working while I continued to part out the stealth. When I had a bit of money saved up I started car shopping. My budget wasen't great so I was looking for a good deal. Ended up finding a 92' vr4 in PA. It needed a bit of work on the outside but the engine was replaced recently and I planned on changing all the cosmetics anyway so I bought it and had the car shipped out the CA. Unfortunetly PA has a lot of snow and there ended up being rust under the car. Having a part out car in my driveway I just started swapping parts. Swapped the struts and installed my tein springs, replaced the whole exhaust system, bought another CF Driveshaft and replaced that etc etc. Now it was time to start with the outside. The last thing I was working on on the stealth was the engine bay, so I figured that's what I would start with this time. Went with a chrome plenum this time from a local shop so I knew it would be done right, from there powder coated valve cover again from a local shop. Now that I had the basics out of the way I wanted to go with a hard pipe kit, so I purchased the DNP, from there I found numerous polished accessories to compliment the rest of what was under the hood, then the metallic blue wire dress up kit so it would not just be chrome and polished pieces under the hood.
From there I went to the interior. I've never been a big fan of brown so it all went. Carpet, seats, headliner, visors, everything. Replaced it with the charcol carpet, headliner and visors, then black and blue seats, e-brake boot, shift boot etc. Blue L.E.D's in the lights, reverse indiglo gauges with blue needle glow kit and more. Built a sound system out of MDF, and vinyl to go in the trunk, replaed the speakers and so on.
On the exterior I wanted to do something different. Pretty much all of my cars have had 99' front ends and sidekirts. I finally opted for the 99' sails to have the complete 99' package, but I wanted a tiwst, something different to set my car apart from other cars with 99 front ends. Aside from the lip and parts you could buy I decided to take on a project. I went with 94' stealth headlights for the robo look, painted the inner housings black and the lens rings daytona blue to compliment the paint on the car, another reason for going with the 94' style lights was so I could do something I've been wanting to try for sometime. Integrated eyelids on the hood. The concept has been thrown around on 3SI for a while back when Jay did the photoshop. I had actually had the idea from my old car club before I even saw the photoshop, but the photoshop inspired me. Seemed like I never had time to do that sort of a project though. Finally one day I was on here and say Disrupters sig pic which was a 97/98 front bumper with the integrated eyelids, so I messeged him asking if he had done it or if it was a photoshop. He told me it was a photoshop but he was playing around with ideas on how to do it. I told him I was looking into doing the same thing and we exchanged ideas and I finally got the motivation to try it. I had a daily driver SL to drive around while working on the project and I purchased a back up hood [Deftracing Top Secret] incase it didn't work out for whatever reason. End result was what you see in the pictures today. A one of a kind vr4 built from the ground up in front of my house into a show car. The car continues to be modified all the time as this is my hobbie, the next step is to purchase the 19T turbo set up as my friend is selling his set up to go with a large single. So hopfully I will see you guys at the track in a year or so. ;)
Car History (April 2007)
Disclaimer: The car unfortunetly no longer runs. It is being parted out then the chasis will be sold. There was some controversy over me submitting the car and it has been stated I must list the car in "Non running condition". I planned on submitting the car when I got a few more things done to the engine bay, unfortunetly some bad powder coating fried my rings so my engine had no compression. I still wanted the chance to submit the car for ROTM as I planned on doing so in the first place. After the car died I wanted to submit it even more so as sort of a tribute of everything I accomplished with the car. I would love for it to become a ROTM and maybe even ROTY so that it will be remembered for what it was, rather than being lost in old threads. I would just like one last accomplishment with the car as sort of a final goodbye. I still have the car in my driveway, it's still about 80% complete. So I am submitting MY CAR. Others who have submitted their cars have not had to had their car 100% together or even running when they submitted, but since I was parting this car out rather than rebuilding that specific engine in that specific chasis some people didn't agree with my submission. I do have plans for another turbo 3S in the works and it will be built to the same standard as all of my past 3S's have been. I will just be transfering parts to a running car, and build it up on a new chasis rather than try and deal with a rebuild again. Anyway, here is the story of my steath rt/tt....
My old Vr4 spun a bearing a few years ago. I bought a remanufactured engine and tried to get the support I needed to drop the rebuilt engine in the car and hopfully get the car running again. I was advised to get all new belts, pumps, gaskets, and of course fluids. Long story short $5,000 into the project I couldn't find a shop that would do it, nor could I find anyone locally who knew how to do a 3S motor swap and actually had the time to help me with it. I realized for $5,000 i could have bought another 3S for about that same price. So I cut my losses and began my search.
Found a local dealership online that sells classic cars, exotics, and other rare cars that actually had a pearl white 92' stealth rt/tt listed for sale at $7,500. 70k Original miles, bone stock condition with not a scratch on her. I called immedietly to go down and check the car out. The guy was actually selling it for his military buddy. Listing it at the dealership to get more hits on the car. His buddy was over seas and basically said he wanted something newer and to just "get what he could for it" After some negotiation, and lack of paper work on his part I ended up walking away with the car for $5,000. [$5500 after tax and license]. For a bone stock pristine Rt/TT. I was Ecstatic to find that sort of deal. Only problem was it had a horrid bright red interior.
Having left over parts from the vr4 the work on the car began the very next day. I tore out the whole interior and stripped the outside of the car as well to transfer my black and blue interior, 99' conversion parts, VLS and wheels over to the new car. From the moment I woke up that day till almost 1:00am the next day I was out working on my new project. The next day the tradition continued, hooking up the new sound system, doing the body work, swaping the rear hatches since my old hatch was already set up for the 99' combat wing and had the holes from the original active aero spoiler filled in. Rewiring the hatch and the doors for the VLS, etc etc till all of the basic stuff was done. Detailed the engine bay to get rid of 14 year old grease stains. I had sold my old CF pit fighter hood and Deft Racings new 575 hood was just comming out so I ordered one of those to put on the car. As soon as the body work was 100% complete I went to the paint shop. It took me about a week to decide what color i was going to paint the car. I kind of wanted a change of pace as the vr4 was Kandy Cobalt Blue and the vr4 before that was blue as well. After searching through tons of pics online and tons of paint chips at shops I decided there was no substitute and that the car would be resprayed the same kandy blue as there was no other color I liked more.
Once it came out of the paint shop it went in for some window tint to go along with the rest of the black and blue theme. After tint the exterior was finally done. Now for the fun part. I had done the HKS SSQ Blow off valve and the HKS dual element intake and a few other basics but I haden't been under the car yet. Took it to my buddies shop to get it on the lift and did the full exhaust; Stillen downpipe, test pipe and Borla catback. As long as it was up there I might as well install my PST carbon fiber driveshaft. What a difference those made. The car felt so much lighter and responsive. That wasen't enough though. I bought a Greddy Profec B spec 2 boost controller so i could turn the boost up a little bit more.
Unfortunetly after a lot of the work was done on the car I lost my job that paid really well and was now unemployed and unable to continue modding the car as much. After searching for a new job for a few months I finall settled on an entry level low paying job just so I would have some sort of income. I still tried to work on the car here and there but it was difficult with the funds I had. I decided to work on the engine bay to complete the overall car. I bought a chrome dress up kit, DNP chrome Y-pipe, Chrome spark plug cover, etc. Then I wanted to get a chrome plenum. Keeping my eyes open for a good deal as money was tight I took my chances buying one off of ebay. When I recieved it it was not chrome at all. It had been powder coated a "chrome like" color. I went back to check the auction and it was listed as a "chrome plenum" but further down in the auction it did actually state the item was only powder coated the "chrome like" color. While I wasen't happy with my purchase I had a car show the next day and figured it looked better than stock. So I swapped them out, tripple checked everything before I started up the car. Gave it a little test run and it seemed to be fine.
The next morning I left early to head down to the show, when I got there and popped open the hood I noticed oil on the under side of my hood as well as on the engine itself. I was hoping it was just a bad oil cap. I had my hood propped open with the prop paritally resting on the plenum. The powder coating melted to the hood prop. It also chipped away when I was tightening the bolts to install it. I drove the car home very slowly with the stereo off listening to any and every sound the car was making. I didn't have the money to tow it at the time, nor the money to fix anything major that may have happened. I prayed it was something simple. The car seemed to run fine and there was no more oil when I drove it back up to my place for the night. Checked the oil level and it was fine so I figured after work the next day I would take the plenum off and try to find out where the oil was comming from. It had been a very long day and I was beat and I had to work early the next morning. Work was only about a mile away so I figured if the car just made a 40 miles trip it can make a 2 mile round trip till I tear it apart. Unfortunetly I was wrong. I got to work and the car stalled out just after parking the car. Since then it would only crank but never turn over. Turns out Chrome like powder coating is not hi heat resistant. The powder coating from the plenum had run through the system and fried my rings leaving me with no compression. I didn't have the money for a rebuild, all I could do was sell parts and save up the money I got to buy a new turbo 3S to work on. I got an SL as a daily driver and dumped a little bit of money into it to make it look presentable. The rest went twords buying a turbo 3S as I set aside some of the parts to put on the new car when I get it. In a way I wanted to rebuild the stealth but afraid of ending up $5k in debt with no running car ago I chose the safer route. I also like the back ends of the Vr4's more so I wanted to get a vr4 again as opossed to another stealth. [For anyone wanting to know the powder coated plenum was purchased from Late Night Custom, who denied any responsibility and blamed the melted powder coating on me, the guy I was dealing with was very immature and it took me over 2 months to get a partial refund for a screwed up product they sold, I wanted to take them to court to pay to rebuild the stealth but it ends up there are just kids selling crap on ebay under their business name which I don't believe is even a legitamate business.]
The car has taken home numerous awards from car shows including Best of Show at WCNC, Best Mitsubishi at Rim of the World, and Best Sports Car at the Neise car show in little toyko where it was put up against Ferraris, NSX's, Turbocharged 350Z's, and much more. I'm proud of everything I've acomplished with the car it's been a lot of fun and was a blast to drive. That's probably why I keep buying these cars. They are the most beautiful looking cars and I can't help but smile everytime the turbos kick in and when my BOV goes off. Or when I am walking from my car to my front door and have to stop half way there just to turn around and look at my car one more time before I go into the house.

-Gabber

A Note Regarding this Submission (April 2007)
It has been requested that I upload a current pic of the car since it is no longer in the same state as it used to be in in. I know others have never had to upload current pics of their cars when under the knife, but since I didn't plan on rebuilding the motor in this chasis the amins felt it necessary to upload a pic of it's current state. This isn't how I want the car to be remembered but since Christy was nice enough to let me submit my car I have agreed to do so. The last pic if the current state of the car. The VLS, 575 Hood, wheels, front fenders and a bunch of interior items have been sold. The wing, front lip and a few other parts have been moved to the SL for the time being. Also I cut up the old sideskirts and fiberglassed them into one big scoop rather than four small ones as you can see in the last pics. It's not listed in the Exterior Modifications list though. If you chose not to vote for me this month as the car no longer runs I understand. I just look at ROTM as a way to look back at all the great cars our community has had to offer and I've gotten such great responses from you guys on the car I wanted it to live on as something to be remembered. A lot of time, effort and a whole lot of money was put into this project. I would hate to see it fade away over time through some old threads which is the whole reason I decided to submit the car even though it unfotunetly no longer runs. Anyway, if you just read everything I typed kudos to you. I had a lot to say which either means you are intrested in the cars history or you are just really bored. =P
Thank you Christy so much for allowing me to still enter my car for ROTM when it seemed all of the admins were against me. Thank you to everyone who has supported me and the stealth over the the past year and a half and the past vr4's over the past several years. Thank you 3SI for all the kind words, and the technical help when the car was down. Thank you Bill from Deft Racing for some awsome products and good prices as well as standing behind me when the others were against my submission for this months ROTM. Thank you socal3S for being a great local communtity as well as standing behind me. Ok, I'll shut up now.