Buckeye Stealth (John Harbert)
Jump to navigation
Jump to search
1996 Mitsubishi 3000GT VR4
[
edit
]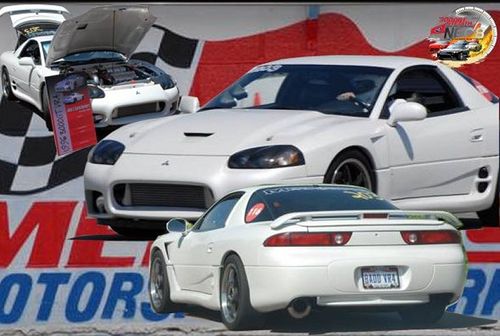 Ride of the Month Submission 3000GT/Stealth International December 2010
Ride of the Month Submission 3000GT/Stealth International December 2009
3SI Member #38711
Body:
Cianci Victory 1 hood
Cianci vented widebody front fenders
Full '99 front conversion
8000K HID low beams
'99 sail panels
All windows tinted, except windshield
Factory white pearl with an extra shot of pearl
Functional active aero rear spoiler
Tail light garnish painted body color
Debadged except for the chrome Diamond Star on front bumper
All lines and wiring removed from firewall, cleaned up, filled and painted pearl white
Brake lines relocated, cruise control removed to clean up inner fenders & painted pearl white
Underside of hood painted pearl white & finished same as body
Rear Window Wiper ass'y removed and hole filled in and painted body color
Suspension, Chassis and Wheels:
TEIN fully adjustable coilover suspension
3SX lower control arms for lowered cars
Cross drilled and slotted rotors w/CarboTech pads
Motul brake fluid
Stainless braided brake lines
AWD LSD insert
PST 1 piece Carbon Fiber driveshaft
ENKEI 18x8.5 wheels

BFG g-Force 265/35/18 street tires
TOYO Proxes R888 275/35/18 track tires
Electronics:
DEFI-Link 60mm Blackface gauges

Oil Pressure
Oil Temp
Coolant Temp
Exhaust Gas Temp
Fuel Pressure
Turbo Boost
AEM UEGO Wideband Gauge Controller

GReddy Profec B-Spec II built into console
AEM EMS w/AEM 3.5 Bar MAP sensor
CrimeStopper Alarm w/remote start
Interior: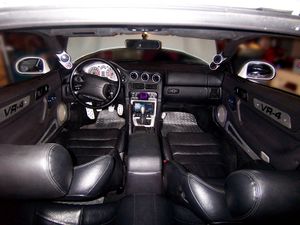 custom right & left pillar gauge pods
Indiglo Speedo & Tach faceplate
Custom Blue LED's through out incl. all switches
Short throw shifter w/ custom Titanium knob
Billet aluinum trim rings for front & rear speakers
Custom Laser cut billet aluminum door inserts
Stainless steel door sill plates
Custom billet aluminum console top w/Profec B-Spec II built in ahead of shifter
Polished aluminum diamond plate floor mats
Lots of new OEM interior pieces
Engine: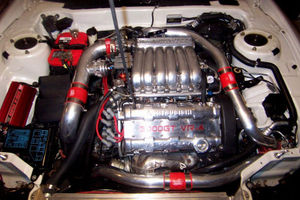 IPS tuned 400awhp/430 awtq at a conservative 14 psi on Sunoco 93
New oem shortblock punched to 3.1 liters

Balanced & Blueprinted
Everything Magnafluxed
Carillo billet rods
CP forged pistons, sides slick coated, tops thermo coated
ARP studs

Port and polish heads & blend ports
1mm oversized valves
Competition valve job
Blended & polished intake runners
re-ground camshafts
Turbonetics turbos
PTE 680CC injectors
AEM fuel press. regulator w/RobBeck adaptor
3SX fuel rail loop
Krank Vents®
3SX polished intake plenum & valve covers
Polished driver's side motor mount
MSD DIS-4 Digital ignition
MSD plug wires w/factory coil
3SX aluminum crank pulley
Support Equipment:
Optima Red Top battery
Fidanza aluminum flywheel
Spec Stage III Max clutch
Walbro fuel pump w/hotwire kit
GT PRO FMIC w/polished aluminum hard piping
HTS red silicone connectors w/stainless T-clamps
3SX Dual pass aluminum radiator w/ dual FAL shrouded fans
Second set of dual shrouded fans in front of A/C condenser
TiAL BOV
Single shot exhaust w/ Bee-R muffler
Morgan's Motorsports custom pre-turbo intakes w/twin K&N filters
Morgan's Motorsports custom down pipes - catless
Audio: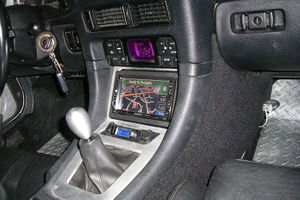 Kenwood eXceleron DDX8017 DVD player

6.5" LCD touch screen monitor
Garmin GPS Navagation
Sirius ready, HD radio ready
Plays DVDs, CDs, MP3s WMA, JPG & MPEG 1&2

Memphis Belle 16-MCH600 5.1 Channel amp

provides for 5.1 channel surround sound for movies

10" Rockford Fosgate PUNCH Audiophile sub
Custom fiberglass sub enclosure covered to match interior (see image in Electronics)

Fun Facts:
1 of 315 3000GT VR4s built for 1996 MY
1 of 10 exactly identical cars as built, now 1 of 1
Of all Pearl White VR4s built '91-'99, 309 were built BEFORE this car and 309 were built AFTER this car for a total of 619 Glacier Pearl White VR4s. This one is EXACTLY in the middle of the run.
Only 76 Glacier Pearl White VR4s were built in 1996

My Story (2010)
I have long been an admirer of the 3000GT's and thought that they were one of the coolest looking cars that ran the streets in our area and really wasn't that aware of the Stealth sibling all that much. While I was at the Cleveland Autorama five or so years ago, I ran across a few Stealths entered in the car show and was really impressed with the styling and the mods that were done to the cars. This renewed my interest in the 3S platform, but not enough to buy one, the timing wasn't right. Fast forward to November 2007, timing and Karma was right.
While at the Daytona Turkey Run back in Nov. '07, my wife spots a Stealth R/T for sale on a trailer, long story short, I get the car for her to autocross in and as a fun summer car to drive, hence my screen name of Buckeye Stealth. Although is is a really nice automatic R/T, I thought I would like one of my own and a stick shift was mandatory, so the search began.
TWC (The White Car)
On my birthday, Dec. 15th, 2007, I found myself in St Louis picking up the car of my dreams and heading back to Ohio. TWC (The White Car, as I refer to it) is a work of art by the 3S artist, Von Morgan (xwire) that was commissioned by the former owner, Matt S. My plans are to keep the car pretty much just like I got it because I like what was done and most of the things about the car I would have wanted to do myself. There is a short list of things to do, such as the matching Cianci wide body rear fenders, battery relocation to the trunk and LED accent lighting, but after that I'm pretty much satisified with the complete package. ...well... I was thinking about a pair of 19Ts... and maybe beefing up the trans... and then.... nevermind.
My first experience with TWC was the NG08. I bought the car in the middle of winter and it got out of storage and tuned just in time to load up and head out to Memphis. What a blast we had meeting all the people and what a collection of cars there was on Bealle Street. My baby got wounded during the road course day and it was only local crusing the rest of '08 and all of 2009. I did an 18 hour non-stop turnaround to go get a 6 speed in CT to be ready for 2010 and all I will say is I should have listened to DuTTch and put in new axel seals. At least that problem is a whole lot better than having a 1" square hole in the trans, beside the flywheel. The trans is workable and off to Indy for NG10 for the autocross, road course day and drags. Not too bad considering I still don't have that many hours inside the car because of downtime, but hey, I don't have to explain that here. The road course was bumpy, but I still got her up to 140 MPH like in Memphis, placed a little higher than mid pack in autocross and was able to get a ton of 1.60 60' times in my first drag race session with the car. My times were a little slower than what I wanted to see, but with the "second gear synchro crunch" causing me to double clutch and granny shift each time I ran, I am just glad I was able to make 12 runs down the track.
Why TWC? It is a simple way to communicate to my wife which car I'm refering to. The White Car is the VR4, The Blue Car is my ION Red Line, The Red Car is my wife's Sunfire GT, TORC is the '92 Stealth R/T (The OTHER Red Car), The Silver Car is the T-Bird Turbo Coupe (sold 11/09) and the Van... well it's just The Van. We just started refering to the vehicles by their color and it has become habit.
My Story (2008)
Looking at car for sale websites and various 3S forums led me to an ad on 3SI.org that linked me to ebay and I found the car of my dreams, a '96 VR4 that was modded to a very high level. On my birthday, Dec. 15th, I found myself in St Louis picking up that car and heading back to Ohio. Although I can't take credit for putting the car together, the former owner for his list of things to do and Von Morgan (xwire) for carring them out get the credit where credit is due, but I am already formulating my own list of little subtle things I want done and will do myself to put my own touches in place, like adding the Cianci rear widebody fenders to complete the look. My plans are to keep the car pretty much just like I got it because I like what was done and most of the things about the car I would have wanted to do anyways.
Not being one to hold back, I decided to jump into the 3S community by joining all the forums I could find to get info on the cars we just acquired... a little bit of time had to be made up. We decided another great way to learn about the community was to attend the NG08, so I signed up for the whole package to get the best out of the experience. The driver's school was the pinnacle of the National Gathering for me, being able to experience my VR4 going 140+ mph down the straight on the road course and running the turns in a coilover suspension car was awesome. I met a lot of people and the St. Louis crew really rocks, a group of super people, as are pretty much all of the NG attendees were. Memphis was only the beginning of a long haul of 3S ownership events that is our future, can't wait until the next one.
-John Harbert
My Website:
1992 Dodge Stealth RT
[
edit
]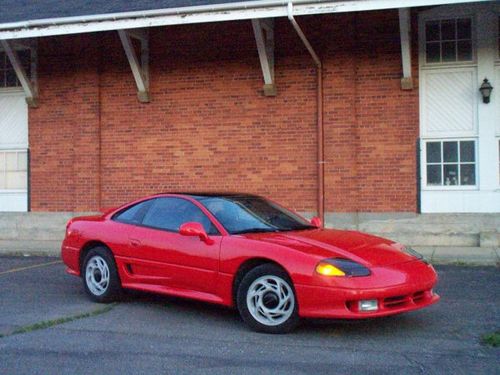 Ride of the Month Submission 3000GT/Stealth International November 2010
Body:
100% unadulterated original Dodge with 145,000 miles
Suspension, Chassis and Wheels:
100% unadulterated original Dodge
Tires by Fuzion
Electronics:
100% Factory Original, Nothing added or taken out.
Interior:
Yep, you guessed it, 100% Factory Original with the obligatory tear in the bolster leather.
Engine:
Again, 100% Original, nothing aftermarket has been added. A good engine bay detailing was all it needed when I got it home. Everything seems to be in great condition and in the correct place.