Wootstapler (Conrad Ohr)
Jump to navigation
Jump to search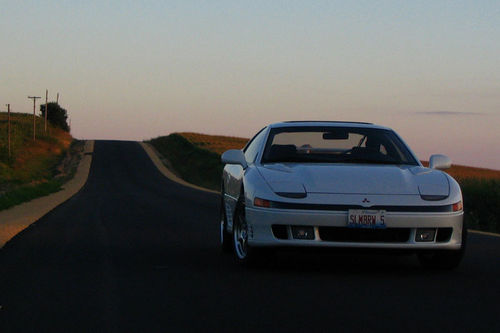 Ride of the Month Submission 3000GT/Stealth International January 2010
Body:
Stock (Sail panels painted white underneath, aka not black)
Suspension and Wheels:
Electronics:
Built in mobile phone device from the 90's!!! Still works.
Interior:
Stock, besides, I guess, the super rare color combo that everyone is telling me about. Dark charcoal on red.
Engine:
Aftermarket downpipe (From previous owner, no clue what brand)
Audio:

My Story:
When I was a youngin', ever since I laid eyes on my Aunt's 1991 3000GT VR4, I instantly fell in love for the 3K. Everytime I would go visit her I'd say to myself, "Daaaaaaaamn. What a nice looking car." When it came time for me to try and buy my own car, the 3K was in the back of my mind.
I eventually discovered 3Si, and lurked on the forums for quite awhile. I was always eagerly scouting craigslist and the For Sale forum looking for something that was in my grasp. I posted a looking to buy ad in the forum, and Zach (zlam87) approached me with his 3K. He said it had low miles (74k), and was offering it at $4,000. It's been sitting in his heated barn garage for 2 – 3 years. We eventually contacted each other and he sent a couple pictures my way. I kept saying, "There's no way. It's too perfect." Through countless emails, Zach and I reached a date for me to go see the car. Back in July of '09, I travelled out 2 hours west in IL to pay him a visit. Looked the car over, test drove it (like I owned it according to Zach), and the car definitely planted a seed in my mind.
After looking at the 3K, I stumbled around, trying to find a comparable 3K, but there was no other. I couldn't find another that was in that immaculate of condition, with that low of miles, and for that price. About a half a year later, after working two jobs, going to school full time, and sacrificing a lot sleep, I finally had the cash to go buy it. I test drove it for one more time and that sealed the deal. As I was driving away, I looked back and saw Zach staring down what was his 3000GT. He never looked back until it was out of sight. That's when I knew it has become my duty to keep this car as in perfect condition as possible. I look forward to meeting up with the Chi-Town chapter, and exploring the 3S platform for years to come
My Website: