Vr4tune (Brett Bacon)
Jump to navigation
Jump to search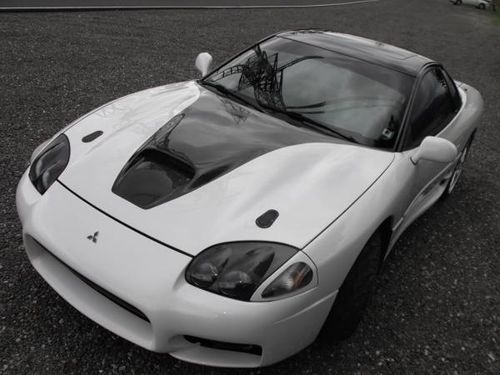 Body:
99 front bumper,
99 front lip
99 headlights,
99 turn signals, (trim painted)
99 rear garnish,
99 sailpanels
GTO taillights
factory mud flaps
rear spoiler removed (shaved)
Deft 575 carbon fiber hood (partly painted)
Aero catch hood pins
limo window tint
new factory white pearl paint and black w/blue pearl roof
blue painted calipers
hid high 8000k bulbs and low beams 8000k bulbs
Suspension, Wheels & Brakes:
stock suspension(Megan coilovers in the future)
Enkei RP01 18x9 +45 offset
BF Goodrich G-force KDW2 245/40/R18
DBA 4000 Kangaroo Paw disk brakes
Hawk brake pads
Technofit steal braided brake lines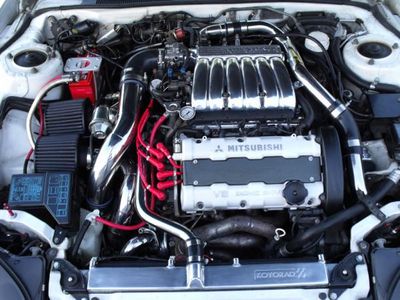 Engine:
HKS ssqv blowoff valve
Tanabe turbo back concept g blue exhaust
AEM duel air filters
3sx poly motor mounts
Supermac short throw shifter
Mercury Magnetics new volt ignition amp
Ultra plug wires (red)
Denso iridum spark plugs
Denso Supra fuel pump
RC 750cc injectors
IPS TD05-EvoIII-16g kit ported & polished MHI turbos
ETS intercooler anodized black (stealth) polished upper & black lower ic pipes
3sx lightweight stock sized pulley
Drivetrain:
Technofit steal braided clutch line
South Bend stage 3 OFE clutch
IPS flywheel
Supermac short throw shifter
Electronics:
HKS turbo timer
AEM wideband gauge
AEM boost gauge
AEM stand alone ems
AEM map sensor
AEM iat
AEM boost control solenoid
AEM EGT sensor
Optima yellow top battery
Interior:
carbon fiber shift
carbon fiber ebrake boot
Audio:
Alpine head unite Model: CDA-105
Infinity referance 6.5 two way up front
Hurtz 6/9 3 way in the rear
My story:
My story goes back to 1994 when I was only 12 years old. My Dad went to the Dodge Dealership in Coos Bay OR. to test drive a Stealth r/t turbo. My Dad was well known in the community for buying new cars every year. So when my Dad want to test drive a car the Dealership would always give him the keys overnight. So the first thing we did was go down to the local 1/4 mile road (an old street that as always empty outside of town). When he gave her all she got I was hooked. I fell in love with that car so fast and so hard it changed the way I will look at cars forever! The next day when he took the Stealth back I was begging him to buy it. He told me that he needed a 4 door. I was crushed. She was my first love and I had to say good bye. But I swore that one day I would own one.
Fast forward I was 22 and lived in Portland OR. now, and my older brother bought a Brand new 2004 WRX. I thought that his car was pretty cool and I needed something to to keep up with him and I started looking for a 3000gt or stealth. I couldn't find one in my price range so I started saving all my tips from work. Well a short time later I found myself in love with something else and had got engaged. Dec. 31 2004 and I was married and Broke again. Six months later and I had the itch to go fast again. This time was a bit different because A friend was selling his 2001 Yamaha R6 for $3,000 only because he was getting a divorce and needed it gone ASAP. I had took the deal right a couple months before I moved to Phoenix AZ for school.
In Phoenix I rode her almost every day short of a year. It was Christmas vacation and I flew up to Portland for the holidays. My brother was getting a divorce now and keep both the WRX and his Frontier so he let me drive his WRX while I was in town. After the my trip I want an AWD turbo again, and with a few recent close encounters with some asshole drivers I was a little scared of riding my bike in Phoenix traffic. I'd decided to sell my R6 and my 93 Isuzu Trooper and buy a car. Here was my chance to buy my childhood dream.
Now that I was getting my dream car I wasn't going to sell myself short. After doing some research I knew what I wanted. My requirements was to be a 1997 pearl white vr4, with less than a 100,000 miles and had to be less than 12,000 so I could get a loan from my credit union. It took me less than 2 weeks to find one with about 85,000 mile on it for $13,000 in Scottsdale AZ. I went to look at it with my wife that night. When we pulled I was in love all over again. It was in excellent condition. After the test drive I knew it had everything I wanted. When I talking with the seller I found out that his wife inherited the car from her brother who dies of a heart attack in Florida, and that I would be the 3rd owner. At that point it I needed to get them to come down on the price so that I could finance my dream. With a little haggling I got the seller to come down to $11,500. So the next day I went and got the loan and made the deal on Jan. 11 2006 the day before my birthday. I couldn't ask for better present to myself. It had taken me almost 12 years to get my car and it was worth it.