VirginiaTechVR4 (Tony Lushman)
Jump to navigation
Jump to search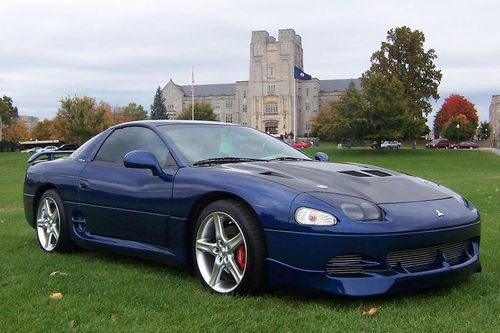 3SI Member #2709
Engine:
Bored Block, 0.030 over
Ross 8.5:1 Pistons, rings
Crower Rods
New OEM Valves, 5 angle valve job
New OEM springs
Port and Polish Heads
Clevite Bearings
ARP Main Studs
3SX "Twin Turbo" Spark Plug Cover
3SX Custom Motor Mounts
Powder Coated Front Valve Cover and Lots of Shiny Things
Performance:
Dynamic Racing DR-650R Turbos
DSM Side Mount Intercooler Upgrade
Denso Supra Fuel Pump
Denso 660cc Fuel Injectors
Ek2mfg Fuel Rail Loop
V.R.S. Exhaust Custom Mandrel Bent pre-cat-back Exhaust System
3SX EGR Block Off Plates
Ported Stock Exhaust Manifolds
DN Performance Intercooler Hard Pipe Kit
DN Performance Pre-Cat Eliminators
DN Performance Intake Pipes
Stillen Cross Drilled Rotors and Stillen Pads
3SX Stainless Steel Brake Lines
3SX Aluminum Crank Pulley
3SX Dual Pass Aluminum Radiator with Flex-a-lite Fans
HKS SSQV Open Loop Blow Off Valve
Ultimate Performance Accessories Short Shifter
NGK Spark Plug Wires
Denso Iridium IK27 Spark Plugs
Driveline:
Spec Stage 2 Clutch
Fidanza Aluminum Flywheel
Speed Freak Racing Limited Slip Differential Insert
Electronics:
Greddy E-Manage Ultimate
Blitz DSBC i-color Boost Controller
Blitz Wideband O2 kit, integrated with i-color
Blitz Dual Turbo Timer DCII
Greddy Peak/Hold/Warn Boost Gauge, Oil Pressure Gauge, Water Temperature Gauge, Dual E.G.T Gauges
NR-Auto El-Glo White Face Gauges - Main Cluster
Shiver's (Mirage Corp Automotive) 94/95 Hybrid Datalogger with Palm M500
Suspension and Wheels:
KYB GR2 Shocks
Tein S-Tech Lowering Springs
Rear Strut Tower Bar
3SX Adjustable Rear Control Arms
Rays Moda R6 Wheels 18*9
Toyo Proxes T1-R 245/40/18
Exterior:
Deft Racing Vertical Lift System
VIS Racing Carbon Fiber Evo Hood
Bomex Front Lip
Clear Corner Lights
"VR-4" Blacked Out Brake Light
6000K Low Beam HIDs
Custom Billet Aluminum Grill
Interior:
JDM Mitsubishi EVO Shift Knob
Custom Black/Tan Leather seats from Leatherseats.com
Italian Leather E-brake and Shift Boot Replacement
97-98 Dome Light with Homelink
GM Rearview Mirror with Compass and Temperature
Ultimate Performance Accessories Polished VR4 Door Sills
Cianci Performance 60mm Dual Gauge Pod A-Pillar
Cianci Performance Passenger Side A-Pillar
Carbon Fiber Trim Kit
Audio:
Pioneer DEH-7500MP Head Unit
Pioneer TS-C160R 6.5" Component Speakers
Pioneer TS-D691R 6"x9" Speakers
Pioneer TS-W256C 10" Subwoofer
MTX Audio Thunder 342 Sub Amplifier
Awards:
Best of Show - Virginia Tech Car Show - Fall 2005
Crowd's Favorite Ride - Annual 3SX Charlotte Gathering - 2005
Best of Show - Virginia Tech Car Show - Fall 2006

My Girl's Story:
My first 3000GT was a green SL, which I supercharged and mysteriously caught fire one day and was totaled. Like it was meant to be, 2 weeks later I stumbled upon this rare Mariana Blue Pearl VR-4 only an hour away from my house. I went and test drove the car and it was immaculate with 86,000 miles. Bank approved the loan and I drove her home the following week. I did two combat tours in Afghanistan after that which allowed me to spend some money (ok a lot of money) on the car.
Modding started off with trying to make the car a show car. All work and labor was done by my father, my uncle, and me, until I had 3SX install the DR-650Rs and some fuel mods. A week later I spun a rod bearing and I spent the last of my money getting her back together. I had the motor rebuilt by IPS Motorsports and installed a Greddy E-manage Ultimate with some other goodies after that while everything was torn down.
Currently, due to lack of money (can't afford to break anything), the car is running PERFECT at 10psi with the DR-650Rs, but sometime soon when I am back on my feet financially I will start to turn the boost up and get her tuned for 16psi on street tune, and hopefully low 20s for race tune. I have met countless people that have helped me out numerous times like StxFoo (Vaib), 943000GTVR4 (Matt), and 007KEN (Ken), spending great time with great people and great cars. 007KEN was with me when we turned 100,000 miles just last month and my girl is still running strong with a lot left in her.
Enjoy and Thanks for looking.

-Tony