VR4Rob (Robert Latham)
Jump to navigation
Jump to search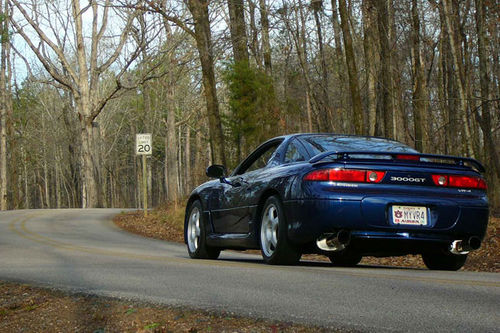 Modifications:
PST 1 Piece Carbon Fiber Driveshaft
Tanabe Hyper Medallion Exhaust
HKS EVC Pro
Stillen Downpipe
Blitz Super Sound BOV
HKS Twin Filter Intake
Tein S-Tech Springs
Supra Fuel Pump
Akebono Ceramic Brake Pads
6000K Brightstar HIDs
96+ 3000GT Floormats
NGK Copper Spark Plugs
Pioneer Premier Head Unit
Two Memphis 8 subwoofers in custom box
300W Alpine Amp stealth mounted beside spare
My Story
This is my Blue Pearl 1994 Mitsubishi 3000GT VR-4. I have been in love with 3000GTs since I first laid eyes on one at the age of seven and soon after decided that someday I would own one. Years passed and I learned more and more about cars, turbos, all wheel drive, and all the goodies that make the VR-4 the true supercar that it is. I yearned more and more to own one of these beautiful cars through my adolesence. Finally, after years of waiting I was in a position to buy a VR-4 so the search began. I searched far and wide for almost 6 months when I stumbled upon a car that was beyond my wildest expectations. A bone stock Pearl Blue 2nd Gen, 6spd, 1 original owner, 35,000 mile VR-4. I made the trip up with some friends to see the car one Saturday afternoon in March, 2004 and the rest as they say is history.
Since then, my life has completely changed like I couldn't have imagined before. I've enjoyed owning my car more than anyone on the planet and I've made some life long friends along the way through 3si. I've had my ups and downs like anyone else but I wouldn't trade it for the world. I've done a few modifications since first buying it but there's always a little something here or there I'd like to have. My head will always dream bigger than my wallet but it's working out for me so far. Keep dreaming big 3si!
310 AWHP/326 AWTQ at 14.5 PSI on 93 octane