VR4Dani (Dani Vasseur)
Jump to navigation
Jump to search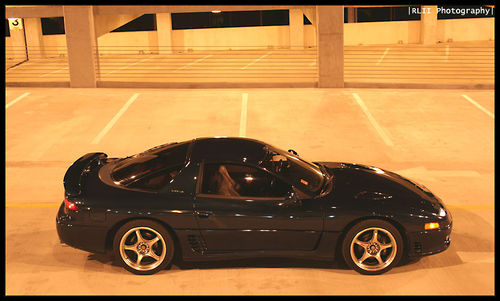 Ride of the Month Submission 3000GT/Stealth International December 2006
Handling:
Tein S-Tech Springs
18x8.5 5Zigen FNO1R-C Wheels
245/40/18 Falken Ziex ZE512s
Seattle Short Throw Shifter
Maximal Performance Adj. Camber Arms
Power:
Blitz Super Sound Blow Off Valve
K&N Open Element Filter
Appearance:
1999 3000GT Sail Panels
1999 Gunmetal VR-4 Emblems
1999 Gunmetal 3000GT Emblem
1999 3000GT Center Tail Light Garnish
Chrome 3 Diamond Front Emblem
Redline Leather Shift Boot
Sound:
Pioneer DEH-6800 Head Unit

My Story
I'm the owner of a 92 VR-4 with 86k on the clock that I purchased in the beginning of August 2005. I consider myself very lucky to have found such a solid stock car that had been pretty well taken care with 75k miles; I was able to buy it immediately after going to see and test drive it. It was the very first VR-4 that I considered looking at it and that same day I drove it home. The memory still gives me butterflies. I am the third owner and I rock it as my daily driver.
Then being new to 3si, and really having no background on cars let alone this platform, I relied on the advice I found on this forum as well as the guidance from my boyfriend, VR4Rob. The car has only thrown one small fit since I bought it; blowing a little hole in the clutch line a few months after purchase. Other than that, she stays happy.
I have to admit, a VR-4 was not originally my dream car. A third gen corvette stingray will always make me weak in the knees but since taking on this lifestyle and meeting the friends I've made and learning something new every day, this car has become my dream car and I couldn't imagine a day withoutit!
I hope to be able to do a lot more in the next year as far as power and performance mods go but I woudn't be where I am now if it wasn't for VR4Rob and all that he does including the photography. Also, a huge thank you to David Ford who is my great mechanic and a great friend and also love to GA3S!