VR-4ever (Jay Belknap)
Jump to navigation
Jump to search
2005 Ride of the Year

3000GT/Stealth International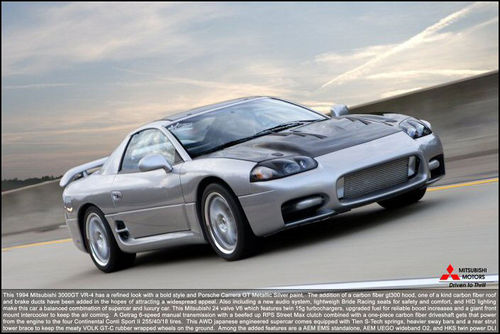 Body:
Full chassis paint change to Porsche GT Metallic Silver from the Porsche Carrera GT supercar.
All new weather-stripping, gaskets, and seals.
Refreshing of oem Mitsubishi nuts and bolts using new hardware.
Carbon fiber hood, GT300.
Carbon fiber roof, one-off.
Carbon fiber brake ducts, one-off.
1999 3000GT front-end conversion modified for Darkside racing front mount intercooler.
1999 3000GTsail panels (B-pillar).
First Generation (1991-1993) JDM GTO rear panel.
McCulloch 10000K HID lighting.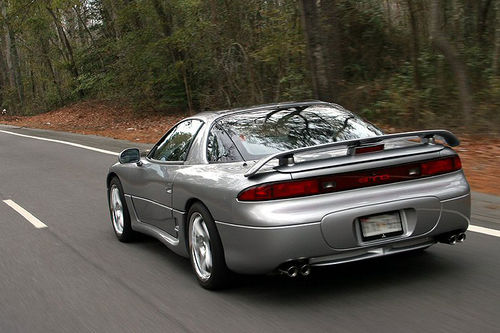 Suspension and Wheels:
TEC rear strut/harness bar with molded flush panel covers. (Polished).
Addco N/A front sway bar.
One-off custom made front end links.
Saner rear sway bar and links.
Drunken Bear adjustable rear camber arms
Cusco front pillow ball mounts
Tien S-tech springs.
New Mitsubishi ECS shocks.
VOLK GT-C wheels. 18"x9", silver with polished lip. Ray's lugs, and centercaps
Continental Conti Sport II 255/40/18 tires.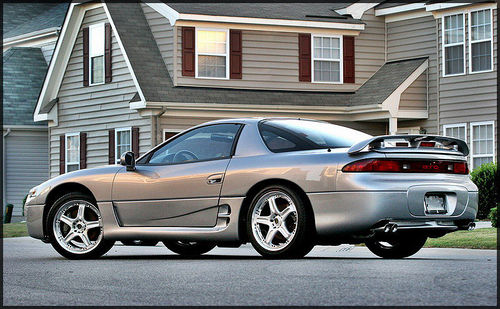 Electronics:
STACK st8130 race meter with custom one-off carbon fiber bezel and factory integrated switch.

This car is the first and only 3000GT VR-4 in the world to use a stack instrumentation.

AEM EMS standalone
AEM UEGO Wideband O2
HKS Twin Power DLI Ignition
HKS type 0 turbo timer
Greddy 60mm boost gauge (peak/hold/warning function).
Greddy 60mm A/F gauge. (peak/hold/warning function).
Greddy 60mm egt gauge. (peak/hold/warning function).
Interior:
BRIDE Ergo II gradation sport seats. (Black with silver lettering down the center.)
Moboleathers upper and lower door panels in black leather. (replace factory tan leather.)
Headliner, trunk carpet, sunvisors, reupholstered to black. (replace factory tan.)
New charcoal carpet and console carpet. (replace factory tan.)
New oem shift knob, shift boot
Engine:
Pampena Motorsports 3.1L balanced assembly
New 99 lifters, crankshaft, oem seals, crank pulley, idler pulley, tensioner pulley, oil pump, water pump, starter, alternator, and power steering and alternator belts
Power Enterprise super strong kevlar timing belt.
Power Enterprise Radiator Cap
Ross Forged Pistons (.030 over)
Oliver Forged Rods (The first set for 3/S, thanks Ray!)
ARP hardware
OE Style Twin Fuel Pump housing
Twin Walboro 255 Fuel pumps (Hotwired)
PTE 1000cc Injectors
Autometer Fuel pressure gauge
SX high flow fuel filter
AEM adjustable fuel pressure regulator
EK2 fuel loop
IPS TD05 manifolds (Swain-Tech coated)
EVOIII 16G Turbos (Swain-Tech coated)
IPS Precat Eliminators (Swain-Tech coated)
IPS 4" Downpipe (Swain-Tech coated)
HKS Super Dragger Exhaust
3SX Performance Dual-Pass Radiator with twin FAL fans
SAMCO radiator hoses
Supercar Engineering Racing oil pan
Setrab oil cooler
Dejon Tool Twin Intakes
Darkside racing front mount intercooler and piping (silver/clear powdercoating)
Twin HKS Super Sequential Blowoff Valves.
Phelonic intake plenum spacer.
SAMCO couplers/Turbonetics t-bolt clamps.
Polished valve covers, fuel rails, fuel loop, upper and lower intake manifolds, water housing, and throttle body.
3SX polyurethane motor mounts and transmission mount.
RPS Street Max clutch.
PST one piece carbon fiber driveshaft.
Optima battery relocated to the trunk, installed in an NHRA approved Taylor battery box. (polished).
Deleted AC, ABS, EGR, Cruise Control
Other weight reduction. (Rear wiper, front and rear wiper fluid tanks, tow hook, battery tray, etc...)
Vacuum line reduction in engine bay.
NOS nitrous oxide system controlled via AEM EMS.
Audio:
Pioneer DEH-P8600MP head unit
Directed 650 5 channel amplifier. (Hidden)
Kicker 1" tweeters (Hidden)
Pioneer 4-way 6 1/2" front speakers (Hidden)
Rockford Fosgate 3-way 6x9" rear speakers. (Hidden)
Dual 10" Infinity Perfect subwoofers

My Story:
I got rear-ended Feb. 19th 2004.
I decided to tear this car down to the bare frame and completely restore, upgrade, and innovate with fresh ideas. Almost a year and a half later, I have the roadcourse built car that I have always wanted, with a setup that will lay down consistent 11's on the dragstrip, (Even though that is not where 3S should be, haha.) And lastly, a stunning example of a well balanced 3S for show.
I thank everyone that has helped me in any way. It means more than you'll ever know. =)

- Jay