Upper Midwest Gathering
Jump to navigation
Jump to search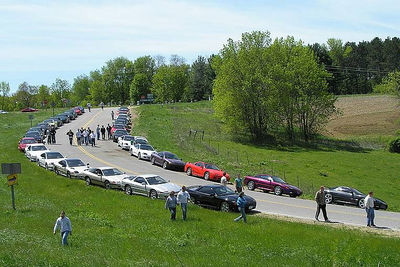 The Upper Midwest Gathering has been an annual event happening the weekend before Memorial Day in May. The UMG started back in 2000 when 16 3/S owners got together in Wisconsin Dells for three days of fun. Since then the UMG has grown. In 2005 we had 51 3/Ses there and 65 3/S owners!
Wisconsin Dells is a great tourist area filled with water parks, hotels, go-karts, restaurants, boat cruises and tons of other attractions. Wisconsin Dells is also perfectly nestled halfway between Minneapolis and Chicago and its right off interstate 90/94. Milwaukee and Madison are only a couple of hours away as well. The Dells is also very scenic as it is right on the Wisconsin River and outside of town is very hilly making for some great photo opportunities and some nice rural cruises.
What really makes the Upper Midwest Gathering special is the people. Legions of 3/S owners from the Minnesota 3/S club and the Wisconsin 3SI club have been coming to this event from the beginning. We also attract owners from Iowa and Illinois and other parts of the Midwest. Many friendships and bonds have been formed over the years. Most of us stay at Baker's Sunset Bay Resort. Its a nice, quiet hotel set in a wooded area along Lake Delton. We gather in the parking lot and the grassy areas for our big Saturday cookout and we hang out on the beach for volleyball and the bonfire pit. We also take over the indoor pool and whirlpool on Friday and Saturday nights. The UMG is a great environment for all 3/S owners whether you are young or old. Some owners bring there whole family for a great family vacation.
The basic schedule for the UMG is the same. On Friday afternoon we congregate at the hotel and meet and greet people as they arrive. Friday night we go out to eat and make an ice cream run. Some owners go to the local drive-in movie theater too. Saturday we hit up the Automotion Car Show in Wisconsin Dells. It attracts over 700 classic and muscle cars. Then we have lunch at the Pizza Pub and after that we go on some type of boat cruise. After the cruise we hit up the go-karts for some competition and bumping around. Saturday night is the big cookout at the hotel and then later on some people hit the night clubs or go cruising down the main strip. Sunday is the rural cruise on some twisty roads outside of town. We finish the gathering with a Sunday lunch at Danny's Diner. There is something fun for all 3/S enthusiasts at the Upper Midwest Gathering.
Here are the attendance numbers for the UMG:
Year
Vehicles
Owners
2000
16
2001
27
2002
27
2003
37
2004
46
2005
51
65
2006
42
53
2007
53
62
2008
50
56
2009
54
65
2010
52
64
2011
47
56
2012
41
2013
45
55
2014
40
2015
33
40
2016
37
2017
33
2018
44
2019
37
2021
40
For complete info on the Upper Midwest Gathering, surf on over to http://umg.mn3s.org or e-mail Curt Gendron at [email protected]