Unclesam99 (Kevin Umbreit)
Jump to navigation
Jump to search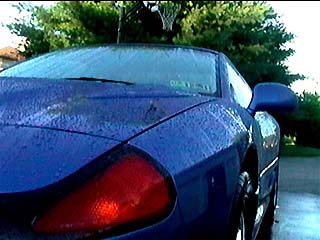 3SI Member #1007
Performance:
K&N
Borla TT exhaust
Underdrive pulley
Eibach springs
No Resonator
Porterfield Powerslot Front Rotors.
Looks:
Red R/T logo
Silver Accented Interior
Custom Blue Face Gauge
Red Painted Brake Calipers
Painted Various Engine Parts
Polished Plenum and Valve Cover
Blue Interior Lighting,
SnakeEyes Headlights
VR4 Spyder Rims
Stereo:
Aiwa CD Player
Sony XPlod 6.5" Door Speakers
Audiovox 6"x9" Rear Speakers
250w Clarion Amp w/Pioneer 400w 12" sub in an enclosed box.
My Story
I bought my car on April 28, 2000 - bone stock with 141,030 on the odometer. Needing some TLC, I put in a lot of time, money, elbow grease, and some blood, too. The result of all this really paid off!!
It turns heads where ever I go, which shows what a little effort (and class) will do for you.
Kevin