Turbosprentice (Johnnie-Shawn Lee)
Jump to navigation
Jump to search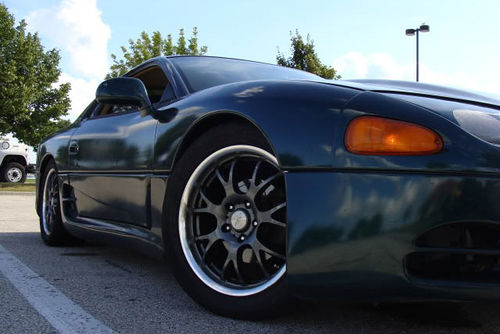 Ride of the Month Submission 3000GT/Stealth International March 2010
Engine:
DR Stage 2 heads
Ross 11:1 (.040 over) piston
Ported Lower Intake
3sx lightweight Stock size pulley
Fidanza Adjustable cams
Drivetrain:
Quaife LSD
Spec Stage 2 clutch
Fidanza flywheel
Mods:
MSD 8.5 wires
NGK Platinum spark plugs
Ebay intake with K&N FIPK filter
EK2 DP
RT Cat
Custom 2.75 inch Exhaust dual
Maximal Solid Motor mounts
Big Tyla Ground Wire
Denso fuel pump
50 shot nitrous
Suspension/Wheels:
Ksport coil over
Maximal Rear Control arms
Addco Rear sway bar
Ebay Front Strut Bar
ASA Gunmetal-Polish lip - 17x8 + 36 offset
Kumho Ecsta MX XRP - 245/45/17
Stockers - 16x8
Bridgestone REO1r - 225/50/16
Powerslot front rotors
Goodridge SS lines
Hawk HPS Plus front/rear pads
Exterior:
GT300 Hood
Fomex Front Lip
JDM Tail Lights
Electronics:
Apexi AFC Neo
AEM wideband
Auto Meter EGT gauge
Interior:
MOMO hub w/MOMO tuner wheel
Corbeau Reclining Sport Seat
Corbeau 4pt harness
Removed Parts:
Cruise Control
A/C
Front speakers and Tweeters
Horns
Rear seats w/belts
All rear interior panels
Useless Electronics/Modules
Carpets
Spare wheel and jack

Story:
Mitsubishi and Toyotas seem to pass through my family a lot. My parents use to own a '95 red VR4 Spyder and a '98 green SL. The SL was eventually given to me at the start of high school. But being young and immature, I totaled it. The following months to come, I picked up a '91 silver VR4 with some issues. Figured I can fix it up and have a super fast car, but it didn't turn out so well. Eventually, someone gave me an offer that I couldn't refuse.
A year later. I found my '96 base model. The only thing I could think of was modding the hell out of it. I started with weight savings, and stripping it apart. Then I got into suspensions and such, next thing I know I'm Auto-xing. It didn't take long until I wanted to hit the road course. A little while later, I was struggling to keep up with BMWs, Subarus, and Lexus IS in the straights. After a couple more events I blew my motor. I did a full rebuilt and added a bunch of goodies. I wanted to go with real higher compression but anything after 11:1 piston had to be custom made, and I wasn't going to waste a lot of time waiting for weeks to months. After a good $4.5-6k later. I decided to take it to a drag strip. And to my surprised, my best time with a 50 shot of NOS was 14.4 only. And without NOS 14.7. You can guess that I was a bit upset. But that whole second faster also made me a lot faster on the road course. In the coming years, I'll be doing a lot more road course events and auto-x events. Eventually my car will break down hard on me. So when the time comes, I'll be picking up a VR4 and start road racing with it too.