Tmartin417 (Tyson Martin)
Jump to navigation
Jump to search
Body-
Custom Paint by Ed Hubbs of Full Blown Kustoms
Full Veilside Body
Completely Stripped and Rebuilt Underside
Shaved Door Handles
Reflectors fiberglassed in
Rear spoiler removed
99 Sail Panels
H-4 Headlight Conversion Kit
Full Window Tint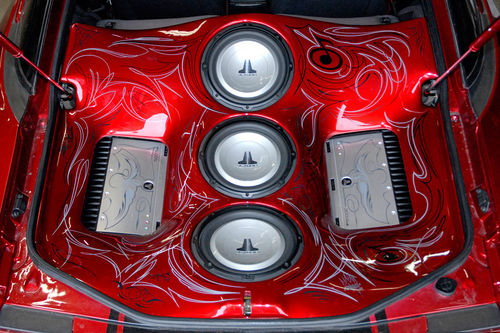 Suspension-
Rebuilt Suspension
Slotted Rotors
Rebuilt Brakes
Tein S-Tech Lowering Springs
19" Amp Tsukuba Rims with Chrome Lip
Toyo Rubber
Electronics-
Greddy Boost Controler
Viper Alarm with Turbo Timer
Interior-
3sx Chrome Vents
Custom Molded Door Panel Trim Pieces
Engine-
Drive-train Rebuilt by James Whitman of JW Sport Cars
Rebuilt Block
New Transmission
Spec Stage II Clutch
3SXecutioner Turbo's
Dejon Front Mount Intercooler
Dejon Pre-Turbo Pipes
3SX Dual Pass Radiator
Flexalite Dual Fans
Tanabe SMHyper Medalion Turboback Exhaust
3SX Stainless Downpipe + Cat Elims
3SX Polished Valve Cover, Upper Plenum & Fuel Rail
3SX Gasket Kit
Precision Turbo 550cc Injectors
GM MAF 3.5" Blow-Thru
MAF Translator
Dual K&N Intake Filter Kit
Fuel Rail Adaptor Kit
Fuel Pump Hot-Wire Kit
Denso Fuel Pump
Greddy Type-S BOV
Audio-
Custom Fiberglass Molded Trunk by Soundsational
3 JL Audio W1v2 10" Subs
2 JL Audio 500/1v2 Amplifiers
Pioneer AVIC N1 DVD/Navigation Deck
iPod with Video Feed
Focal Rear, Door & Dash Speakers
Full Dynamat
My Story-
I got this car under the most unfortunate circumstance in my life. Let me fill you guys in on where it started first. I was 19, broke and driving a...ehhm...honda, my dad called me up and said he wanted to buy a sports car. He initially was looking a Vette's, that's where I chimed in and suggested a VR4, which immediately changed his mind. My dad asked me if I remembered the doctors VR4(our neighbor) in 1991, which I did, I remember seeing him drive by in his red VR4 daily, and it was my favorite car, I liked it even more than the guy who owned a Delorian down the street, which is saying a lot since I grew up with Back to the Future. My dad and I looked for weeks to find a nice VR4 and finally ran across a black 1991 VR4 in Portland, OR. We made the trip to Portland to pick up the car, when we arrived at the owners house he had a brand new Viper next to the Mitsu in his garage, both were covered and in perfect shape. On the way home my dad told me that I could take the car during winter to Eugene(where I live) and drive it, because in Klamath Falls(where my dad lived) winters get pretty bad, I had no problem accepting the offer. We did this for about four years, it was always my favorite time of year when my dad would call me up and tell me I could come get the car. We would talk about things that we wanted to do to the car all the time, from paint to engine modifications. In 2004 my dad passed away suddenly from a heart attack, it was the most depressing point in my life, I found myself spending hours working on the car, it seemed the only outlet that kept me from constantly thinking about what I had lost.
A year later I started on the modifications we had always talked about. I met Ed Hubbs of Full Blown Kustoms who is now a great friend of mine, he has painted the car twice now, it was black with realistic style ghost flames to start. After two years with that paint job I decided to change it up and go candy red, which my dad always thought would look awesome on the car. Through Ed I met James Whitman of JW Sport Cars. James and I hit it off right away and started talking about what modifications should be done to meet the HP gains I wanted. I wasn't planning on doing as much as I did to the car in one chunk, but because the car was going to SEMA '08 I decided to go for it. James completely tore the entire car down and built it back up by himself. My entire undercarriage is rebuilt and show quality thanks to him, something I never intended to do. His attention to detail goes all the was down to the stainless bolts. After 3 months with James the car went to Ed's for paint. We all attended SEMA this year with the car. I was happy to find another VR4 and fellow 3si'er, Jojo, showing his car in Vegas as well. It's been very humbling to see so many great 3S's on this site, along with all the great people here always willing to dish out their knowledge and help.
Big thanks to 3sx performance for all their help and support!!!
I know if my dad was here today he would be proud of how the car sits...ehhm...screams!
You can watch the entire build of the car on JW Sport Cars YouTube page - video of the entire build of the car