Tman21901 (Tyler Fenton)
Jump to navigation
Jump to search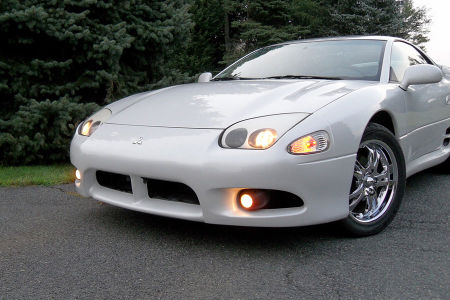 Suspension and Wheels:
American Racing Casino 18x7.5 Chrome Rims
Cooper Zeon ZPT Tires
Interior:
Custom Two-tone Seat Covers
Custom Blackberry Holder
Audio:
Custom Hand-made Integrated iPod Dock

My Story
I bought this car in 2005 as a Junior in High School. I had a bit of money saved up, and was looking at a bunch of different cars, all of the similar type. I was pretty fixed on getting an Eclipse, until I went to test-drive one and couldn't fit my knees under the steering wheel. To be honest, I had never even heard of a 3000GT. I had no idea they even existed, until I stumbled upon one while looking at other cars at a dealership. And as cliche as it sounds, it was love at first sight. I immediately began researching every aspect of the car, looking up everyone that I could find within a 300 mile radius. Mind you that this was 2 weeks before I could get my license, and I had made a very strict deadline for myself that I had to have a car the day I was eligible to drive. And sure enough, 2 days before the deadline, I found this baby. I spent my whole life savings on it, almost every penny. I had always had a job, and it had finally paid off.
I felt like the biggest bad-ass in the world with it. It was fast, cool, and stylin'. I had easily the best car at school ("Best Wheels" in the yearbook). Everyone loved to ride in it. But, being in high school and it being my first car, I, for a lack of a better term, beat the shit out of it. Things you cringe about. I took it places no gt should ever go. I pulled the e-brake too many times because I thought I was Vin Diesel and could 'drift' (the police told me otherwise). Took it out rain or shine or full out New England blizzard. I just overall beat the car. Yet somehow, it survived. No accidents, no engine damage, and only 1 new set of tires. Not even any real scatches other than the expected wear of a car this age. And here I am today, in the middle of college. The gt is now my everyday car. It takes me the 50 miles to and from my internship still in style. Around campus it still gets head turns. But it is no where near the car I want it to be. The only thing I don't like about it is that it is an automatic. I really really wish it wasn't an automatic. But that's not enough for me to part with it. I haven't had the time or the money to do any upgrades on it. But I do keep it clean.
When I purchased it I added new rims. A few months ago I added the custom seat covers, because the originals were in bad shape. I modified a holder for my Blackberry to fit right in with the interior. I also crafted a custom dock for my iPod that replaced the ash tray. I modified a generic iPod dock to fit in the dock I constructed with just wood, a few coats of primer, and some paint. It chargers the iPod off the same wire of the cigarette lighter, and the audio goes straight into the antenna, so that it works like an FM transmitter, without any interference. Everything is hidden under the console, so all you do it plug it in and go. I would love to get into the whole performance upgrade scene, but right now, I need to get through college first, and if this thing makes it through with me, I'm content with the way she is. Thanks for taking the time to listen to my story.