Thorpedo22001 (Cole Thorson)
Jump to navigation
Jump to search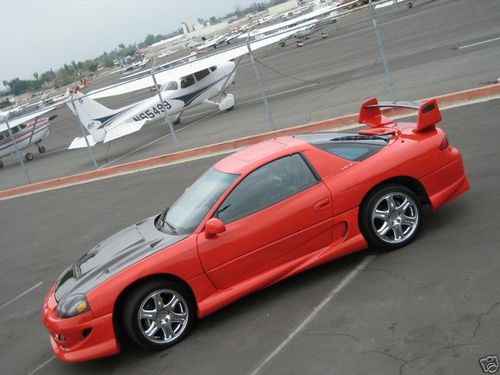 Ride of the Month Submission 3000GT/Stealth International January 2009
So far I have recently installed the following:
APEXI SUPER AVC-R ELECTRONIC BOOST CONTROLLER
HKS SSQV Blow-off Valve
K&N Filtercharger Fuel Injection Performance Kit
EURO REVERSE GLOW GAUGES
Carbon Fiber OEM Fit Shift /E-Brake Boot
Pitroad M carbon fiber body kit
Aluminum Y-pipe
Powdercoated valve covers (high glossy black)
Polished Intake plenum
NGK iridium spark plugs and magnacore spark plug wires 8.5mm
Kevlar Timing belt
Lightweight T6061 Aluminum Crank Pulley
Pre-Cat eliminators

My Story
This is my 1999 Mitsubishi 3000GT VR-4. I added the full Pitroad-M Fighter body kit on it which is the REAL one from Japan. The whole kit is carbonfiber, but I ended up getting everything painted with the exception of the hood and the wing.
Right now I am guessing I am pushing about 370hp waiting on tranny work so i can take it to a dyno and get it tested and also tuned.
-Cole