Tazman (Frank Nunez)
Jump to navigation
Jump to search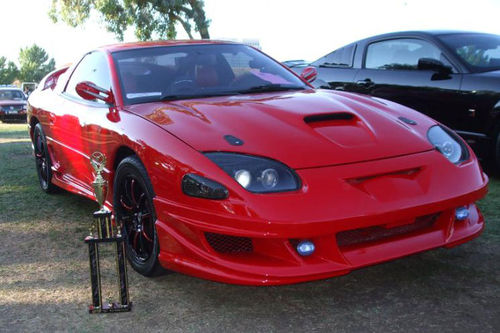 Ride of the Month Submission 3000GT/Stealth International March 2006
Engine Bay
Ultimate performance dress up kit
3Sx chrome covers
Polished radiator bracket
Polished 3000GT spark plug cover
Chromed A.C. brackets
Chromed battery bracket
Killerglass radiator hose
Powdercoated, polished and chrome parts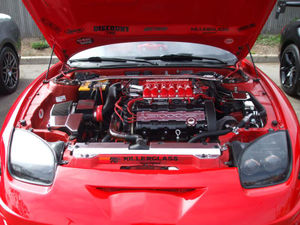 Exterior
Deftracing fiberglass 575 hood
Aerocatch hood pins
Molded Xtreme bodykit
'99 sails
Smoked tails and corner lights
'99 rear garnish
Robo mod headlights
Rear wiper delete
Working power antenna
Aftermarket side mirrors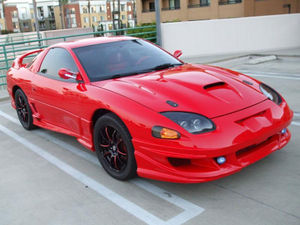 Interior
Leatherseats.com red/black seat leathers
Two seat conversion
Momo steering wheel
Mitsubishi logo ashtray plate
Custom headliner and sun visors
Two gauge pillar pod
White faced gauges
JDM single DIN storage bin and drink holder
Audio
JVC headunit with iPod control
Rockford Fosgate component speakers, rear speakers, fuse holder
Stinger Battery terminals
Two 10" Infinity subwoofers
Memphis mono amp
1.5 farad capacitor
Wheels and Suspension
Konig Illusion red/black rims
Intrax lowering springs
Front and rear strut bars

About my Car (2010)
I bought it in 2001, while on a Western Pacific deployment, from a dealer in Clovis, NM. I took possession of the car in August 2001. I competed in my first car show at Extreme Autofest 2006 in San Diego, and took Second Place "Best 3000GT." I took First Place "2nd Gen" at WCNC 2006 in Las Vegas. Due to being deployed, I was away from the car show circuit until 2010, where I competed at the RPM car show in Irvine, CA. I took Second Place "Best Daily Driver" in a pretty large field of cars, including all makes and models. Love this platform, and although I don't have the speed of the VR-4's, I do have the reliability and peace of mind. In April 2007, I drove the car from San Diego, CA to Newport, RI and back, without incident!
This has turned out to be a great hobby, and I'm glad I have my dream car!
About my Car (2006)
I was deployed on a ship in 2001 in the Persian Gulf when a new guy came to work with me. He mentioned that his dad owned three dealerships in Clovis, NM. I went to his dad's website, and saw the car. His dad offered it to me at wholesale. I applied for a loan online, and sent him a check. I bought the car unseen (other than a picture), and undriven. I made about six loan payments before I was able to drive the car. I just had a gut feeling that this was a good deal.
In any event, his dad emails me that his son said that I was a good guy, and that I was taking good care of him, who had just joined the Navy. Because of that, his dad decided to put some chrome rims on my car (I've since sold those rims).
We returned to San Diego for five weeks, and had to leave again for Adak, Alaska. I told his dad that I couldn't come get the car until we returned, and he said that it wouldn't be a problem, and he'd make sure the car got tuned up and detailed before I picked it up.
Shortly after returning to SD, I flew to Lubbock, TX (about 2 hours away from Clovis), spent the night at a hotel, and his dad came and picked me up the next day (mind you, he owns three dealerships, and could've sent one of his employees).
So I see the car, and got excited. Signed the paperwork, and he let me register the car in New Mexico, thus saving me big bucks on the sales tax (and NM doesn't require a front tag). Spent the second night at his dad's place (a nice, two story house right off a golf course). Next morning, bought a case of water (in case something happened while I drove across the desert), and made the trip back in two days.
I finally have the opportunity to work on my "dream" car. It's pretty cool when I get compliments while I'm out and about driving, or cleaning up my car. It's my hobby, my passion, and my way of relieving stress... (believe it or not) I've had the pleasure to meet like minded enthusiasts on 3Si and SoCal3S! Gotta love how these cars look!
Accomplishments:
1st Place "Best 2Gen" at WCNC 2006
2nd Place "Best 3000GT" at Extreme Autofest (Oct 2006)
Shown in Cool Cat Mag (Oct 2006)
My websites:
2010 Gallery
[
edit
]
2006 Gallery
[
edit
]