TT Eric (Eric Marchand)
Jump to navigation
Jump to search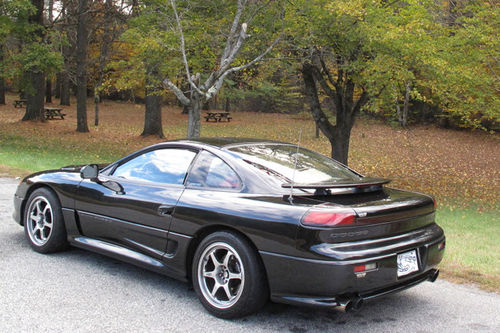 Ride of the Month Submission 3000GT/Stealth International December 2010
Engine and around:
DR750's (first non prototype set)
Forged wastegate
ETS FMIC, all sleeper Black
Boost cooler Stage 2 with 2 Nozzles
Denso 660cc
DR fuel pump
3SX Cam Gears
SCE Racing oil pan
New OEM Shortblock
Custom & unique Quad tips Exhaust with VES (virtual exhaust system)
Etc...
Suspension/brakes/wheels:
SCE KWv3 Coilover
SCE Stoptech
Rear 2G brakes
5Zigen ProRacer GN+
Direzza Star Spec Z1
Electronics/tuning devices:
DRARC-2 w/upgraded MAF
S-ITC
AEM Wideband
HHH logger
BAP, HKS TwinPower, Boost gauges...
Interior:
New leather seats
Butt Heater
Custom floor Mat
No apparent gauges or instruments (all hiden in glove box)
Drivetrain:
Pampena rebuilted Tranny being actually done with
SCE Torsen Center Diff
Quaife Torsen Front Diff
Jack Transmission rebuilted tranny (spare)
RPS Max Street PP and 6 puck disk
RPS Lighteight Flywheel
PST CFDS
Rebuilted TCase & Rear Diff

My story:
First (and only) 6G72's TD04 in the world that made 600WHP+ on pump gas!!
As most of us, I've always been a fan of the 3/S! They were hard to find around me, so I had to import one, it was supposed to be a good running car with everything functional, but once here, the oil light was on, car needed a new motor, new tranny, A/C, tires, driver seat was ripped, bunch of sensors not working... this car needed a lot of love. I had a choice to either quit or to do a full project! The good news is that the body was solid, no rust or else! So the project started to make a new car out of this one! Almost everything as been replaced with new parts/rebuilted (sometime even better then new parts ;)) : new Shortblock, heads, turbos, complete driveline, brakes, wheels, almost every existent sensors and electric parts...
Over the time I decided to try to achieve my perfect daily driven street set-up. That would include : great performance without race gas, great handling, great braking, easy drivable drivetrain/clutch, sleeper look and still not too loud. I know, I've set the bar pretty high and I had to try many parts and start over a few times (4 intercooler set-up, 4 exhaust, 3 clutches...).
Now by the grace of God, after a lot of time, effort and $, I can say this crazy goal is acheived! Great handling, great braking, driveable like a new car, sleeper and quiet! With more then great power, it made the 6G72 TD04 world record on pump gas and make astonishing amount of TQ so early it almost put V8's car under shame!
I'm very proud that the car made 609 WHP / 633 WTQ! And 600 WHP / 651 WTQ too! All on pump gas + water/meth! With an impressive 500WTQ at 3400 RPM and 600WTQ at 3900rpm! FTW
Thanks!
- Eric