TAZmaniac (Ole Kristian Oydvin)
Jump to navigation
Jump to search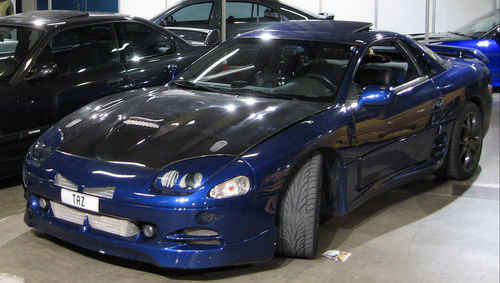 (no member number or is it 17719 as my profile says ?)
Body:
Stock front bumper (Custom intercooler intakes)
Custom BOV outlet
Bomex front lip
Cianci wide-body front
Cianci wide-body rear
Moved and replaced fuel lid, custom solution with Sparco lid.
Carbon fiber Deftracing 575 hood
Aerocatch hood-pins
Removed rear wiper
Black metallic painted wipers and details
Removed antenna
Xenon lights all front lights including fog lights
Crystal clear corner lights
Custom aluminum mesh in all intakes
Interior:
Original charcoal grey color
Seats refurbished in black leather and blue alcantara
Interior doors in black leather and blue alcantara
Gated shifter and Sparco knob
Modified center vents for 3 gauges
Modified trunk for fuel pumps, fuel chamber, fuel filter, battery and stereo
Custom stereo mount for both a flip-screen stereo and a slot-in custom microcomputer Which uses the stereo as monitor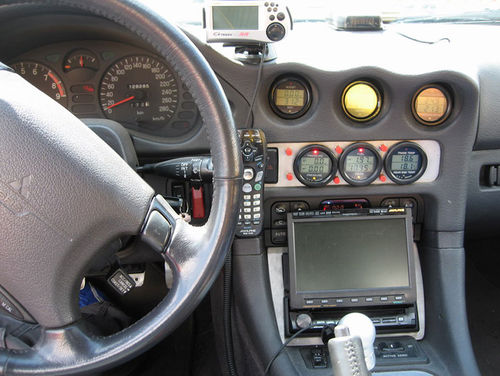 Electronics:
Exide Maxxima battery
Modified Haltech E6K standalone engine management (one extra trigger stage, and modified to handle 12 staged injectors)
Haltech idle controller
Spa design dual digital gauges with programmable warning high/low with light and Peak hold
Boost/EGT ,
Water/oil temp ,
Intercooler in/out temp ,
Oil pressure heads/bottom end ,
Fuel pressure/volts ,
Transmission/TC temp)
Greddy Profec Spec II boost controller
G-Tech Pro RR Performance meter
Audio:
Alpine IVA-D900R media center main unit (1 megapixel resolution on screen ! )
Alpine NVE-N099P DVD based navigation integrated with media center
PAC SWIX controller to make the steering wheel buttons work again
Alpine Type R speakers and tweeters
2 X Boss active subs (8" element and 600 w peak effect amplifier per element)
Phoenix Gold 802 4 channel amplifier
Soundstream SCX-8 8-farad capacitator
Own design micro computer with slot-in DVD player (dual boot Win98 and Win XP)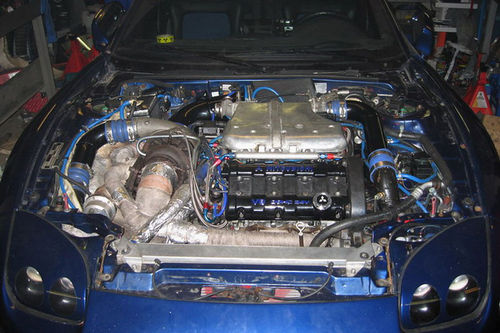 Suspension and Wheels:
Complete Tein flex coilover dampers
Tein EDFC (electronic damping force controller)
All bushings to front suspension in polyurethane
All bushings to rear suspension in polyurethane
All bushings to undercarriage in polyurethane
All bushings to rear diff in polyurethane
Saner rear sway bar (kept front stock for better turn in … to stiff and it would only be pushing out)
Adjustable rear camber arms
Removed 4 wheel steering keeping the front rack and thus kept the 2,4 turn stopper to stopper
Custom adjustable toe-in and toe-out control arms rear
RH rims, 8,5" front and 10" rear, Powder coated custom dark anthrasit grey
Tires: Vredestein Ultrac Sessanta, 255/40 front and 295/35 rear
Brakes:
Complete setup (front and rear) calipers and discs from the asphalt setup of a Mitsubishi EVO WRC car, powder coated black
Ferrodo 3000 brakepads rear, Ferrodo 2500 brakepads front
Steel braided brake hoses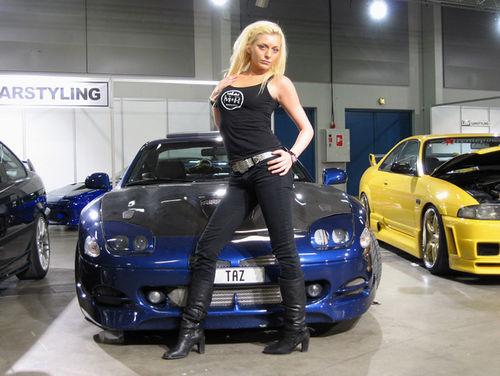 Engine:
Custom single turbo conversion
Sound Performance modified Garret GT-42R turbo with larger compressorwheel
Custom "own design little secret" to enhance the exhaust flow out of the turbo
Innovative Turbo Systems wastegate
Turbonetics Godzilla dump valve
3SX (and Brian Crower) 3,4 l stroker-kit :-)
Clevite77 bearings
ARP Main studs
Custom own design exhaust manifolds (stainless and acid proof)
Custom 4" – 2 X 3" exhaust system
Custom heads (ported and changed valves and valve geometry to fit cams)
Custom oversized Ferrea valves with 0,5 mm thicker stem bought as blanks and with extra hardening to the valve top
Higher density valve springs made for Cosworth
3SX solid adjustable lifters
Custom own design cams
3SX adjustable cam gears
3SX polyurethane motor mounts
Custom FMIC (split core with common end-tanks)
Custom 3" intercooler tubing
Custom intake manifold with internal velocitystacks matched to porting and 2 injectors per cylinder
Greddy type RS mounted as pop-off (yeah!! Pop-off … to take out backfire after I blew the intake once )
Custom 12 injector staged system controlled by boost
Custom fuel system (2 Facet pumps to feed pre-chamber and 3 Bosch pressure pumps, also staged)
Aeromotive fuel pressure regulator
Aeromotive fuel filter
KN 6" air filter and 5" custom tubing
3SX dual pass radiator
Custom pressurized breathing expansion tank for the cooling system
Supercar Engineering dry-sump system with my own design tank, mounting and breather system (pics upon request but it turned out beautiful :-) )
Relocated Mocal oil-cooler with thermostat controlled fan
Drivetrain:
Custom reinforced 6-speed gearbox
300M output shaft
Supercar Engineering Billett 1-2 and 3-4 shift forks
Supercar Engineering Dog-box
Supercar Engineering "Torsen" type Center diff
Kormex LSD front diff
RPS Carbon-Carbon twin disc clutch (first I got I demolished … .. This has a completely different design and is supposed to be much stronger)
ACPT carbon fiber drive-shaft
Dynamic Racing billett end-housing ....
And there is this little project going on regarding sequential shifting :-)
My story:
The story ….. yeah .. well
I Don`t even know where to start. I have always been kind of a motorhead. And when you work as a chief pharmacist I can tell you I was pretty much alone in that interest among colleges :-) . I built and tuned my own motorcycle and did some dragracing with that a few years. And did pretty good. Not even then did I go for the Suzuki (which was kind of the "Supra" of motorcycles in that era). I got a Yamaha, went all out and actually won the Norwegian championship several years in a row on that bike back in 1998-2002 (best run 9,61 and 146 mph on a standard wheel base DD motorcycle). Then I wanted more…. I felt I had come as far as possible on that bike without ruining it with a stretched frame and slicks so …. I wanted a performance car and was looking at options … At last I had narrowed it down to 5 real candidates: Toyota Supra, Nissan Skyline, Honda NSX, Maserati 3200 and of course the car I fell in love with, the Mitsubishi. The Supra I never really wanted…. Over here that was the car "everybody" worshipped (you now a Supra can nevva looooose right :-) ... ) and I`ve never been the main stream kind of guy. The Skyline was not an option either because of the government rules over here it is impossible to register. The NSX was cool but kind of impractical as my only car at that point (not to mention a really shitty winter ride). And the Maserati was a little to exotic for me to race and tune with good conscience. And then I did some research and completely fell in love with the Mitsubishi. There is almost something magic with the beautiful curves of a "real" lady. I bought a blue 1992 and did some minor tuning. After just 3 months it got stolen and I had to look for another which led me to my current car. A Mitsubishi 3000 GT VR-4 -95. It was imported from Germany in late 2000. I started modification late 2001 and finished "stage one" 2003/2004. Custom single turbo with a Turbonetics T-76 big-shaft BB turbo (which was changed to a Sound Performance modified Garrett GT-42 BB in 2006). And it has of course been added to that every winter since.
Special about the car when I bought it: Electric sunroof ( pretty rare over here ) and for some reason with fixed instead of electric suspension. The color is original Mitsubishi blue pearl modified with the addition of some extra purple pearl.
The project soon escalated out of all proportions. What started as a "little more than usual" engine build with a single turbo conversion ended up in a flat-out performance seeking project. Complete engine build with a buttload of custom parts, custom solutions, total brake upgrade, complete coilover set etc. etc. The only thing I firmly has been able to hold on to is that it should be usable. I wanted to keep the comfort (or at least most of it) and be able to use the car as much as possible on a daily basis. And take it on the occational holiday trip every once in a while. So anything but pump gas was out of the question for me. And the installation of a roll-cage was also absolutely out as the car is still meant to be a DD. At that time (back in around 2004) I knew I was kind of "walking the path". This kind of power in the 3000GT was almost unheard of at that time. And there were very few parts and solutions available so a lot of build time and custom solutions had to be made. So I kind of expected a few "bruises" along the way. And I`ve had my share of mishaps as well as expected but every time something happens you learn from it. And I`ve always gotten it back on track within a reasonable amount of time so I can enjoy the ride again.
I feel I have accomplished what my goal was to a more than satisfying degree. The ride is actually not too harsh (in my opinion) and the sound is not over the top loud (more of a beautiful rumble that goes over to a shrieking racy sound when you get some rpms out of it). I have friends with both harsher and MUCH louder cars that still doesn`t have half the engine I have. I`ve actually been pulled over several times by the police and they have not commented once that it seemed too loud or too "rice". As long as it runs it is my daily driver through the summer. I take it to work (which is like 5 min away). I RIDE it (not trailor it :-) ) to all the meets and events I go to. Even when I know it`s gonna be raced. And I feel I have a very fun usable car that I`m happy with. Norway has some pretty extreme cars, but inside the community I have almost set a new standard for "daily drivers". I put more miles on it in one season than most of the other 600-1000+hp cars have done in the past 5 years put together. And through the years it`s only happened twice that I couldn`t drive it home again from an event.
+++++ There`s probably a whole lot of minor stuff I forgot to mention as well, but you get the general idea. There`s just no way I can remember every little "this and that" that has been changed over the years.
Confirmed result: 643 AWHP and 601 ft/lbs torque (at 5400 rpm … flat ignition curve) with the Turbonetics T-76 on PUMP GAS. With our drivetrain loss that should translate to roughly 800+ hp in the engine. This was back in 2004 ….. Tried another dyno in 2005 - Boost issues (peak 3,5 bar and took out all main bearings), was scheduled for another in 2006 but exploded the transmission, another in 2007 (on a Rototest type dyno) which actually gave up and none in 2008 or 2009. The car noticeably faster now and when I scheduled a dyno-tuning session last month (feb. 2010) it showed that the engine was very different with the bigger engine. After a few hours of tuning fuel and ignition at different rpms we started to crank up the boost (and ignition) and the ignition system failed. Turned the boost down again and it got better again. So no "high in the sky" numbers but the logs showed somewhere around 660 awhp and 600+ awt at around 5200 rpm when we called it a day, put on the snow-tires and drove home again :-) with a new ignition system on the "to do list". All is of course still on pump gas alone (not even alcy or meth injection) because that is way I want to have my daily driver through the summer. I`d rather sacrifice a few ponies with a fairly safe tune than go all out on the edge with more systems that can fail. I don`t really have any good timeslips to brag about, but I do have some that still show potential. I have several runs of 12,6-12,8 with 130+ mph trap speeds (I had a gigantic exhaust leak and there was just no way to get any proper boost until halfway through second… 60" was about 2,4 :-( ….), and a run of 11,74 where I blew a hose just after the 1/8 and coasted in at an "impressive" 108 mph … RPM limiter currently at 8300.
Finally I`d like to thank all that have contributed to the car as it is today. Thanks SO MUCH to JCS Race Tech, SWR Engineering, KM cams and Engelund racing (which are all local companies over here). Thanks to all you guys at 3SX for awesome service everytime I contact you. A big thank you to Phillip at Supercar Engineering as well for the excellent service and products you have provided. Thanks a lot to Kormex for their valuable input and service. Thanks to all you guys here on 3SI for the feedback and suggestions. You truly are a source of knowledge and inspiration. And of course a million thanks to all my friends that have helped with labour, inspiration and knowledge throughout the years. There`s absolutely no way I would have been able to do this without you.

This got a little longer than expected but I hope it was worth it. Thanks a lot for the attention.

TAZmaniac
My Website:

And here is the link to the infamous "Suprakill" everybody keeps asking for :-) (somebody actually took their time to make it better quality as well even though the cameraman (a friend of mine) got so carried away he forgot where to aim the camera :-) )
And the mustang clip that is my personal favorite :-) :
TAZ vs Twin Turbo Cobra Mustang

And here is also a couple of extra pics for anyone interested in that: