SunDown13X (Dorian Ramirez)
Jump to navigation
Jump to search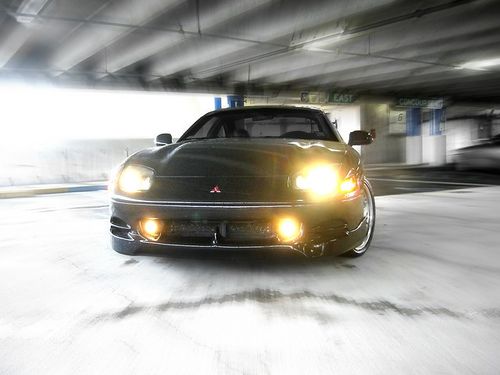 3SI Member #1856
Body:
'99 Carbon Fiber Wing
OEM '99 Rear Panel
JDM GTO Tail Lights
Bomex Front Lip
OEM VR4 Badges on Sail Panels
No Fat Chicks- Sticker on Rear Window ;)
Suspension and Wheels:
Volk Racing AV3 Racing Wheels (Size: 18X9.0, OF: 45, PCD: 114.3)
BFGoodrich T/A KDW2 (265/35/18)
Intrax Lowering Springs
TEC Strut Tower Bar - Silver
Stillen Performance Cross-Drilled Rotors
Stillen Performance Brake Pads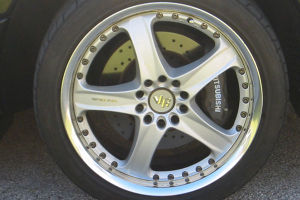 Electronics:
GT-Pro/Split Second ARC-2 Fuel Computer
Kenne Bell BOOST-A-PUMP
Mirage Corp. Hybrid Datalogger
HKS EVC 5 v.2 kPa - Boost Controller
AutoPage RS-850 lcd (Professional Remote Car Starter with Alarm System and 2 way LCD communication system.)
Interior: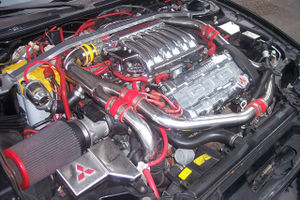 Engine:
DR650R Turbos
Denso Supra Fuel Pump
Fuel Pump Hotwired Kit
Fuel Pump relay By-Pass
Denso 720cc Fuel Injectors
GT-Pro/Split Second ARC-2 Fuel Computer / MAF & Intake Kit
HKS SSQV
RPS Max-Series Clutch (6 puck) - new only 2k on it
RPS Lightweight Aluminum Flywheel - new only 2k on it
Unorthodox Underdrive Crank Pulley
Ross Pistons
NGK Copper Spark Plugs
Magnacore R-100 Racing Ignition Cables (10mm)
DN Performance Polish Intercooler Pipes
Custome Exhaust (ATR Performance Exhaust (single shot) with bullet muffler)
ATR 3" Stainless Steel Downpipe
3" Test Pipe
Gutted Pre-Cats
OEM '99 Lifters
EGR Block-off Plates
Vac Line Reduction
Fuel Labs FPR (not installed but since I'm replacing my alternator it will go in then)
SX Performance HiFlow fuel filter (not installed but same as the FPR)
Auto Meter Fuel Pressure Gauge (not installed but same as FPR)
Stainless Steel Braided Fuel Lines
Polish Plenum
Polish Rear Valve Cover
Polish Front Valve Cover
Polish Front Fuel Rail
AAM GTO Polish Spark Plug Cover
3SX Custom Engine Dressup Hose Kit
3SX 6-Piece Polished Stainless Steel Cover Kit
3SX TT Reservoir Cap Cover Kit
Audio:

My Story:
1994 Mitsubishi 3000GT VR4 / GTO TT
I dont even know where to start. I always wanted a 3000GT VR4. Ever since I can remember. I first got my change to drive one in Gran Turismo; LOL like many other members, and been hooked ever since. LOL
On my last year of college, I had saved up the money to get the car of my dreams, ok not really cuz thats still a Jaguar XJ220 hahaha, the second... ok fifth car of my dreams lol, and I when on a long long search for the right car. After many pieces of junk, I finally found her... a 1994 VR4 (20K asking price). it was BPU and I must say, the Volk AV3s sold me... hahaha. I told the guy I would give him 17K right there and there... but he said no and told me he had other people coming to see her... I sadly when back home... A month later... The phone rings and its the guy wanting to know if I still wanted the car. He still wanted 20, but i told him for 18 I would be there tomorrow... hahaha and so thats how I came to have my car... (short, short version)
Anyway, I been on 3SI since 2002, but I dont think I had register until later on... Sorry I lost too much time on 3kGT.com hahaha. But ever since the switch, i never been happier. Over the years I have meet so many great people... many, which I can prodly called them friends.
My car is a working progress, like many of yours... And it has seem many hard times, from my engine rebuild (blown pistons), to dead turbos, accidents, and even a break-in that cost me about 5 thousand dollars worth of parts and tools. Ever since then, I been trying to bring back my baby to its glory... 437 awhp and 464 ft-tq. Its getting there but with the purchase of my new home, its been a little harder. Anyway, I hope to make it into the ride of the month... It would be a great honor for myself and my car... Thanks in advance for your votes.
-D.