Stealthlabel (Jared Shannon)
Jump to navigation
Jump to search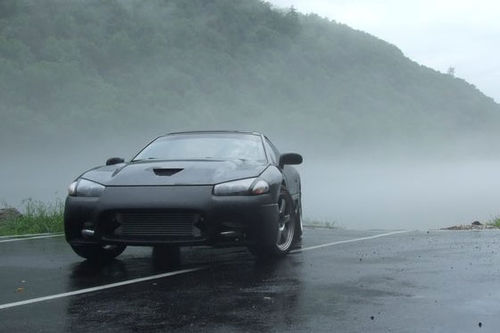 Ride of the Month Submission 3000GT/Stealth International July 2010
Body:
GTO power folding mirrors video
Night shade (wing brake light, reverse lights, taillights)
8k HID's
2nd gen RT body panels (door caps, side skirts, rear bumper)
15% tint
99 Front End(glass 94 Stealth headlights, 99 blinkers)
Cianci Evil Eye Victory hood
JDMEGO license plate bolts
JDMEGO License plate frame
tinted license plate cover
Suspension and Wheels:
3sx SS brake lines (Blue)
Eibach lowering springs w/ ECS
Volk TE-37 Rims
Rays lightweight lugs
Nexen 245/40/18 N3000 tires
Black painted calipers with Graphite Stealth decal
Cusco Rear Strut bar
Cianci 3-point front strut bar
3sx AWS delete
Electronics:
Valentine 1 Radar detector (hardwired)
AEM UEGO (wideband)
AEM Boost Gauge
Apexi AVC-R Boost controller
Apexi S-AFC: II
Prosprot Gauges (water temp, Fuel press, Oil press)
Interior:
2nd gen FULL black interior
Katzkin upholstry front seats(dark charcoal)
Anodized black aluminum dash vents (Smokin VR-4)
Shift boot (black)
3rd gen dome light/homelink
Evo X shift knob
Engine:
EGR block off
Vac Reduction
3SX Hotwire Kit
"ONE" Down Pipe (front precat delete)
custom 3" catback exhaust sound
3" inlet/3.5" dual outlet exhaust tips drive by
HKS SSQV limited Black BOV
Seattle short throw shifter (1.25" shorter than normal short shifter)
gutted rear precat
CNC shifter bushing kits
Maximal solid motor mounts(Front & Rear)
Slotted & cross drilled rotors
1 piece CFDS
120 tuneup
Denso 255 fuel pump
Dejon Blow-Through setup w/ Gm maf and MAF-T
560cc injectors (EVO VII)
Oohnoo's FMIC
DNP Pipe Kit
Powder Coated (black) Plenum and Valve cover by Maximal
3sx Twin Turbo spark plug cover
Maximal T-Case bracket
MSD street fire spark plug wires
NGK Copper spark plugs
Fidanza flywheel L/W
Spec stage 3 clutch
99 lifters
2nd gen driver side motor mount
HKS Twin Power DLI
Clear Cam gear cover
custom SX fuel line kit(FPR, Filter, rails)
Audio:
12" corner box (Smokin VR-4)
JL Audio 500/1 amp
Kicker 12 CVR
Pioneer 6x9 rear
JL Audio 5x5 front
E-Dead sound deadener throughout(Trunk to lower back seats and doors)
Waiting on install:
96 Stealth wing
STM clutch line
Meth injection kit(Snow Performance)
rear wiper mod
Wanted:
STM ABS delete
Braille battery
Blue angel eye rings
3M Di-Noc on hood

My story:
So I was finally able to buy a TT in 2008 with 105k miles. I love it with a passion. I got it for a great price and have fixed everything that was wrong and have upgraded a lot of it! Ever since I bought my first stealth I have been in love with them and nothing in my life can compete with my car. In 2004 I came across 3SI.org and it has helped me so much on parts and has help me meet many new people that I have made good/great friends with!
I have gone through many of these cars since but have always had my first one(94 SOHC Stealth). I have parted 4 of these cars and bought and sold 2 other ones of these. I am known as the parts guy in charlotte NC by many of the guys around this area.
-Stealthlabel