StealthII (Richie Shields)
Jump to navigation
Jump to search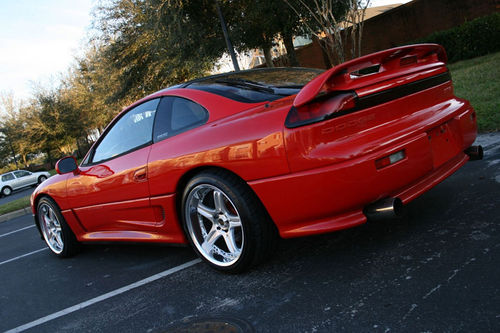 Ride of the Month Submission 3000GT/Stealth International March 2010
3SI Member #2349
Engine:
IPS EVO3 16G Turbo Kit
IPS TD05 Headers and 02 Housings Kit

Custom Aluminum heat shield w/ HP Armor on front header

IPS TD05 FMIC Kit
IPS TD05 "No-MAF" Intake Pipe Kit
AEM Hi-Flow Intakes
HKS SSQV BOV
Unorthodox Cam gears
99' lifters
3SX Custom Stock Sized Crank Pulley
3SX Custom Polyurethane Motor Mounts
Goodyear Gatorback Belts

Goodyear Gatorback Power Steering Belt – 4PK0925 (4040365)
Goodyear Gatorback Alternator Belt – 4PK1130 (4060445)

E2KMFG EGR Block off Plates
E2KMFG Spark Plug Cover
E2KMFG Red Anodized Injector Cover
Vacuum Reduction w/ High Temp Silicone Hoses
Exhaust
Polishing
Intake Plenum polished by Dave Best
Valve Cover polished by Dave Best
Spark Plug Cover polished by Dave Best
Polished Injector Resistor Cover
Hayame Chrome Radiator Cap Cover
Hayame Chrome Reservoir Cover (L) for Brake Reservoir
Hayame Chrome Reservoir Cover (S) for Clutch Reservoir
Hayame Red Reservoir Cover (S) for Transfer Case Reservoir
Ignition
MSD 8.5mm spark plug wires
MSD Coils
HKS Twin Power DLI (43001-AK001)
NGK V-Power Spark Plugs gapped at .032
Fuel Components
Denso "Supra" fuel pump (hard-wired)
SX Hi-Flow Fuel Filter
Earls SS Braided Lines from SX fuel filter to MagnaFuel Y-Block
MagnaFuel Y-Block
oohnoo - SS -6 AN Fuel Lines
oohnoo - Custom Fuelab FPR Bracket
Summit Racing Chrome Plated Fuel Pressure
E2KMFG Fuel Rails
PTE 680CC injectors
Fuelab Fuel Pressure Regulator
Cooling
Setrab Oil Cooler
PWR Aluminum Radiator
IPS Polished Upper & Lower Coolant Pipes
Earls SS Braided Coolant Lines for turbos
Earls SS Braided Lines for Oil Cooler
DriveTrain:
Transmission
Kormex rebuilt 5-speed Transmission
SuperCar Engineering AWD-Center TORSEN LSD w/ 300M Output Shaft
SPEC Stage 4+ Clutch
SPEC Pressure Plate
RPS Lightweight Flywheel
3SX Stainless Steel Braided Clutch Line
Seattle Roller Bearing Short Throw Shifter
Transfer-Case/Drive Shaft
3SX/LIPP Front & Mid SS Transfer Case Housings (Kormex rebuilt)
E2KMFG Transfer Case X-Cage
Transfer Case Reservoir MR333902 & MB555135
PST Carbon Fiber Drive Shaft
Suspension
Megan Racing "Street Series" Coilovers
Ultimate Performance Front Polished Strut Bar
Ultimate Performance Rear Polished Strut Bar
Maximal Performance AWD Adjustable Control Arms
Brakes
Cross Drilled & Slotted Rotors
Porterfield R4S Brake Pads
3SX Stainless Steel Braided Brake Lines
Speed Bleeders
G2 Painted Calipers w/ Vinyl "STEALTH" lettering
Wheels/Tires
Volk GT-C 18" Wheels

Volk GT-C 18x9 "Face 1" +30mm (in front)
Volk GT-C 18x10 "Face 2" +31mm (in rear)

Dunlop Direzza Sport Z1 Tires

Dunlop Direzza Sport Z1 245/40/18 (in front)
Dunlop Direzza Sport Z1 275/35/18 (in rear)
Exterior:
Body Enhancements
1993 3000GT VR4 Rear Hatch
1993 3000GT VR4 Active Aero Spoiler
Cianci CR-2 Viper Hood
Hayame Brushed Aluminum Hood Pins
Lighting
Hella H6545 165mm ECE Hi-Lo H4 Conversion Headlamp Kit
Hella Micro DE Fog Light Kit
Blesk H4 4300K Bi-Xenon HID Conversion Kit
Blesk H3 4300K Xenon HID Fog Light Conversion Kit
Upgraded headlight wiring (KnuKonceptz wiring/Stinger SR80 relay)
Interior:
Interior Enhancements
MOMO Jet Steering Wheel
MOMO Combat EVO Carbon-Fiber Shift Knob
MOMO Performance Boot
MOMO Pit Stop Carbon-Fiber E-Brake Handle
MOMO Pit Stop E-Brake Boot
MOMO Carbon Fiber Pedals
SMOKINVR-4 Black Anodized Defroster Vents
SMOKINVR-4 Black Anodized Front Speaker Grills
SMOKINVR-4 Black Anodized Rear Speaker Grills
SMOKINVR-4 Black Anodized Door Trim
1999 3000GT Jet-Black Carpet
1993 STEALTH Charcoal A & B Pillars
Seating
Dodge Viper SRT-10 Seats w/ Corbeau brackets
1999 3000gt Jet-Black Rear Seats
Schroth Profi III-FE ASM Harnesses
NRG Harness Bar
Gauge Pods
PPE Engineering gauge Pod
DoomZdaY Steering Column Single Gauge Pod
SMOKINVR-4 Blitz Overhead Pod
Stillshot2 Universal Laptop Stand
Lighting
White LEDs Light Interior Conversion w/ 20000mcd 180* LEDS
White LEDs in SMOKINVR-4 Blitz Overhead Pod (24 LED array)
White LEDs in "Arm Rest' (4 LED array)
Electronics:
Battery/Charging
Optima 34/78 Yellowtop Battery (mounted in rear hatch)
Optimatrays.com 34/78 Battery Tray w/ Flaming River Disconnect Switch
Mechman 250A ProPower Alternator
KnuKonceptz 1/0 Kolossus Fleks Kable from Alternator/Distribution Blocks/Ground to Battery
KnuKonceptz KNF-23/KND-23 Distribution Blocks
KnuKonceptz KBT-30P/KBT-30N Battery Terminals
KnuKonceptz KNI-11 Fuse Holder w/ 250A Fuse
KnuKonceptz SSRT0/SSRT8/RT4516 Ring Terminals
Tuning
Greddy E-Manage Ultimate version E.

Wired for Stage III in Speed Density
Greddy e-Manage Harness Kit (2.5 meter)
Greddy e-Manage Ultimate Air/Fuel input Harness
Greddy e-Manage Ultimate injector adapter
Greddy e-Manage Ultimate Pressure Sensor w/ harness
Spectre "2369 Universal Fuel Filter" for Pressure Buffer
Innovate LC-1 Wideband controller

PocketLogger on Sony NX70V
Handheld Halo Datalogger on laptop
Alarms
Valentine 1 Radar Detector
Viper 5902V Alarm (Remote Start/Remote Trunk Pop/Turbo Timer/Neutral Safety Switch)

522T Trunk Release Solenoid
508D DoubleGuard Field Disturbance Sensor
504D Stinger DoubleGuard Shock Sensor
514N Neo Revenger 6-Tone Siren
FIAMM CR/S Air Horns w/ CRD Compressor
Dynavox (Grainger) 2EXU9 Neutral Safety Switch
Gauges
Autometer Nexus 6401 Module
Autometer Nexus Speedometer Gauge
Autometer Nexus Tachometer Gauge
Autometer Nexus Fuel Level Gauge
Autometer Nexus Fuel Pressure Gauge
Autometer Nexus Boost Pressure Gauge
Autometer Nexus Oil Temperature Gauge
Autometer Nexus Oil Pressure Gauge
Autometer Nexus Wideband Air/Fuel Gauge
Autometer Nexus Water Temperature Gauge
Blitz SBC-iD III
Blitz PowerMeter III
Blitz FATT DC Turbo Timer III
Stereo
Kenwood DDX7015 (2-DIN In-Dash 6.5" Monitor DVD/CD/MP3/WMA Receiver)
Kenwood KAC-X541 (Multi-Channel Power Amplifier)
Kenwood KAC-X811D (Class D Mono Power Amplifier)
Kenwood KFC-XR601 (6-1/2" DualMag 2-Way Speakers)
Kenwood KFC-X698 (6" x 9" 3-Way Speakers)
Kenwood KFC-XW1205dB (12" Subwoofer)
SMOKINVR-4 12" Subwoofer Corner Box
StreetWires Zero Noise 7 Stereo Patch Cables
KnuKonceptz 4 Gauge Kolossus Fleks Kable from KNF-23 to StreetWires Distribution Powerbox
KnuKonceptz 8 Gauge Kolossus Fleks Kable from StreetWires Distribution Powerbox to Amplifiers

My story:
My addiction to 3000gts/Stealths all started with my first encounter with a Stealth when I was a teenager. I was traveling down to Fort Lauderdale with my family, when an electric blue 1st Gen Dodge Stealth flew past us on the interstate. I just remember I was awe struck and my Dad saying, "You'll want one of those." I was always into cars but I never knew the Stealth existed at that time. At that point, I fell in love with the 3/S. When I got home, I immediately started looking into the Stealth and checked out all of the specs. Since I was younger with little income, I knew I couldn't afford a Twin Turbo and it would be a while before I had one. But one day, I would have one.
So a few years down the road, I compromised and purchased a black 91' Dodge Stealth ES. I drove this car around through high school and it was a great car. It was very reliable and fast enough for a teenager. That is until disaster struck one week before I went to college. For some reason, I decided to take the intake plenum off to paint it, and upon reinstall, I dropped a washer down the intake manifold. The good thing is I didn't start the car. The bad thing is that I had NO idea how to get it out. I wasn't very mechanically inclined at the time. So we took it over to a friend of my dad's, and he was able pull the head off to get the washer. But he didn't know how to get it timed back up. It took a while to find someone to re-time it and after getting it all together, the oil pump failed on start-up and killed the bottom end within minutes. The same guy was able to rebuild the bottom end with a remanufactured crank and new bearings and all was well again. I continued to drive the car through college until I graduated and got an awesome consulting job making great money.
It didn't take me long before I was on the hunt for a Stealth Twin Turbo. I was looking for one in specific, an electric blue 1st Gen Dodge Stealth Twin Turbo. I searched for months and months and NOBODY was selling a Stealth that I was interested in. Then one day, a guy from 3Si noticed I was looking for a 1st Gen Stealth and sent me a PM. He had a red 93' Dodge Stealth TT that he was trying to get rid of. There were quite a few things wrong with it mechanically and cosmetically, and not to mention it was red. Not to mention, it was also in another state and had been in a recent fender bender. I really wasn't a big fan of red and wasn't looking forward to putting some work into it. But he was selling it for $7500 (which was in my price range) and I was getting really antsy to buy one. So I pulled a Carfax on it and it came up clean. I decided to take my g/f (wife now) with me to Kentucky to check out the car. So we rented a car and took a trip up there to take a look at it. The minute I saw it, something came over me and I bought it without even driving it. The color red was starting to grow on me really quickly. :)
All was great for the drive back to Florida. I was in bliss until the transfer case decided to lock up all 4 wheels on I-95 at 12:00 at night. It was a start to a wonderful relationship. After getting it towed to Gainesville to drop off my girlfriend/wife, the car was then towed to an Orlando Dodge dealership to get the transfer case replaced. I knew there was a recall and it was replaced without any hassle. Soon after, I moved to Daytona and used the car for a daily driver. Then I started to dump some money into fixing it up and installing some minor modifications. I fixed the metal damage the previous owner did and replaced most of the aging interior parts. I also put in some gauges and electronics and did some minor engine upgrades. The car was great, for a time......
One day, I was sitting at a stop light and noticed my oil gauge sitting at 4 PSI at idle. My face lost blood pressure and I probably looked like I had seen a ghost. I drove the car home and immediately drained the oil. You could have guessed it; there was a nice glitter in the oil. I knew at this point, it was time to throw in the towel, or so I thought. I towed the car to my parent's for storage and that same day, I purchased my Chevy Colorado for a dependable daily driver. I left the car to sit at my parents so I could figure out what I would do with it. In trade off, I gave the black 91' Stealth to my dad in compensation for rent (which he is still driving to this day). Then life decided to take me on another course. I got engaged to my girlfriend and I started saving all the money I could for the wedding. I was also in the middle of moving jobs and income wasn't too stable. Shortly after the wedding, life began to come around. I landed a good job and had a nice place to live. So naturally, my interests in the car were coming back. My new apartment had garages that I could rent, and so I decided to get one to rebuild the car from the ground up.
After doing quite a bit of thinking, I decided to start with a clean slate and I demanded for more horsepower. Instead of rebuilding the old block (this was before stroker kits), I was going to rebuild everything with new parts including overhauling the entire interior. I sold the old short block and got a great deal on a new OEM block and 60k mile OEM parts from Rockville. I had the heads rebuilt by a local shop with new VSS and cams and purchased all of the parts that are currently on my mod list. It took me 6 months to save and build up the engine. Since it was my first engine build, I took my time and made sure everything was 100% correct. After those long six months, it was time to start it over. Since my parents were a big part of this car, both emotionally and physically, I had them come up to see the first start up. I was pretty nervous but as the car started and roared to life, I knew I had finally built the car of my dreams.
After the start up, the car and I were still on a winding road, as it had developed a continuous amount of problems afterwards. The transfer case locked up yet again from the leaking seals. I've had numerous transmission leaks including both the input and output shafts seals. I had overheating issues due to the bigger manifolds and I also managed to burn up the VCU when my driver's side axle snapped. This in return, made me pull the transmission for the 3rd time in less than 1500 miles. (I am now able to pull the transmission in under an hour. Not bad eh?) When I started building the car, my philosophy was "If something broke, replace it with something better". And so far, that's what I have done. Even though the car and I have not seen eye to eye, I haven't regretted the $ I have dumped into it, yet..... In the end, I feel that I have put together a car the right way and I feel good about the mods I have done. I also have a car that's fun and fast and is a great hobby for me. It also just recently put down great numbers on the dyno (521HP on pump 93 gas). I also just recently bought a helmet and will be taking it to the 1/4 mile here soon. So I'll be praying for some good numbers.
Overall, the knowledge I have learned from this car is irreplaceable and I wouldn't trade it for anything. It's become such a big part of my life, that my wife even considers it part of the family now. Maybe one day, I'll be taking my kid to school in it. haha
-StealthII
My Website: