SJ (Scott J Cowan)
Jump to navigation
Jump to search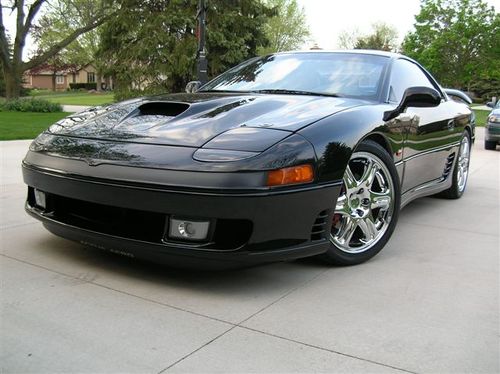 3SI Member #00110
Body:
Deft Racing 575 Functional Fiberglass Hood
No Badges
JDM Sidemarkers, Tailights and GTO Rear Lens
Webasto Aftermarket Sun Roof
Window Tints
Snake Eyes, Fog, and Bright Lights Mods
Working Active Aero!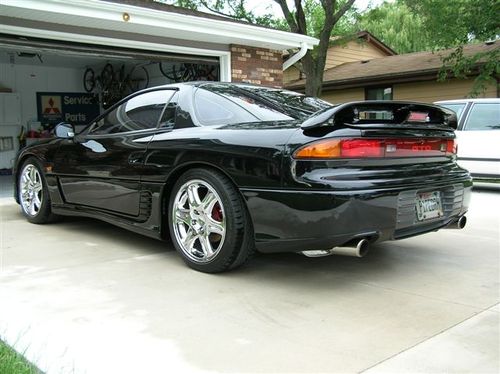 Suspension, Brakes, Wheels and Tires:
Ground Control Coil Over Suspension w/ Front Camber Plates, 2" Drop
Eibach Springs
3SX Adjustable Rear Control Arms
Porterfield Cryogenic Treated Brake Rotors
Carbotech Bobcat High Performance Brake Pads (Street)
Carbotech Panther XP8 Racing Brake Pads (Front)
SCE Titanium Backing Plates & Brake Caliper Stiffening Bolts (Track)
Motul 600 Factory Line Racing Brake Fluid
Goodridge High Performance Stainless Steel Brakeline Kit
Speedbleeders
Dust Shields Removed (Front)
Hi-Temp Painted Calipers and Rotors
Custom TEC Front Strut Bar
1995 3000GT VR-4 18" 6-Spoke Chrome Wheels
Bridgestone Potenza S-03 Pole Position 245/40ZR18 93Y Tires (street)
Toyo Proxies RA1 255/40ZR17 (track)
Electronics and Gizmos:
APEXi Indiglo SAVC-R Boost Controller
Odyessy SLA Lightweight Battery
Stinger Custom Pro Series Battery Terminals and Covers
Autometer Gauge
Datalogger
Beltronics Radar Detector Hardwired
Interior:
Changed Entire Interior Over From Tan
Customized Factory Interiors Two-tone "GTO" Embroidered Seats, Shift Boot and E-brake Boot
Momo F16 Evo Black Titanium Shifter Knob
3SX GTO Aluminum Racing Pedals
Brushed Aluminum GTO Interior Door Emblems
1995 3000GT VR-4 Charcoal Gray Carpeting
New Floor Mats (front & rear)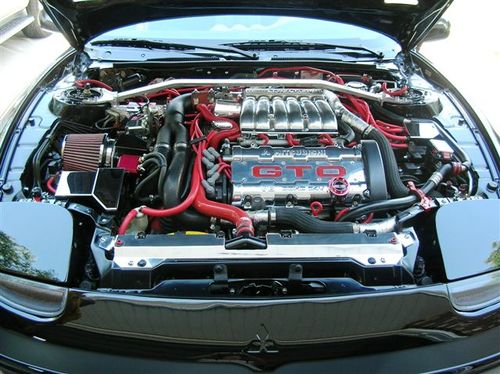 Engine:
Intimidator FIPK
Modified HKS Dual Turbo Exhaust with Magnaflow Racing Mufflers
Custom Ported and Polished Intake Plenum
Thermal Wrapped Intercooler Hard Lines
Chromed Maximal Performance Transfer Case Bracket
ATR 3" Downpipe With Custom Flex-section
Alamo Steel Y-Pipe
Hose Techniques Silicone Vacuum Hose Kit
3SX Fuel Pump Hot Wire Kit
NGK Laser Platinum Sparkplugs Gapped .032
MSD Ignition 8.5mm Super Conductor Wire Set
1G DSM BOV
APEXi Indiglo SAVC-R Boost Controller (19psi with no knock!)
Spearco 980 Series Turbo Alcohol Injection System
Greddy Catch Cans (2)
Vacuum Reduction
Samco Sport Racing Silicone Radiator Hoses
Custom Short Shifter
3SX Ultimate Performance Underhood Dressup Cover Kit
3SX TT Chrome Reservoir Cap Cover Bundle
3SX Polished Aluminum Radiator Cover
3SX Engine Dress Up Kit
3SX Polished Front Valve Cover
3SX GTO Aluminum Racing Pedals
Custom Polished Front Turbo Heat Shields
Replaced Almost All Under Hood Nuts, Bolts and Caps With Chrome
AAM GTO Billet Aluminum Spark Plug Cover
Ralliart Billet Aluminum Oil Cap
Audio:
Ferrari 430 Horns (HA!)
Alpine Speakers
Sirius Satellite Radio
iPod Direct Hook Up
Have Custom Sub Box Waiting To Go In
My Website:
My story:
Well, my story begins with not really paying too much attention to these cars when they first came out, until one day a red 2nd gen went flying by me. I was suddenly on a mission. Seeing as how I couldn't afford a 2nd gen at the time, I started looking around at what I could afford and frankly, was pretty disappointed. Then, I lucked out and found the "Batmobile" (as my son so named it) on a fluke; a Saturday in May 1997, in the classified section, just after I finished cutting the grass. I had been looking for six bloody months to no avail for something within my budget. He was in Madison and agreed to meet us half-way, so off we went. I really liked the car, thought it had a lot of potential and made him an offer. The following Saturday we did the deal. The bonus here is that I was under the impression I was going to have to settle for a base or SL, and this was a VR-4!
Here are some links to what it first looked like, later in that year in August, with the first thing I bought for it – a nose mask:

I had no idea the car had a turquoise flake in the paint until I waxed it myself with some new brand of wax that had just come out; I think it was called "Wet?" I was so happy when I backed it out of the garage and saw that it wasn't just black. However, the car never seemed "right" that first summer and right towards the end, we knew there was an issue. We changed plugs and wires (two noob's by themselves (thanks Brett!), took forever), and in the end, it was also some cheap part – a fuel pump regulator or resistor, under the MAS. HELLO. I was glad when it finally ran "right."
Unfortunately, the car had to be driven through TWO Wisconsin winters. I'm not sure it has ever fully recovered, but the damn thing just rocks in the snow with M+S tires on it. I was passing the soccer Mom's, flying off the road, in their monster SUV's, with great ease. The only problem was some couldn't even see me as I sit so low.
Then in March the following year (that's right, freezing me tail off in WI), I put in an HKS Dual Mega Flow – my first mod! The rest is history, just like Lexus, trying to get it perfect and just the way I want it. Still working on that, by the way… What amazes me about these cars is the versatility – drag in the morning, road race in the afternoon, Auto X, car show – whatever, it can do it. All it takes is motivation and money, right?
From the dragnet and starnet lists, to meeting Jack Tertadian on a fluke at the DSM Shootout (my first drag race!), to the formation of 3Si, it's been a ride – and a ton of time and effort. But like most folks, I don't hate it long; soon, I'm back out in the garage. The highlight for me, besides the trophy, was having my license plate appear in the Turbo and High Tech Performance issue covering the DSM Shootout. Who knew?
So, having been bitten by the bug, I started driving it to as many gatherings as I could find; the first one up here in Prairie du Chien, the Midwest Gathering, the East Coast Gathering, and the Upper Midwest Gathering (with two kids in car seats in the back!). And then just when it was getting good – the economy tanked, cowards flew planes into buildings and I was laid off. And like that wasn't enough, I then physically checked out for a while. But I'm back, and damn glad of course. I've been running the car at Road America for years now and have recently gotten into Auto X. I just love the looks of it, the head-turns it gets on the road, and the attention our platform gets over all, especially when we caravan to events. Not much more fun that driving this car, and I think it looks great for 165,000 miles!
Along the way, I hooked up with this shy, quiet fellow by the name of Jesse Rink, who told me in no uncertain terms that he really wasn't interested in modifying his car (yes, yes, I created this monster – shoot me – "Just an FIPK I said, you'll love it"… Now he's spanking me on every track and in every competition; you go Jesse!) A few years later, we decided to form W3SI, and here we are: 300 forum users from all over the country and Canada, and over 130 registered members. Just another offshoot of what started out as so small and what seems like a million years ago now. I think I can speak for everyone by saying we're all having a blast in our little corner of the asylum.
I love the group, and the gatherings, and of course the car. I feel very fortunate to have found it, and all the great friends I have made over the years – locally, nationally and internationally. It's also great to see other folks get excited about the platform (how old is that car?) at our events and even go out and buy one and join us. I also really enjoy seeing what everyone in the club is doing to their car next; it's a never ending metamorphosis. Let's face it, I'm just real happy I can get out and participate again. It sure is boring when you can't.
I baby the heck out of it, and beat the heck out of it as well. I also try real hard to keep it clean and shiny, but that's not so easy all the time. I bought it to drive it, not look at it. And the plate? It was actually for my rock band, PIPEDREAM. I guess it also fits the car.
Best,
- SJ
Recent Awards:
2nd Place - DSM Shootout '01
1st Place - ECG Road Runner Award '03
2nd Place - Car & Driver PRO Series '05
2nd Place - Best First Gen - National's Car Show '06
3rd Place - Best First Gen - National's Car Show '07