Ruiner (Brandon O'Dell)
Jump to navigation
Jump to search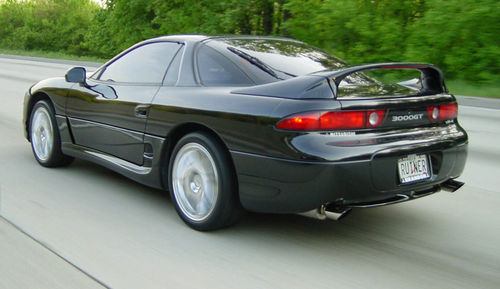 3SI Member #574
Mods:
HKS EVC IV Boost Controller
K&N FIPK
Greddy Type S BOV
Borla Catback Exhaust
Alamo Motorsports Y-Pipe
AAM 'GTO' Sparkplug cover

My Story
Ever since their debut in 1991, I have always wanted a 3000GT VR-4. There was just something mystical about them. Something, that drew me to them. Perhaps it was the styling, perhaps it was the AWS. Ultimately, however, it was the twin turbos combined with AWD. The VR-4 is a unique creature that I had to get my hands on. After looking for 12, that's right, 12 months, I finally found my dream car. A black, 1997 3000GT VR-4. The way that the 18" chromies shinned mesmerized me. I HAD TO have the car. In March '00, I made my purchase. I had it shipped to my work right outside of Atlanta, GA. It made its trip via covered trailer to my front door, literally.
As soon as I saw my VR-4 back off of that trailer, her name became apparent: RUINER. The name is taken from a Nine Inch Nails song. Not only is she black and scary (somewhat gothic, which fits the band), but she seems to 'ruin' most other cars on the road (other 3/S car excluded, of course). The name just seems to fit as it now adorns my license plate.
Over the past year plus, I have managed to add a K&N FIPK kit, a Borla exhaust, and an HKS EVC IV boost controller. (I am JUST now out of the factory 3yr/36k warranty.) I have 13% tint all the way around and Autometer Boost and Air-Fuel gauges mounted on an Autometer dual-gauge pod. Future plans include upgraded turbos, a FMIC, upgraded fuel system and controller, and rods/pistons.
To this day when I walk outside, I still can't believe that I own such a fine piece of machinery. In my books, the 3000GT VR-4 will go down as one of the most beautiful cars ever made.
Brandon aka Ruiner