Povlsen (Lase Povlsen)
Jump to navigation
Jump to search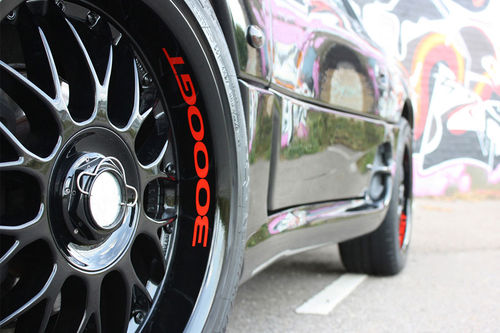 Ride of the Month Submission 3000GT/Stealth International July 2009
Body:
99' 3000GT Front Bumper
Xenon Headlights
Xenon Foglights
Original Racing Spoiler
Interior:
Audio:
Infinity Head Unit
Infinity 4-Channel Amp
Infinity 6.5" Kappa Components
Infinity 12" Reference Subwoofer
Engine:
3,0, 236HP
Stage 3 Clutch
6-speed manual shift
K&N Racing Intake (eeevil sound!)
GMT Racing Exhaust 4x2" Pipes
Suspension and Wheels:
H&R Suspension
Michelin 235/40/18 tires
Keskin 18" one-lug rims, painted in car color and with red "3000GT" decals

My story:
Username: Povlsen
Owner: Lasse G. Povlsen
Country: Denmark
Car: 1998 Misubishi 3000GT-SL, Black Metallic
Just bought this 3000GT last month, after dreaming of this car for quite some years. I bought it from a guy who had imported it from Germany a couple of years ago, but never got around to getting it properly registered in Denmark, before he was short of cash and needed to sell it. My luck :-)
What I have done up to this point is to have the rims painted so they match the "evil" black look of the car and putting 5 "3000GT" decals on - one on each wheel and one on the rear (see pix). I would like to put a turbo kit on the car, but due to insane car taxing in Denmark (180%!) it is virtually impossible to get a car with 500+ HP insured, unfortunately. Furthermore you have to get it approved by the car inspection, as there is an increase of more than 30% over stock power. That said, I haven't given entirely up yet - but unfortunately Denmark is essentially not a very car friendly country. Luckily the car is making impressive use of what power it has currently.
Here in Denmark Mitusibushi is virtually unknown as a performance car brand, and most people think my 3000GT is a Toyota Celica (YUK!) at first sight. But you can always spot the real car fans who gives you an aknowledging nod when the see this black beauty rolling down the street.
As I'm a new 3000GT owner, I'm seeking a lot of inspiration in this forum and I know your feedback will be most appreciated when winter comes and it's tinkering time... :-)