Overboosted
Jump to navigation
Jump to search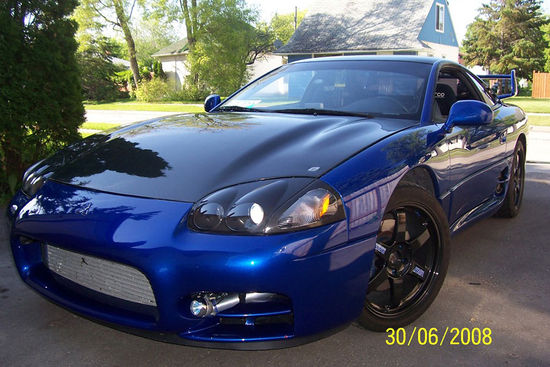 Ride of the Month Submission 3000GT/Stealth International July 2008
Body:
Full 99 conversion
Carbon Fiber hood
2nd Gen brake's w/ slotted rotor's
Suspension and Wheels:
Eibach springs
18x9 Volk TE37 rim's
Toyo Proxes T1-S 275/35zr18 radial tires
Electronics:
HKS EVC IV boost controller
Split 2nd Arc II fuel controller
SPI boost gauge
Python 2 way paging alarm
AEM UEGO wideband
MMCD datalogger
SAFC
Interior & Sound:
Adjustable Sparco race seats with adjustable brackets
Alpine sterio
Punch amp
2x 10 inch Eclipse subs w/ custom box
Engine & Performance:
Rebuilt engine w/ built bottom end
K&N air intake
GT368sx turbo's
Borla exhaust w/ATR downpipe
Supra fuel pump re-wired
Evo 560cc injectors
custom front mount intercooler w/aluminum ceramic coated piping
HKS Super Sequential blow off value
RPS lightened flywheel
RPS six puck clutch
300m output shaft

My story:
Since I have only owned my Stealth for less than a year and it was parked for winter for 6 of those months I don't really have too much of a story with the 3s platform so I suppose I will tell you how I got into the platform.
I actually knew nothing about cars 5 years ago, if you asked me what a header was I would look at you with a blank stare. Everything I have learned came from forums like this, now I can do anything with an engine and I have recently started giving back to the forums that have taught me so much.
I always wanted to go fast and have a "souped up" car so I decided to do some reading and I installed a 60 shot of nitrous in my 01 Tiburon. I was never able to light up the automatics tires before, it was great but it wasn't enough. I knew I needed more power but doubted how much the Hyundai engine could handle as it was my only car at the time and I needed it to run everyday for work. That was the day I decided to buy a "fun" car to keep me from blowing up my reliable car and the car I bought was actually cheaper than a turbo kit for the Tiburon anyways, a 91 Talon TSI AWD.
I was instantly hooked to 2 things about the car. It was turbo and all wheel drive. I bought it stock with a turbo back exhaust and I immediately read and read and read about the car on forums till my eyes would bleed. After 2 years and lots of money later I had upgraded everything on that car from a 20g turbo, injectors, pump, built head ect… I just was never able to get it to run right and I knew why too. This was my learning car and I did so many things wrong thinking I could cut corner's that there was always something wrong with it. My goal of a 12 second pump gas DSM was going down the drain.
That's when I decided I needed a fresh start, maybe a car with more hp from the factory that wouldn't need too much work or money to make fast and I would cut no corners on but it had to be AWD and Mitsubishi built. Well that didn't leave me too many options to be honest so I was off searching for a nice stock 3s to work on. Then I saw this beauty, fully built and ready to go for a fraction of the price it would cost to build it myself. After talking with the owner I decided to fly down and drive it back 12 hours. It was worth it. It was far from done though, it needed a tune badly. All it had was the arc 2 to tune and the arm 1 to see how the tune was. I had kept my datalogger and safc from my Talon so I had a good base to tune with.
I took her to the track that year and snapped my output shaft on my first launch. Unfortunately I was not able to get another run in that year then it sat all winter. On opening day this spring I was at the track and finally got myself that 12 second slip going 12.4 @115. OMG that was a great feeling, after 3 years I finally got my slip. I have since then installed a wideband and want to tune this thing into the 11's at 18psi on pump.
-Overboosted