Nodoze79 (Cody Kolbe)
Jump to navigation
Jump to search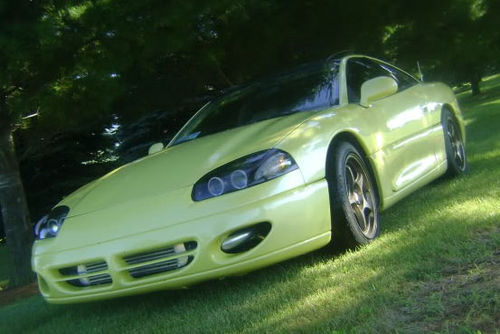 Ride of the Month Submission 3000GT/Stealth International August 2009
Body:
1999 3000gt Turn Signals
Robo Mod/Angel Eyes Headlights
Rear Wiper Mod
Hid Low Beam's
20% Window Tint
Suspension and Wheels:
Megan Racing Coil Overs
PmP AWS Delete
3SX Rear Camber Adjusters
5zigen FN0-1RC rims
Hawk HPS Brake Pads
PmP SS Brake Lines
Drilled/Slotted Front Rotors
Painted Calipers
Electronics:
Prosport Electronic Boost Gauge
Prosport Electronic Oil Pressure Gauge
HKS Turbo Timer
Interior:
Wevil Custom Gauge Pod
Ultimate Performance Short Throw Shifter
Evo Style Billet 6 Speed Shift Knob
Engine:
3sx Rear Pre-Cat Eliminator
3sx EGR Block Off Plates
Turbonetics MBC
PMP Intake Pipes
PmP FMIC
K&N Intake
Megan Racing Downpipe
Borla Catback
Mishimoto Radiator
Audio:
Smokin VR4 Sub Box
Kicker Comp CVR 10" Subs
Rockford 1000w Amp
Alpine Deck With IPOD Dock
Optima Red Top Battery

My story:
Well i started out by buying my first 3/s in 2006 it was a 1992 Stealth ES. After I joined 3SI and my local chapter INK3s.org i went to my first meet wich was at the track. After my experience at the track me running 16's and watching others run 13's i put a for sale sign in the old girl and bought my first TT a pearl white 92. After extensive modifications and making 450awhp i ended up selling my first love. Then i went through another 92 TT that i owned untill i found my beloved 94 pearl yellow. It came to me bone stock and i set out to make a very comfortable and distinct car out of it.
That leads me up to the car you see today. Much hard work has gone into this and i love every minute of it. I am currently putting of much more mods due to the fact my family is expanding from the three of use to a fourth with the arrival of my second son Logan in the upcoming month of october.
-Nodoze79