Niteryder (Joshua Swanberg)
Jump to navigation
Jump to search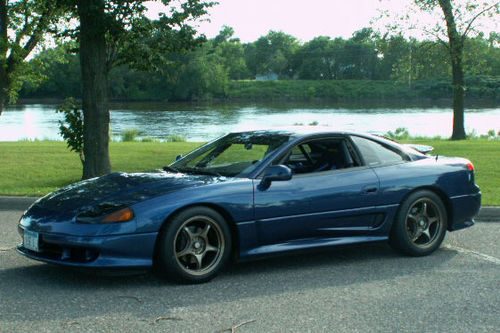 Ride of the Month Submission 3000GT/Stealth International March 2008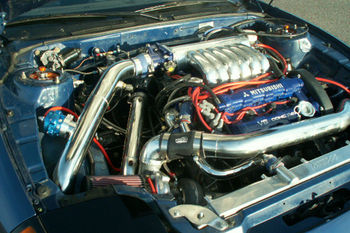 Body:
custom front bumper cover
custom rear bumper cover
AWS removed
Suspension, Chassis, and Wheels:
k-sport 36 way adjustable suspension
adjustable rear lower control arms
adjustable rear toe arms
5 zigen FN01-RC 17x9 bronze rims
BF Goodrich 245/45/17, street rubber
Chrome-moly front subframe
Electronics:
Stewart Warner Boost, Oil pressure, Water temp gauges
Stewart Warner shift light
AEM EMS
Innovative XD1 wideband display with LC1 wideband controller
5 bar AEM map sensor
AEM AIT sensor
MSD DIS-4 ignition
Interior:
custom shift and ebrake boots
carbon fiber gauge cluster overlay
Momo Start seats
G-force 5 point harness (blue)
blue window net
NHRA certified 10 point chromemoly roll cage with removeable swing outs
Momo Steering wheel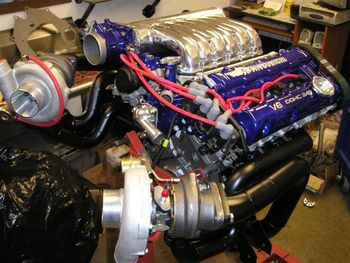 Engine:
LSE Performance Stage 3 shortblock
Featuring: Pauter rods, Weisco pistons with HD wristpins, ARP headstuds, King Performance bearings
LSE Performance Stage 5 heads
Featuring: LSE High rev spring kit, LSE Race port heads, 1mm over SI valves, Delta 195 grind camshafts
Other modifications:
LSE Performance sidemount intercoolers
Fal fans and Aluminum radiator
Nitrous Express Dry Nitrous system
4" turboback exhaust
SBC Custom 6 puck clutch SS-DXD-FE series
Welded bellhousing
CM oil filter with 4.5" filter
External B&M oil cooler
twin Walbro fuel pumps
880cc injectors
Custom 213CI Intake manifold with 90mm Q45 throttle body
Audio:
Sony headunit
Alpine type S speakers
New Mods since previous mods list
LSE Performance RACE 1300hp FMIC system, includes 3" intercooler piping with a Blue Tial BOV (replace smic setup) ~never tracked only dyno
LSE Performance Single Turbo Kit. Includes equal length primary headers with 2.225" secondary collectors all fed into a 76GTS with a .96 a/r t4 turbine wheel. Polished compressor cover and controlled by twin blue Tial 38mm wastegates with race valves. (replaced twin turbo setup) ~only built never dyno'd or tracked
1600cc injectors ~only installed never dyno'd or tracked
custom 400,000psi head studs ~only installed never dyno'd or tracked
pinned heads ~only installed never dyno'd or tracked

My story:
"Down but NEVER out"
This car began life in 1993. It was first owned by an Italian Dentist living in Canada. In 1996 the 2nd owner purchased it and in 2000 moved to Kansas City, KS. The hotel manager pampered it until March of 2003 when it was listed on AutoTrader. Within 24 hours of being listed, I purchased it. That next weekend I drove to Kansas City, KS to obtain my blue beauty. This Canadian Dark Orchid Pearl 1993 Dodge Stealth RT/TT started life as 1 of 151 in this color combo. I believe it was 1 of 3 available in Canada with factory chrome rims and no-sunroof (with black leather).
"Never ending project"
The stealth first hit the track in August of 2003. With 89k on the vehicle, the numbers obtained on that 95 degree day were nothing short of phenomenal. The vehicle had a MBC set at 14psi, a K&N filter with Stillen Adapter, Stillen Rotors, SS brake lines, Metal matrix pads, ngk plugs and plug wires, and a Blitz turbo timer/boost gauge. The vehicle managed a [email protected] with 89k on the stock: engine, body, clutch, trans, etc. I was hooked as to how fast this car was with very little for power mods.
In 2003 the vehicle hit a 220lb dear at 80mph. Over $7,000 was done in damage, but the car was rebuilt.
Do to a failing business the stealth was parted out in 2004. The 20+page part out thread had the car stripped down to nearly nothing.
In 2005 the car was rebuilt again into the above mods list. The vehicle went a best of [email protected] on 92 octane and [email protected] on C-16, all while retaining 3780lb race weight. This included the a/c, stereo, and most creature comforts. The car put down 620awhp and 700awhp on the 60 shot of nitrous (intake temps with the side mount intercoolers were extremely hot). Pump gas times were approx 480awhp, C-16 power levels 620awhp..Late 2005 saw a switch to a FMIC intercooler (from the prototype LSE sidemount kit) and that yielded 720awhp before lifting the heads off the block, even with ARP fasteners holding it down. Early 2006 saw the 76mm single setup, but with the head lift not being fixed the car only ran for 1 day.
Currently, the stealth is slated for assembly in 2007/2008 with the 76mm single setup, FMIC, 3400lb race weight, and a new 3.5L engine. Low 10 second passes on 92 octane are the very attainable goal.
Update...LSE Performance closed spring of 2008 and this project was never completed. It was sold in pieces to a member on 3si and I hope to see it resurrected someday with the new owner.

Do you want to build one like this? Learn here!