NeoValentine (Ron Fleming)
Jump to navigation
Jump to search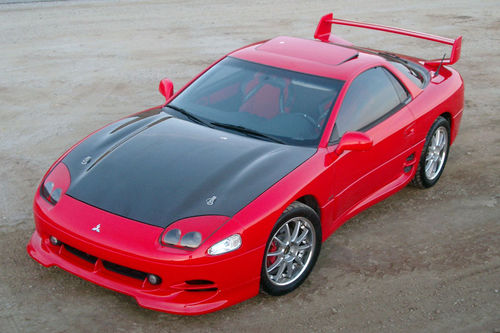 3SI Member #1431
My Story
My 1996 3000GT SL was purchased in Oct of 2000. It has 34k miles and was completely stock. Totally tan interior, clean, no dings and ran great... That was then...
Today my car has 115 miles and is FAR from stock. Under the hood will *soon* be a Custom Turbo Conversion. Right now though she does have a Quaife LSD, rebuilt transmission, Matrix Intake with DN Hard Pipe, 3sx Solid motor mounts and 3sx Pulley. Drifting back into the car you can find a 1992 VR4 Brake conversion with Brembo Rotors and Hawk Pads, covering those is a set of 18x8 Konig Tantrums wrapped in 245-40-18 Yokohama AVS ES100 tires. Futher back into the car you'll find a Autometer A/F Gauge, CF bezzel, HP racing CF steering wheel, Momo Combat CF knob, Bob's short throw, DSM Solid bushing kit, Totally 96+ black interior with Red Corbeau CR1's with 3 Point Harnesses. Sweet music is provided by a Panasonic CQ-DFX983U, powering a Audiobahn 6004T Intake Series Amp. Audiobahn 6.5 Componets fill the front while the back is a set of 5 way pioneers. All installed by board member Teddy. The rear is controlled by a Cusco Strut bar. Going outside the car you'll find a Bozz Performace front lip, GT-Pro Carbon fiber hood, and in the rear is a OEM 99VR4 Spoiler.
My car hasn't always been my dream car, but I put alot of hard work into her as well as other cars in the community. I've learned so much from owning her and being on 3si.org that I feel that I can accomplish any task given to me with this car. As I continue to progress this car will soon be the Twin Turbo monster it was meant to be. For now she'll just have to look fast.
- Ron Fleming