Nduda78 (Nick Duda)
Jump to navigation
Jump to search
Performance
Tec 15G Twin Turbos
NOS (Nitrous Oxide) (50 wet shot)
DynoTune Dual Nitrous Purge (corners of the hood)
DynoTune NOS Bottle Warmer with automatic shut off
DynoTune NOS Window Switch, fully programmable for when NOS should be used.
Greddy FMIC and piping
RC550cc Injectors
Borla Exhaust
ESP Testpipe
ESP Downpipe
MAFT GENII
Blitz Dual Solinoid Electornic Boost Controller w/Power meter
GM MAS
Snow Performance Methanol Injection
Walbro 255 Fuel Pump
RPS Street Max clutch
StopTech Rotors
Hawk Brake pads
Optima Red Top battery
Visual
Enkei RP03 SBC (Special Brilliant Coating) 19x8.5 wrapped in Brand NEW BF Goodrich gForce T/A2 tires.
TEIN Lowering springs
Painted Calipers, with clearcoat
Custom "Ripped Metal over concrete" Airbrushing (Red is Mitsu Rio Red)
Custom Fiberglassed audio entertainment setup in hatch. All designed/hand made by me.
DeftRacing 575 Carbon Fiber Hood, the vent is functional.
DeftRacing VLS (Vertical Lift System)
Sparco Torino2 Racing seats
99 Conversion front bumper
99 Rear Garnish
99 Sail Panels
3SX 1-piece front lip
99 Headlights/side blinkers
Cianci Combat Spoiler
Cianci Triple gauge A-Pillar
Prosport Electronic Boost gauge
Prosport Electronic EGT
Prosport Electronic Fuel Pressure
Prosport Digital RPM guage w/LED shiftlight built in
Prosport Volt Meter
AEM EUGO 6-1 Wideband
3SX Polished Valve covers
3SX Polished Spark plug cover
3SX Polished Intake Plenum
Polished Optima Battery cage
3SX Polished cover kit
3SX Polished Radiator cover
Custom Optima battery tie-down
LED light bars in the hatch for night time display at shows. Controlled up front with different visual patterns.
Custom Diamondplate floormats (front/back) with Diamond cutout and Rio Red diamond colors
Polished door sill VR4 panels
NEW OEM shift knob and shift boot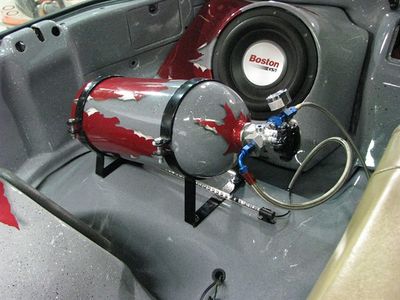 Audio
Car Computer (HP dc7800) mounted under Pass seat
7" Lilliput Touchscreen with Custom Bezel mold.
CarNetix P2140 Power Supply
250GB SATA
2GB RAM
DVD Drive
GPS (USB)
Sirius radio unit for Car PC integration
2 x 10" Boston Acoustics G5 Subs
1 Farad RF Capactior
JL GMAX AMP (subs) w/remote bass control
JL G4500 AMP (mid/highs)
Focal Polyglass 165VR
Focal Access 690 CA1
Loaded with Roadrunner front end, custom skinned for Mitsubishi
Comes with licensed iGuidance GPS software
Car Show Awards:
2009

Best Buy Auto Show 2009: 1st Place Best Mitsu Show
1st Annual High Intencity: 1st Place Best Mitsu Show
1st Annual High Intencity: 2nd Place Best Paint
1st Annual High Intencity: 2nd Place Best Airbrush
Aftershock 2009: 2nd Place Best Mitsu Show
UMass Motorsport: 1st Place Mitsu/DSM

2008

23rd Annual Eastern CT: 1st Place Best Mitsu Show
Summer Meltdown: 2nd Place Best Mitsu Show
Import Wars 2008: 2nd Place Best Mitsu Show
Aftershock 2008: 1st Place Best Mitsu Show
Street Machines 2008 Top 40 Best Show
WPI 2008 Best Import Show
April 2008 3SI Ride of the Month (ROTM)
Current performance numbers, based on a Mustang Dyno (Dyno sheet available)
Maximum Power (AWHP): 417.2 @ 5812RPM / 91.1MPH @ 18PSI
Maximum Torque: 440.7 @ 3615RPM / 57.3MPH
Best Track: 12.211 @ 119.45 / 60' 1.760
Best Trap: 120.50
Videos (w/ Old Rims)
(the 417awhp was not video taped, but the dyno sheet is available)
(muffled audio near 100% and camera couldn't take it)
My Website:
My Story (New):
My story hasn't changed from last year, but I've done a lot more work on the VR4 since last April.
Since last year, I've been competing in a ton of car shows, and actually winning them! My 2008 April ROTM was my offical first award, but now I've gotten a good amount of following and trophies. The biggest issue I ran into in 2008 at car shows was that the paint wasnt unique. I wanted to change things up a bit, so I got together with a friend and we decided to airbrush the car, we came up with a theme that we would use throughout the entire car, a torn metal look. The other thing that I was lacking was a I.C.E (in car entertainment) setup that could compete, so I decided to redo my hatch with the help of fiberglass.
I've also installed Nitrous since last year, and it gave great results so far, but the results I have are from very hot day's at the dyno. I currently sit at 417awhp with the NOS, but this was a dyno from an 80 degree day. I recently, last week, redynoed (on the mustang dyno) and get 414awhp without NOS, just on pump/methanol at 17psi.
Just installed Sparco Torino 2's, 3SX polished radiator cover!
The love for the platform still increases each day with me, as you can see from what was accomplished in 2008. No doubt by the time ROTM is over I will have even more done! My passion drives my success! Thanks for your consideration again!

My Story (as posted last year):
I was with 3SI a very long time ago, around 1998-1999. At this time I had a Black 1994 3000GT SL and was very active in the forums back then, even held the famous North Shore Gathering. I've always loved the 3000GT platform from the day I set eyes on it. It was sad when I got the SL because I really wanted the VR4 but didnt know how to drive a manual transmission at the time. As a young teenager, I did everything I could (within budget) to that 94 SL, and loved it till the day I sold it for an all-year vehicle.
Seven years went by, and I constantly thought of that 94 SL and told myself that it was time to get back into the platform I've been in love with all my life.....but this time I knew how to drive a manual transmission. I searched for a good year for that perfect VR4, and then it came to me. A listing for a VR4 on eBay, many states away from me. The auction ended with no buyer, so I contacted the seller. I just knew this was the one, so I went out on a limb and just flat out purchased it and had it shipped to me. The day it arrived and was pulled off the trailer, I looked at it and said, "Are you ready for what is about to happen to you?"
I knew the VR4 was quick in its stock state, but I needed to push it to satisfy my visual and performance needs. I visioned what a brand new 99 VR4 would look like coming off the assembly line, with a mesmorizing shiny finish, then it ripping out of the factory faster than anything I've imagined....yes, that was what I was going to do to my VR4. The visual was in my mind already, but not the performance details. They say to have goals for performance, but I wasnt sure of my goals at first. I did my research, read what others were doing and sitting with some friends I said out loud my goals, "400awhp running 11's". I really didnt know what it would involve, I though just slap some stuff on it and hit the track.
So how was I going to make the car look brand new? My career is in the IT field, but my family roots in the Auto Body field. My father, an auto body teacher at a local Technical High school said, "Why dont you do it yourself?". I laughed, but then thought, "Could I?". I did. With the assistance of some really skilled auto body techs I got to work and stripped my car to nothing (changing the color required covering all the stock paint everywhere). Then, like a well oiled machine, I got to work....it took me the entire summer....stripping the car, installing VLS, sanding, welding, priming, sealing, painting, clearing, wetsanding, polishing...etc. In the end, it was just like my dream.
With the body out of the way, I started on the Audio. I thought, I'm a computer guy right, and everyone has a "car stereo"...why not be different. I decided on the CarPC. I knew this would be "easier" then the other stuff because this is where I am skilled. So I got to work, speced out the gear and ordered it up. Since the car was still gutted, this was a great time to do this. I built the CarPC and loaded all the software and spend time configuring it. Ran all the wires, installed speakers, subs, amps, gps...etc. During the body phase I even welded shut the stock antenna hole. I did everything by the book, used the right gauge wires, fuses, even a new Optima Battery. Once completed, I had an amazing(ly loud) setup, with a touchscreen and access to my entire MP3 library, Sirius radio, GPS, even USB webcameras hooked up to Sprint EVDO so you can watch me driving from anywhere over the internet. This setup appears to be more of the show stopper then the Body or Performance, go figure.
Finally, it was time to get the performance results I wanted. As much as I would love to say I did this, I can't. I had an amazing local shop (and well known on 3SI) ESP (Enhanced Street Performance) do everything. I met with ESP and discussed my goals (400awhp, 11's) and they gave me options. They went over everything I should need and we made a list of these items. I took one option (based on 15g's) they presented, but they stated that on their Mustang Dyno I would be looking at realistic AWHP of about 360-370. I knew I could do it. We setup the appointment for the VR4 for about a month after we met, this gave me time to collect all the goods. I'm not a big beleiver of hand-me-downs, so I pretty much bought 90% of all my performance gear brand new from the factory. In fact I should own stock in 3SX :) As ESP was doing the install of everything they would tune and do more, tune and do more...etc. I was getting close, but still 30-40awhp shy of 400awhp, then I decided on Methanol injection. I had them do the install and I am glad to say that while I didnt actually see the numbers 400 on the dyno sheet, I did see the numbers 396.1awhp which is good enough for me....i mean afterall, on a DynoJet thats about 420awhp.
This is where I am at now. I've always followed ROTM but never thought in my entire life I could ever build a 3S worth competing, but I think that has changed now. As I said, my love for the 3S platform is solid, 9 years and counting.
Future plans: While the interior of my VR4 is mint, even the leather, I do plan to replace some of it and make it look even more brand new. Leatherseats from Leatherseats.com is in my future, new panels.
As far as running 11's, well....the track isnt open just yet, but based on the techs from ESP as well as everyone on 3SI, my VR4 itself can do 11's 100%, its just up to the driver (me) to get it there. It will be there.
I'm so in love and dedicated to this platform that I designed and run a website dedicated to my VR4 called www.MyVR4.net , Check it out for TONS of pictures related to everything I spoke about.
-3SI member but never got number
2009 Gallery
[
edit
]
2008 Gallery
[
edit
]