Mudvaynedude122 (Sean Castle)
Jump to navigation
Jump to search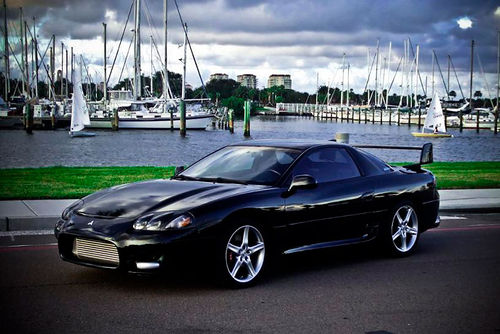 Ride of the Month Submission 3000GT/Stealth International December 2008
Body:
Full 99 conversion
Cianci 99 Spoiler
Suspension and Wheels:
18x9 Moda R6 Wheels
265/35ZR18 BF Goodrich KDW2 Tires
Intrax Springs
2nd Gen VR4 brake conversion
3sx adjustable rear control arms
Electronics:
Prosport 60mm Oil Pressure Gauge
Prosport 60mm Boost Gauge
Prosport 60mm Water Temp Gauge
Hand Held Halo Datalogger
Interior:
Smokin VR-4 Aluminum Shifter Ring
Engine:
Complete Twin Turbo engine swap
5 speed Getrag transmission converted to fwd
Greddy Front Mount Intercooler kit
ATS Twin Carbon Clutch
K&N FIPK
HKS SSQV BOV
MBC @ 15psi
Ebay Downpipe
Yogurt 4 inch single shot exhaust
Aluminum Radiator
SX Performance AFPR+Gauge
Solid Motor Mounts
HTS Red Couplers and T-bolt Clamps
Big Tyla ground wire kit
polished plenum, fuel rails and intercooler pipes
Optima Yellow Top battery
Weight Reduction:
cruise control delete
rear wiper delete
front and rear washer bottle removal
all engine heatshields removed
vacuum reduction
egr delete
removed all unnecessary brackets in engine bay
rear speakers and dash tweeters removed
trunk trays and jack removed
Audio:
Carpc with 7inch Touchscreen
Boston Acoustic front speakers
My Website:

My story:
I bought this car in October of 2005, it was a completely stock green 1995 3000gt Base model with 161,xxx miles on it, the first thing I wanted to do was a 99 front end conversion and instead of just painting the bumper green, I decided I wanted the whole car to be black. After the paintjob I got my brand new wheels and tires. I bought basic mods like a test pipe and air filter and lowered it a little. I bought a twin turbo conversion kit off a member on 3si only to have the engine spin a bearing in December of 2006. I decided to buy a jdm Twin Turbo engine at that point. It took me several months to save money up for the engine and everything else I would need. I bought the engine from JDM of Miami and stripped it down to the shortblock and cleaned up everything and also did a 120k service as well as convert the transmission to fwd by welding the VCU. After getting the engine in the car I ran into problem after problem. The caps leaked in the ecu and that was what was causing most of the problems. I got that rebuilt and was good to go after that. I did all this in my driveway pretty much by myself with very limited tools. Since then I have done a mod here and there but not much because I have been broke. Future plans include an awd conversion and 16g's.