Mirai Strife (Jessica Trboyevich)
Jump to navigation
Jump to search
2006 Ride of the Year

3000GT/Stealth International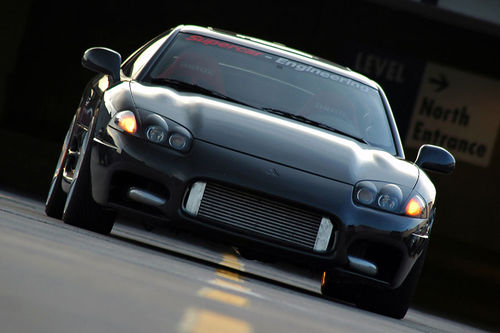 3SI Member #3162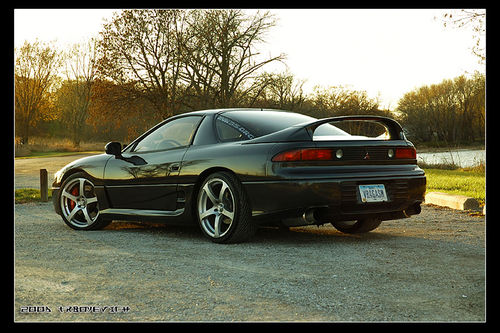 Engine Modifications:
Dynamic Racing DR500 Turbos
PPE Engineering Front Mount Intercooler
T-Clamps Intercooler Couplers
Greddy Type S BOV
Phantom Roadworks Downpipe and Exhaust
Denso Evo VIII 560cc Fuel Injectors
Walbro 255 LPH Fuel Pump (Hotwired)
EK2MFG Fuel Rail Adapter Kit
RPS Street Max Clutch
RPS Aluminum Flywheel
PST 1-Piece Carbon Fiber Driveshaft
EK2MFG Polyurethene Motor Mounts
Stainless Steel Clutch Line
EGR Blockoff Plates
Vacuum Line Reduction
K&N FIPK Intake
Samco Silicone Upper and Lower Radiator Hoses
Polished "GTO" Spark Plug Plate
Polished OEM Intake Plenum
Polished OEM Thermostat Cover
Polished Aluminum Dressup Kit
Polished Clutch Resevior Cap
Polished Oil Cap
Polished Coolant Cap
Electronics:
Greddy E-Manage Ultimate Engine Management System
Blitz DSBC Electronic Boost Controller
HKS Type 0 Turbo Timer
Scanmaster 3 Data Logger
Split Second ARM 1 Air/Fuel Gauge
Defi LINK 60mm BOOST Gauge
Defi LINK 60mm EGT Gauge
HKS 60mm EGT Gauge
Autopage RS-855LCD Security Alarm
Lo-Jack Security System
Exterior Upgrades:
'99 Front Bumper
Custom Fiberglass 99 Front Lip (Not Installed)
'99 B-pillars
'99 Rear Garnish
'97-'99 OEM Hoop Wing
2nd generation side skirts
Aftermarket Sunroof
Shaved Rear Windshield Wiper
Shaved Hood Windshield Washer Fluid Sprayers
50% Side Window Tinting
30 Rear Window Tinting
Interior:
Bride Pro Seats
Bride Seat Brackets
Gonzo Performance Short Throw Shifter
Mitsubishi GTO Ti Shift Knob
I/O Port 4-Point Roll Bar painted Sandstone Gray (Not Installed)
A-Pillar Pod 2x60mm
A-Pillar Pod 3x60mm (Not Installed)
Tire and Wheel Package:
Staggered Gewalt Evo II wheels 19x9 (Front), 19x10 (Rear)
Yokohama AVS Sport Max Summer performance tires 245x35x19, (Front),
275x30x19 (Rear)
Brake Upgrades:
StopTech ST40 4 Pitson calipers (Front)
StopTech 355x32mm AeroRotors Rotors (Front)
Race Concepts slotted/dimpled Brake Rotors (Rear)
StopTech 7075-T6 billet aluminum AeroHats (Front)
StopTech Stainless Steel Brakelines (All)
Axxis Ultimate Pads (All)
Motul 600 Brake Fluid (All)
Speedbleeders (All)
Suspension Upgrades:
Intrax Lowering Springs
3SX Adjustable Rear Control Arms
My story:
I was first introduced to the 3S community in 2003 when I bought a pearl white '92 Stealth RT. Upon seeing the car displayed in a place of honour on a raised spinning dial in all its pearl white glory, I knew I had to have it. Unfortunately, a week after I discovered the car I was also introduced to the periodic headaches that accompany 3S ownership: leaking capacitors in the ECU.
Fast forward a year, I grew more interested in my car and future modifications, and I was swept up in an obsession of the 3S platform. It didn't take long for the turbo bug to bite. At an Upper Midwest Gathering, I happened upon a gem of the 3/S world: a rare (1 of 136 made) 1993 Sandstone Grey VR-4.
In the short years I've owned the car, I have spent a lot of time trying to make a great car better. Making changes to make the car truly unique without going overboard, My goal has been to personalize her to my own tastes. In my quest to have one of the nicest all-around 3/S, nothing has been untouched… sometimes it feels like I've spent more time dreaming/wrenching on my car than any other facet of my life. Owning a 3/S really has become part of what defines who I am. This 3/S fascination has extended to my family as well: currently my father has my old Stealth RT, my little brother just bought a 3000GT SL, and my fiancé is preparing a heavily modified 3000GT VR-4 for NASA.
Overall there has been a lot of excitement owning this car from a 2am alarm install the starting day of NG05, driving on Road America for HPDE, much hated tint tickets, a crazy BOV, learning how to swap motors and transmissions, learning the in/outs of tuning and so on, but I wouldn't trade it for any car in the world! VR4GASM I think really captures the essence of my car, and as such is the name of my website and my license plate.
If you happen to see me or my car at any gathering come up and say hello. One of the best things about owning a 3/S is how much of a family we all are. Many of my close friends now are 3/S owners spread throughout the country. Now if I can only find some more girls that are as into cars as I am. My other girl friends just don't understand!
~Jess