MY923ksl (David Mennella)
Jump to navigation
Jump to search
2011 Ride of the Year

3000GT/Stealth International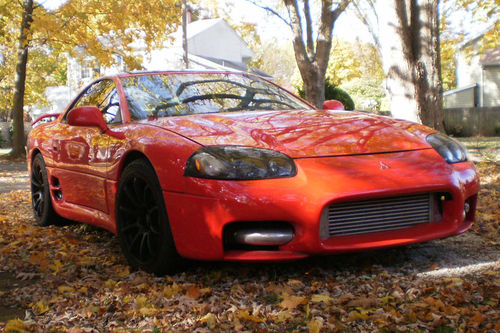 Ride of the Month Submission 3000GT/Stealth International December 2010
3SI Member #8702
Body:
99 front end
Smoked tail lights
99 rear garnish w/chrome emblem
vr4 Brake light
15% tints
Carbon fiber gas lid
Suspension, Brakes and Wheels:
Bc Racing coilovers
Saner front sway bar
Rota G-Force time attack 18x9 bfg drag radials
rolled fenders
stoptech st40 big brake kit (in posession, installing in winter)
hawk pads and cross drilled rotors on back
goodridge stainless brake lines
ate superblue brake fluid
Electronics:
Defi BF Boost,egt,water temp,oil temp,oil pressure,
AEM wideband
AEM EMS with 5 bar map and IAT sensors
optima battery
HKS EVC 5 boost controller "Ray P's favorite"
Interior:
Sparco Milano Bucket seats with wedge engineering bases
MY923ksl custom shift/ebrake boots
MY923ksl Alcantara wrapped door inserts/headliner/a-pillars/b-pillars/rear quarters/sun visors
custom carbon fiber wrapped center console lid
evo shift knob
Pampena Motorsports Custom 6 pt roll cage with swing outs
Engine:
Pampena Motorsports BUILT 3.1 w/custom ross pistons, oliver connecting rods, brand new mitsu crank
Pampena Motorsports Custom stage 3 ported heads w/1mm ferrea oversized valves, titanium retainers etc etc
Pampena Motorsports ported lower plenum
Pampena motorsports custom intercooler pipe kit w/greddy 3 row intercooler core
Pampena motorsports custom 3 inch intake pipes
tial blow off valve
Unorthodox racing cam gears
Power enterprises kevlar timing belt
Dynamic racing Header kit
Dynamic racing Intake manifold w/q45 throddle body
Precision 39mm wastegates
Custom precision 3082 dual ball bearing turbos (currently upgrading to gt35r's)
atr downpipe
custom 3 inch catback to dual apexi n1 mufflers
Accel thundersport wirs
HKS dli
Custom External fuel sump powered by an Aeromotive eliminator pump
Precision 1000cc injectors
Aeromotive Fuel pressure regulator
Custom dual feed system
powdercoated valve cover and misc pieces
Pampena motorsports spark plug cover
Pampena motorsports Custom front mount oil cooler
3sx crank pulley
Drivetrain:
5 speed conversion (rebuilt by pampena motorsports)
broomfield racing billet transfercase housings, mid and main
Pampena motorsports bellhousing brace
PST carbon fiber driveshaft
Pampena motorsports/Mark williams 300m rear axles
Pampena motorsports/Mark williams 300m output shaft
RPS carbon carbon clutch
Audio:
pioneer headunit and stock infinity speakers
My Website: Pampenamotorsports.com

My story:
For as long as i can remember i've loved these cars. So it was only natural when i turned 17 to buy a 3000. I owned a 92 non turbo for a few years and in that time i purchased a 1991 vr4 and slowly modified it until this year. This year the motor came out for a complete rebuild with all the bells and whistles giant turbo's, built motor and everything else. i had spent the better part of the year slowly gathering a garage full of parts to put on the car and was all ready for assembly when a customer at work (pampena motorsports) wanted to sell his 1994 vr4. Being that it had the same exact setup that i was going to put on my car, had half the miles, was the SAME COLOR and was worked on only by the guys at the shop it was a no brainer. The car was mine!! Immediately me and my brother (who also shares my screen name) began to transform the car from a 100% stock looking 1994 to the car you see before you. everything was taken out of the interior and replaced with mint pieces(door panels, pillars, console, boots etc etc), the entire body suffered from faded paint and was hand polished by myself, wheels and suspension were transfered from my 91 along with a 99 conversion and many other misc pieces. as of right now i am in the process of reworking all of the intercooler and intake pipes with larger 2.25 hot and 3.5 inch cold side and 3 inch intake pipes, the pictures below are before the new pipes are gonna be going on. in the past week 11/25 i lost the rear turbo and had the chance to upgrade to a pair of GT35r's, i'll be installing them as soon as the rest of my parts come back from powdercoating. also coming out is the POS 6 speed and being replaced with a 25 spline 5 speed w/300m shaft and bellhousing brace. as she sits she is currently making 650 awhp on low boost, if i'm finished with the upgrades planned by the end of december/beg january the car will be making in excess of 1000awhp.