Lawdogg (Ryan Lawlis)
Jump to navigation
Jump to search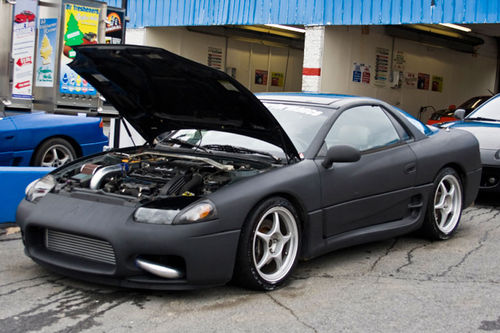 Outside:
Self-Applied-In-The-Parking-Lot Flat Black Rattle Can Paint
99 3000GT Front end w/ OEM lip
Wingless
Turn, roll, and stop:
Intrax Springs
Front & Rear Strut Tower Bars
Enkei 18x9 RP0-1 Rims, 21.1 lbs.
Falken Aziens RT-615 in the 245/40/18 variety
Carbotech slotted rotors
Hawk HPS pads
S/S Brake lines
Motul RBF600 Brake Fluid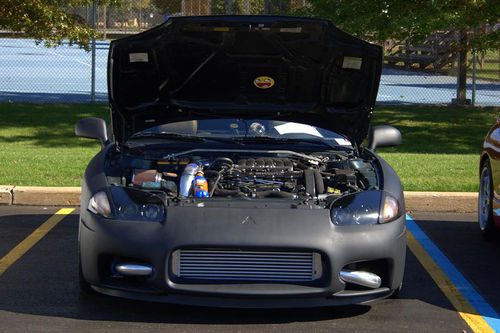 Electronics:
Miragecorp 'hybrid' datalogger w/ junk-free cable
AEM WB02
Autometer "I'm lying to you" Mechanical Boost Gauge
Greddy FATT
Greddy Profec-B Spec II
A'pexi SAFCII
Interior:
Self-Sewn black leather shift boot
Gutted-to-the-metal from front seats back
MOMO fake CF shift knob
ZOMG FRONT DOOR SPEAKERS FROM FAST AND THE FURIOUS TRICKED OUT EDITION
Engine:
Ebay Intake
Dejon Pre-Turbo Pipes
Rob Beck converted WRX 13T turbos, ported
New OEM shortblock from Cherry Hill Mitsu
N/A T-housing and no coolant lines
RC 550cc/min Injectors
AEM AFPR w/ Rob Beck adapter & ek2 FP gauge (set at 40psi base)
DN 3" downpipe, gutted precats, 3" testpipe, 3" ICH single shot catback
NOS Coolant Overflow
Home-made giant FMIC
NGK Plug Wires & NGK Coppers
40k mile old RPS Max PP & OEM Clutch Disc, w/ OEM flywheel
Racing:
11.8 @ 116 w/ a 1.6x 60' on pump 93 octane fuel and 17psi
2nd place finish in the NM Class of the 2008 Season of the NEPA-SCCA SOLO II series
Autocross Videos:

My Story:
I grew up with a matchbox car in each hand. A child of the electronics age, I can contribute parts of my upbringing to the Game Boy, Nintendo, Super Nintendo, Playstation, N64, and PlayStation2 ... so naturally, upon my discovery of the Gran Turismo series, I was hooked on Japanese sports cars - so with my life savings of $10k in hand, I set out to find an AWD, turbocharged, manual transmission car to fulfill my passion. My 3000GT VR-4 was hiding in the local paper, under a short heading "1994 3000GT VR-4: 120k miles, $10,000". One visit and I was hooked, and the car was mine within the week. It was completely stock, and was suffering from bad spark blowout and a badly leaking stock BOV.
Upon delivery of the car, I immediately started down the path of upgrading as I restored the car. I cured the spark blowout with a set of NGK wires and NGK iridium spark plugs, and the leaking BOV with a Greddy Type-S. After learning the first of many lessons from 3Si, I installed a real boost gauge and NB02 gauge. My first real mods were all done together: with a K&N intake, a 3" testpipe, and a MBC set to 15psi, the car went from peppy to FAST. I lowered it, put on lightweight rims, put in an RPS clutch, and headed to the track. While sitting in the staging lanes at Island Raceway in NJ, a short man with dark complexion popped up at my window - the famous Ray P. He advised me to rev the piss out of the car, dump the clutch, and hold on. So I did, and my first time ever at the track I ran a 12.7 @ 109. Now I was hooked.
Since then, I've been restoring the car while adding my own personal touches. It got a brand new OEM shortblock after my attempt at rebuilding the original short block spun a bearing on the dyno. I installed Rob Beck's awesome WRX 13Ts with 550cc injectors and a hotwired Walbro 341 fuel pump. I installed an SAFCII and obtained a junk-free Hybrid Miragecorp datalogger and an AEM WB02 gauge to tune with. I fabricated my own piping kit to go with my massive 34.5" x 11.5" x 3" FMIC core, to fill the entire opening of my 99 front bumper. Not liking my old, tired green paint, I took a chance and tried my hand and spraypainting the entire car ... and it came out great.
The 2008 season marked many accomplishments for me. I told myself years ago that I wanted my car to run 11's in DD mode. I accomplished that at the Maximal Performance 2008 Drag Day in NY, running a best E.T. of 11.817 and a best trap of 116.33 on pure 93 octane pump gas and 17psi of boost. I also competed in the 2008 NEPA-SCCA SOLO II series, in the Novice Modified class, beating out all competition for the season except for a full race prepped road-course veteran Celica. I am incredibly proud of all I've been through with the car, and what I've been able to accomplish, especially while being told by the people around me that the car is too heavy for autocross, and that it will never in a thousand years run an 11.anything at the track. In the meantime I try not to take myself too seriously, which explains the pedobear on the FMIC, the smilie face under the hood, and the NOS bottle as my coolant overflow tank. LOL!
In the future, I still have a few things I'd like to do. I hope to see a 120mph trap speed with a blow-thru setup and a Pampena tune. I plan on installing Saner sway bars and Megan coilovers. Like always, the wish-list is chock full of expensive mods ... but I'm very pleased with where the car is now, and hope I've impressed you enough to vote for my car for ROTM Nov 08!!
--Ryan

-3SI member