Jrod (Jared Holt)
Jump to navigation
Jump to search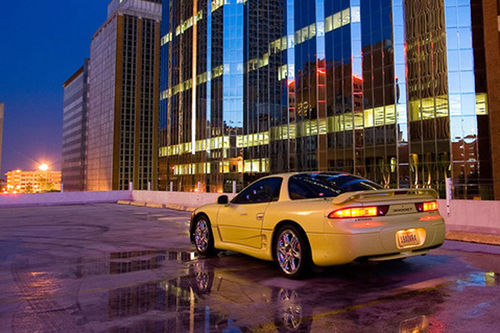 Ride of the Month Submission 3000GT/Stealth International June 2007
Body:
All 4 Corners:
factory chromies wraped in BFG KDW rubber
Slotted and drilled rotors
Hawk brake pads
Electronics:
Apexi AVC-R,
Cianci Tripple pillar 52mm w/ Prosport EGT peak and Hold, Apexi Boost Gauge, AEM WideBand
Shiver hybrid Logger
Greddy emanage ultimate
HKS Type 1 turbo timer
Interior:
Custom tan and black shift boot along with ebrake boot
MOMO pedals.
Corbeau Seats
Corbeau 4 Point Harness
4Point Blue Harness Bar
Suspension:
Cuzco Rear strut bar
front Strut bar
Tein S-Tech springs
Engine bay:
Custom Coach FMIC with pipe kit
Greddy Type-S bov
K&N filter
Blue powder coated plenum
MSD wires
Denso IK27 plugs
510cc INJ
T-bolt clamped everything
Stillen DP
Stage 4 clutch
DNP turbo pipes
VAC reduction
Walbro 255 pump hotwired
Ported Stock Mani's
13t Turbos

My Story (2008)
My whole 3/S obssesion started when i was in the 6th grade, i seen a black VR-4 and wanted it! My Junior year of HighSchool came around and my dad told me if I got a Full Ride to college playing golf he would by me a car, well guess what i got. My first pearl yellow 95 3/s, it was a base model that I dump a ton of money into and it was still slow! Fastforward to 2005, i went to florida to play on the Srixon Tour and found my current car. I found my VR-4 in Alabama, at Fort Rucker. I bought it from a retired Army Colonel he was the first owner. I sold my base model, it was fun having both for a few months. Then i moved back to Oklahoma then the Mods started! I got Keith Putman(CANENAC) to help along the way. And recentley put the 13ts and all the other supporting mods on and would like to say thanks to (JonsRt) and (Snax). And all others on here and Ok3s that have helped along the way, oh and thanks to Tom(Leet) for taking the amazing picture of my car on top of the building that made it into the calender this year.
-Jrod

My Story (2007)
I got my fist 3/s my senior year of high school. 95 pearl yellow base, got her with 120k on the clock thought it was the fastest coolist car i have ever seen! I had always like the styling of the 3000gt and just had to have one, at the time i had no clue on how rare the pearl yellow cars were. I found it in Sherman Texas me and my parents drove down and got here and loved it. I had the car up until the September of 06. I took a break from college for a year to go work at a Greg Norman golf course in Florida called Sharks Tooth. While i was in Florida that is where i found my VR-4. I found it on ebay in Alabama, so being in Panama City i took the 3 hour hike north to Dothan, Alabama where i bought this car from a Army pilot. He had owned it not even long enough to put a full tank of gas in it. He had bought the car from a retired Colonel when he got posted at Ft. Rucker, he had bought it for his wife but his wife had a hard time driving it due to the stiff clutch pedal. So I picked here up with 71k on it and it has been love ever since. I bought the VR-4 in January of 06 so i had both cars for awhile and loved it. Since being a 3si member and an OK3s member i have meet so many awseome people through the car. Making it to the Texas 06 meet in San Antonio and meeting all the Texas crew and having attended every ok3s meet i have meet some great freinds. Just want to say thanks to my girlfriend of 3 years for putting up with me for that long while i was building my dream car, and to Keith Putman (CANENAC) for all of his help building my dream car, And all the other people that have helped me along the way.
-Jrod
2008 Gallery
[
edit
]
2007 Gallery
[
edit
]