Jbeard1 (Jon Beard)
Jump to navigation
Jump to search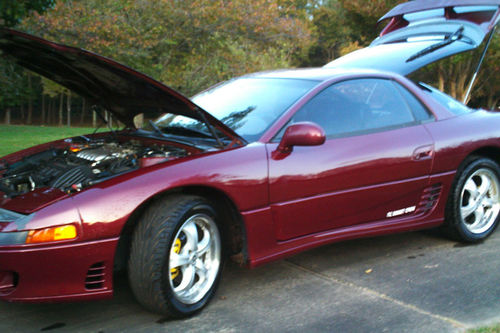 Ride of the Month Submission 3000GT/Stealth International November 2009
My Story
Hello everyone, my name is Jon Beard. This is my 3000GT history...
Back in 2007, my father and I purchased a Toyota Camry, with the idea of this being my first car. We drove it for several months, making a few trips to Florida in it, finally deciding it wasnt what I wanted, to "deck it out". I wanted a car that I could ride around with, and make people turn their heads.
We did some research, and looked on eBay. We found a car that I immediately fell in love with, and it was right in our price-range. The car was pretty beat up, but myself and my father decided it would be a "project car" (and boy it sure was...). We thought about it for a couple hours, and it was ending that night. We called the seller in hopes of making a deal, and he agreed on a flat price, and we won the auction. The car was located in NY, and we live in NC. That weekend on Friday afternoon (around 4PM) we departed NC, and started our journey with a truck, and a large 4 wheeled trailer, and off we went. We finally found a hotel around 4AM, somewhere along the way. Next morning arrived, and we departed once again at 7AM. We arrived finally at the seller's house at approximately 1-2PM. We picked up the car, paid the seller in cash, and off we went. Going down the road, we had people look at the car on the trailer (even with all the mess-ups the body had). We paid about 60 dollars per toll we went through, and we started our journey back home, and arrived Sunday morning around 10AM.
We have recovered the car from what appeared to be a senseless driver... There was several things that we found out was wrong while working on it, and still to this day. Its been a ongoing battle with this car, but its a memory myself and my father will be able to remember forever.
Things we have replaced/fixed/changed are:
Passenger Fender - twice
Alternator
AC Pulley
ECU Module
Several underbody guards
Exhaust
Calipers (Now yellow)
Radio (Now an LCD Screen)
Full Sound System :D
Other Misc. Objects - Interior