Jackhammer (Wayne Hietala)
Jump to navigation
Jump to search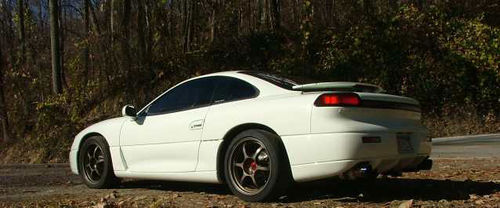 Body:
Cianci Viper Hood
Tinted Windows
Suspension and Wheels:
Eibach Lowering Springs
KYB GR2 Struts
Upgraded Front and Rear Sway Bars
Cusco Rear Strut Tower Bar
Goodridge SS Brake Lines
Slotted Rotors
EBC Brake Pads, Green Stuff Front/Red Stuff Rear
Black Racing 18x9 Pro-N1 Wheels
Electronics:
Interior:
Custom Leather Shift Boot
Custom Leather E-Brake Boot
Engine:
4 Bolt TT Engine With TEC 13G's
91 TT ECU, CAS, Harness, and logger port
91 TT Heads
5spd TT Getrag Trans W/Speedfreak Insert
Short Shifter
M-Spec Braided SS Clutch Hose Kit
M-Spec Braided SS Oil Feed Lines
Samco Radiator Hoses
Hollow Precats
Stillen Downpipe
Custom Exhaust with dual Megan Carbon Mufflers
Dave Best Polished and Powdercoated Plenum
Powdercoated front valve cover
HKS Powerflow Intake
Fisher Underdrive Pulley W/Dampener
M-Spec Brake Booster Hose Kit
Audio:
Panasonic Single DIN Head Unit
My story:
The first time i saw this car is when the previous owner brought it to me for a timing belt service back in about 2003. He bought it from the original owner who was a relative of his. After i did the timing belt for him, he continued to bring it back to me for various upgrades for next few years, including the TT conversion which i completed on the original NA engine in 2004-2005. A couple years ago he broke some pistons and the car was put in storage. While in storage, he purchased his fathers RT/TT and lost interest in getting this running again, but wanted it to go to a good home.
Ive always loved this car so it was at that point i made him an offer to buy it and he accepted. In Sept of 09 i made a trip up to Mn and spent 2 weeks building and installing the 4 bolt engine for it and drove it back home to Tn. Along with the car, i got all the service records and reciepts from him and the original owner. Im happy to have rescued this car from what could have been any number of other fates. Here are some more pictures i have taken of it. http://s646.photobucket.com/albums/uu190/thebatmovile/White%20car/?albumview=slideshow

-Jackhammer