JBA3 (James Anderson)
Jump to navigation
Jump to search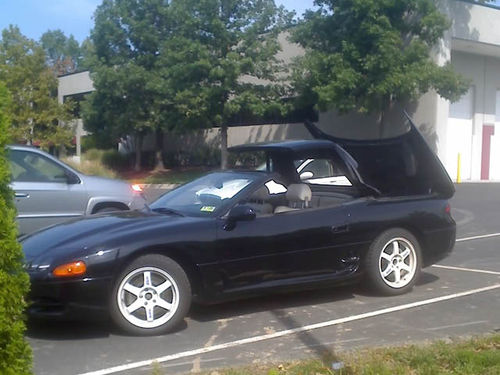 Ride of the Month Submission 3000GT/Stealth International October 2008
Body:
Sensual Stock, fully repainted
Suspension and Wheels:
Volk TE37, 17x9, white*
Tein lowering springs (pending install)
Supercar Engineering caliper stiffening bolts
Hawk HPS front pads
Electronics:
Interior:
Custom Black/White shift boot (blackstealth)
Engine:
Borla Catback (pending install - waiting for downpipe)
Y-Pipe (in the mail)
Cone filter (in the mail)
Audio:

My story:
When I turned 16, the 1995 spyders were just hitting the showroom floors. I wanted one. I wasn't getting one at 16. It'd be quite a while.
While poking around the internet, I saw one up for sale on eBay. I bid, and lost. I turned to AutoTrader, but nothing in my price range. I looked on cars.com, and bingo! Just listed yesterday. It was late so I saved the number and called the next day at work. That afternoon, I told him I wanted it, but I was second in line. The next day, I was at the bank getting a check. Two days later, I was on an airplane to Tennessee!
However, it was a world of problems. I took it to a dealership for the 90k service, and they said it needed nearly $4k worth of repairs. I declined new tires, new brakes, and a few other things, opting to go aftermarket. Seemed to irk them, as when I came to the dealership, they swarmed to the car and said they hadn't seen one in years ... some of them had never seen one! I picked up the car the next day; it made it roughly 30 miles from the dealership before completely dying in the middle of the road. The clutch was fried.
I had to get the car towed back (9pm) and then the dealership got an estimate on the clutch replacement. I was given a 25% discount, but it was still well over $2k. I was not happy at all. I drove 650 miles back from Tennessee with NO issues on the clutch. How it gave out 250 miles later is anyone's guess.
After waiting half a month for the clutch, I finally got the car back. It was winter time, so it saw little driving time. I took it to work one day when it snowed, since it was AWD (option #2 was a RWD V8 trans am). I parked it at my parents house, on the curb. Later, a 17 year old with only a learner's permit would t-bone it. Another 9 months in a body shop, a busted top, and insurance fraud screwing me (from the body shop), I took the car home. It would spend another year in the garage getting a brake kit and some other stuff done.
I decided to take a nice summer cruise in the car, nothing but a stoptech brake kit and a turboback. No boost controller, no intake, nothing else. A kid in an older M3 kept messing with me. I let it go, but he was persistent. Then, I whupped him, hard. About 15 miles down the road, I heard a popping sound, and the car tried to stall. It was dark out, so I couldn't see much. Thought I blew an IC pipe. Unplugged the MAF, and tried to just limp it home so I could reclamp it later (done that on the evo numerous times). Then the clicking got louder. Louder than lifter tick. Long story short, it spun a bearing. With the motor almost out, my rear turbo line is seeping.
The car still sits in my garage, trying to finish pulling the motor. It blew a year ago this month. The end goal for that one is 3.1L and evo16g. It already has the 14" StopTech kit, 19x8.5 ASA JH1 wheels, and (need to be painted) Cianci front (vented) and rear widebody fenders.
I love the 3S platform so much, I bought a red 95 VR4 coupe back in february to renew my passion and help motivate me to fix the spyder. I did '99 sail panels, '99 garnish, '99 front end (took it off the spyder), MP3 head unit, black carpet, and a few other things. Then, a black 95 VR4 spyder came up for sale. Time to strangle my bank account for money again. :-D
A couple weeks later, check in hand, I took a train to Connecticut. That night, I drove all the way back to Charles Town, proud owner of not one, but two VR4 spyders!
First thing I did was swap the Volks from the coupe to the spyder. Before I even had the keys, I ordered a black/white shift boot from blackstealth. I have a high-contrast black and white theme. Next on the list is LeatherSeats.com seat covers; white door inserts, black seat covers with white inset. Also, black carpet and black center console panels.
This spyder will be just BPU; intake, exhaust, boost controller. Nothing too crazy. I know it's not heavily, and barely even lightly modded, but I thought I would take a shot at ROTM. I'll get updated pics with the shifter boot/ebrake boot and intake/y-pipe before the end of the week.
~ JBA3