J-Groove (John Hervert)
Jump to navigation
Jump to search
3SI Member #592
Body:
'99 Rear Garnish
'99 Head Lights
Suspension and Wheels:
17X9 5Zigen FNO1RC
1st gen TT Brake Upgrade
PRM/Carbing 3 point front strut bar
Addco F&R sway bars
Bradi Slotted Rotors
SCE Stiffening Bolts
Intrax Springs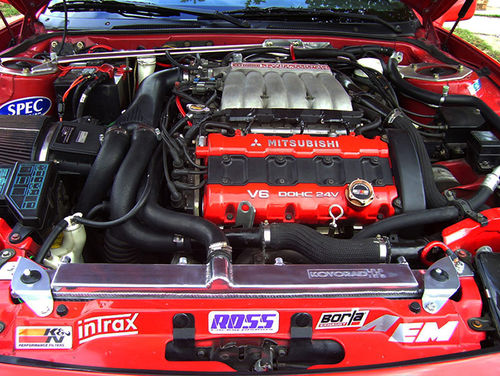 Electronics:
Defi Blue Racer boost & EGT
GReddy profec-b spec II
HKS Type 0
AEM UEGO WBO2
APEXi SAFCII
Mirage Corp. data logger
'93 TT ECU
Interior:
LeatherSeats.com black and charcoal with red stitching seats
Mobo Leathers black with red stitching shift and eBrake
Custom Door Sills
Cianci Duel Gauge Pod
Toni's blue interior led mod
Engine:
Ross 9:1 pistons
GReddy type S w/ Rob Beck adapter
IPS 3" cat back
Random Tech 3" high flow cat
Borla TT cat back
K&N FIPK
Walbro fuel pump
Fex-A-Lite fans
Koyo radiator
'99 style lifters
(Rob Beck 13T w/ 550cc injectors installing this month)
Drivetrain:
Ohio Spyderman short throw
Spec stageIII clutch
SFR LSD insert

My story:
I first got her in November of 1999, I had just turned 18. The 3S had always been a dream car for me ever since I first saw my neighbor's '91 Stealth R/T TT. My car was wrecked and totaled out by her first owner, this was not disclosed when I first bought the car, and actually did not learn about it until after I had the car for a couple of months. She had her fair share of problems due to the accident, but instead of letting go I wanted to fix what was wrong and learn while doing it.
Mods started light, aimed more at cosmetic (leather interior) than speed. After reading of Gatecrasher's TT conversion back in 2000 I knew that I wanted to go forced induction at some point.
After I got interested in AutoXing I started moding the suspension and brakes. Makes a world of difference. These FWD cars actually start to handle decently after some work. It was not until the beginning of 2006 that I started researching and slowly buying parts for forced induction. Anyone who hasn't already can read of my on going and crazy experience with my quest for more power; http://www.3si.org/forum/showthread.php?t=351127 fair warning. It may talk you out of TTing your N/A.
Though even with all my issues, I love my car and appreciate the time and money I've invested. If I had to do it all over again, there is no doubt that a 3S would still be in my driveway.

-John