IcelandGTO (Hjalti Sigurdsson)
Jump to navigation
Jump to search
2010 Ride of the Year

3000GT/Stealth International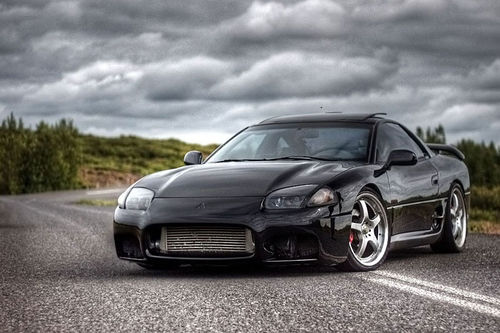 Body:
99 conversion front
94 Stealth glass headlights
HID 8000k Xenon
All windows tinted, even the front wind screen
Private Number Plates ( 1BAD TT )
Suspension and Wheels:
K sport coilover
3SX Adjustable Control Arms
3SX Drilled performence Rotors
Devino 19"x9" Wheels
Michelin Pilot Sport PS2 255/30zr19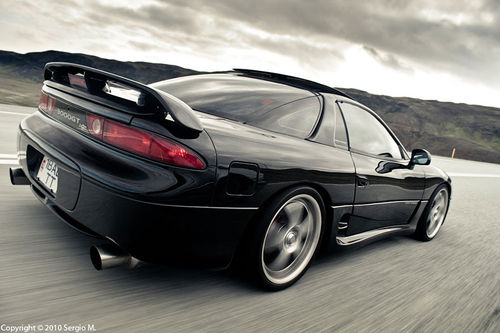 Ride of the Month Submission 3000GT/Stealth International February 2008
Electronics:
Apexi AVCR Boost Controller
Apexi Safc 2 Fuel Computer
Apexi Rev/Speed Meter
Apexi boost gauge
Apexi Air fuel gauge
Blitz FATT dual turbo timer
SHiVeR's 94/95 Hybrid Datalogger
Interior:
Stock leather seats
100% stock exept gauge pod
Engine:
Top end rebuild in spring 2009
Bottom end rebuild in spring 2010
HKS 3" downpipe
3"straight pipes
Blitz nur spec mufflers
HKS cold air intake
HKS Super Sequential Blowoff Valve
Front mount intercooler
Exedy Clutch (Stage 2)
Fidanza Light Weight Aluminum Flywheel
3SX Custom Crank Pulley
Aftermarket Y-pipe
Walbro 255 fuel pump, Rewired
3SX Polished Spark Plug Cover
Audio:
stock head unit
stock trunk mounted 6 disk cd changer
Pioneer 360W rear speakers
Pioneer 200W front speakes
My Website:

My Story:
My story with my VR4 started in late 2005. At the time I had a 1993 SL, which caused me many problems and I had a mind to change into a better and more powerful car. One day in February 2006 I saw this car for sale at great price. It was rather ugly, bad paint, Bomex fiber plastic bumper, terrible wheels and the car was in 4x4 mod. At the time i didnt care about how ugly it looked. But slowly, I went to collect the accessories, first I had to change this devastating bumper out for 99 'front. Next were the wheels and Suspension. I continue to improve car until I had become very satisfied with the overall outcome in 2007. that year the VR4 took part in a local car show and got a good reception.
I also took part in many quarter mile competitions that summer w/the best time of 12.6@107. After the summer of 2007 the car went into storage during the winter as usual. While i was working to improve it for the summer . In the spring 2008 the car is back on the street, I took it to about 600 miles road trip in June. but after that I used the car very little, except one night then I decide to take it for a little drive down town. I was driving around a street that's known for street racing. Well, all of a sudden a taxi driver is half asleep and comes in from a side street just before i reach the intersection. I swerve and try to get past him but i crash into the taxi. An impreza was at the scene too and also crashed trying to swerve away. The police comes to take reports. A woman comes out and says to the police that "they" were racing(I was not). And subsequently the insurance company refuses to pay the damage. The frame was crooked by several inches. In fact, the frame was beyond repair.
Now I had to decide what I wanted to do. Whether I was going to leave this platform or try to rebuild the former glory of this car. The car was in storage over 2008. In the spring 2009 i buy a 1995 SL shell.. Well after ALOT and ALOT work( many many 24hours of straight work) and 100% body shell swap , (Z11A-FWD to Z16A AWD) Full 100% engine/turbo and gearbox rebuild Auto to 6speed ,SL to VR4 - wireing , interior , brakes even the same type of wheels are Purchased. The VR4 is back togeather. Only in a new shell but same heart. The "new" car looks 100% like the old one. This summer was very fun. The car has never been better or more beautiful. Put a lot of miles on it and it never broke down on me. After i pick it up from the winterstorage this spring (2010) it spins a rod bearing. It's currently back on the road after a full bottom end rebuild. This one will never be sold.
Video tribute to the VR4 > http://www.youtube.com/watch?v=pGcSq2GXutE
-3SI member
FWD Auto SL to 6speed VR4 Swap Thread
August 2010 Gallery
[
edit
]
February 2008 Gallery
[
edit
]