I3igpete (Pete Nguyen)
Jump to navigation
Jump to search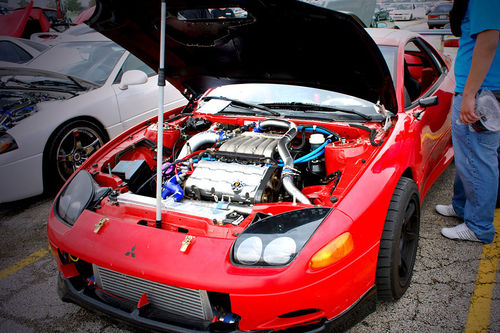 Engine Power:
Titan Bending TD05 kit
MHI EVO3 16G turbos
Turbonetics dual-port WG actuators
ATR downpipe (customized)
ICH Yogurt! 4" exhaust with HKS Supra Carbon-Ti muffler
Boostaddict custom FMIC w/ 4" core
LSE Performance 272 cams w/ high rev springs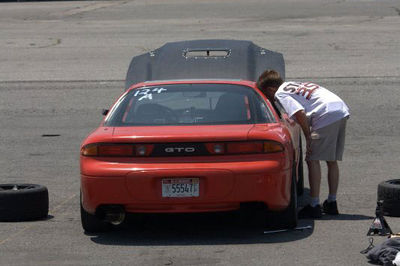 Engine Other:
Maximal solid engine mounts
Supercar Engineering high-capacity oil pan
Ishihara-Johnson windage tray
Boostaddict prototype tool steel oil pump gears
JVTR radiator
SPAL/FAL slim fans
Samco coolant hoses
TRD Radiator Cap
Spoon Sports S2000 Thermostat
Setrab 40-row (11" x 13.25" x 1.75") front oil cooler
TiAl 50mm BOV
MSD wires/NGK V-power 8-range plugs
Broomfield spark plug plate
Dry cell motorcycle battery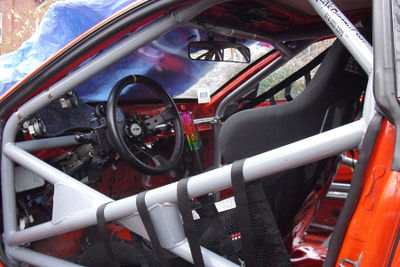 Drivetrain:
South Bend DXD-F clutch
PO-Machine bellhousing reinforcement
PST carbon driveshaft
Fuel:
Dual Walbro pumps
-10AN to dual -6AN fuel lines
Aeromotive fuel filter
EK2 Development fuel rails
FIC 1150cc injectors (upsized PTE 1000cc)
Aeromotive FPR
Suspension/Wheel:
Megan Racing coilovers
Maximal rear control arms
FN01R-C matte black wheels 17x10
TOYO RA-1 or R888 slicks, 275-40-17
Falken RT-615 street tires, 275-40-17
Carbotech XP8/Panther plus pads
Goodridge SUS brake lines, speed bleeders
Exterior:
Deft Racing carbon hood
Road/Race Engineering hood scoop
MadMattsAuto roof plug
APR carbon side mirrors
Ciro Design X-Prepared wing w/ CDR uprights
OMP FIA-spec tow hooks
Sawzall front bumper
Fomex front lip
JDM taillights, Roo-banger GTO garnish
Electronics:
AEM EMS in speed density
AEM boost control
AEM UEGO wideband
SPA Design-UK oil/water/fuel gauges
Defi 115mm monster boost gauge
Interior:
Izzys custom cages NASA TT spec
I/O port window nets
Schroth right head net
Longacre panoramic mirror
Sparco EVO2 Seat
Sparco 6pt harnesses
Ebay special steering wheel w/ MOMO hub
Supermac prototype tall shifter w/ brass bushings
Mad JDM Tyte shift knob
Other deletes:
Morgans Motorsports wire tuck
Cruise control (*GT short throttle cable)
F/R windshield squirters
Rear wiper
Cruise control
A/C (incl. fusebox)
HVAC system (incl. heater)
All stereo equipment
Fog lights
Active aero
Horns
Shifter counterweight
Rear seats and all OEM belts
All interior panels (dash, door panels, trunk)
spare and jack
Current Weight: 3172 lbs before rollcage, 3340 lbs after

My Story:
I originally knew DaveSlow from high school and we worked together his and some other guys' cars when we'd come home for break during college. Shortly after graduating he told me about a great deal from this guy on the board, RoVR4. If you went to the early NG's up to NG05, you might remember the license plate "GOPIGGO". It was the typical wife-wants-it gone thing. Within a week I picked up this well modded 15G car for just 8.5k, hell of a steal.
I started with stripping out the back seat because they were inaccessible because of the harnesses Ro had put in. At the time the radio didn't work because I didn't have the unlock code, so I bought a replacement head unit from ebay. When I got ripped off, I got pissed and decided that the car no longer deserved a radio and immediately ripped out the rear side panels. Perfectly logical, right? Well if those panels are missing, you might as well take out the head liner because my head rubs the roof when I have a helmet on... and so the strip out started in anger. It was the same way with the engine bay. The cruise control got stuck while the throttle was at WOT one time, and I decided then and there that it had to go. The list went on for quite a while after that.
As you can tell from my mod-list, I have a no-nonsense approach to how I wanted to build the car. My first few times out on the track after buying the car I managed to almost peg the temperature gauge to the top, which was pretty scary. I eventually scored a bunch of rare/custom parts from Wayne (Boostaddict). I'd say I have a bit of a paranoia about keeping the cooling/lube systems working in top condition, and the bumper cut is an important piece of that puzzle. At the last NG where it was 95-100 degrees out, on track my oil temperatures peaked around 220 degrees and water temperatures peaked around 200 degrees. Cruising around my oil/water temps rarely go above 175/160. Every mod on the car has been put there for a reason... usually.

-Pete

Warmup lap at Blackhawk Farms VIDEO