Hans@GZP (Hans Ertl)
Jump to navigation
Jump to search
1994 Dodge Stealth RT/TT
[
edit
]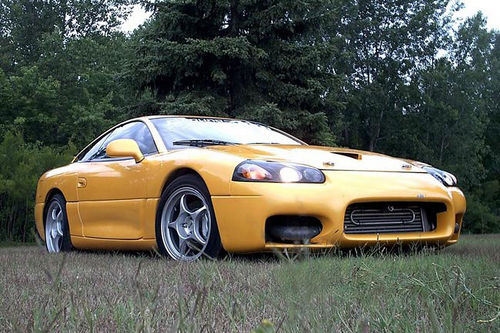 3SI Member #432
Modifications
15g ported turbos
680cc injectors
MAF-T
AEM FPR
Stillen DP
HKS Super Dragger
GZP FMIC
Fluidyne Radiator
Fidanza Cam Gears
S-AFC
Extrude Honed Intake Manifolds
Ohio Spyderman short shifter and 65mm TB
DN Intake Pipes
HKS EVC IV
AEM WB02
UR UDP
DN Headers and Rear Precat Elim
AC Delete
NX Interchiller
NX wet shot
NX Automatic Bottle Heater and Opener
Hot Wired Supra Fuel Pump
Cusco Rear Strut Bar
Intrax Springs
Enkei RP-01 17x9 Front 18x9.5 Rear
99 Front End
Cianci Performance Viper Hood
Lambo Yellow Paint Job

My Story
I bought the car back in the summer of 2002 off of an autotrader ad that gatecrasher had so kindly showed me since he knew I was looking for a pearl yellow stealth. This was sitting on some used car dealership lot with a blown engine, mismatched paint on the front bumper, torn leather seats, and totally mismatched sizing on the tires. It had the stock chrome 94 stealth TT wheels which, in my opinion, look really bad. I immediately changed the wheels to a set of Enkei RP-01's while the car was still on the trailer. I also put on a 99 front end and pitroad m carbon fiber hood at the same time. The car was initially built with a low mileage junkyard engine (which is still in the car today) along with a set of new 13G turbos, a FMIC, HKS SSBOV, and a supra pump. Those were the main mods done to the car as soon as I got it started for the first time. It has gone through a lot of changes since the beginning and a hit and run by a tow truck made me decide to change the color of the car. The tow truck took out my driver side tail light and the whole rear 1/4 panel. I had a new 1/4 panel welded on and the whole car painted lamborghini yellow (engine bay and door jambs as well). Now it is what you see in the pics, and I'm pretty happy with it :).
1991 Mitsubishi 3000GT SL
[
edit
]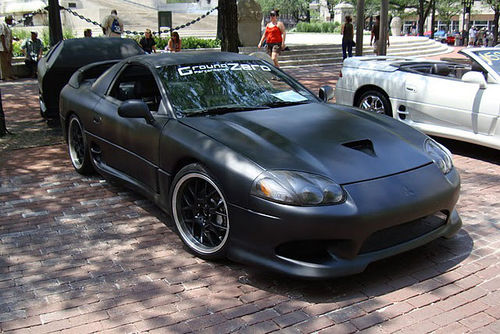 Ride of the Month Submission 3000GT/Stealth International August 2010
During the rebuild process it received the following mod list:
98 SL engine
5 speed fwd transmission
UR aluminum flywheel
UR aluminum underdrive pulley
Ksport coilovers
Custom 2.5" exhaust w/Apexi Dunk muffler
TEC front strut bar
19x8.5 wheels
Hot rod black paint job
99 headlights and turn signals
Customized Extreme Dimensions Version 2 front bumper
2g headlight buckets
Full wiring swap (body and engine) from a 98 SL (flashable ECU)
Hoop spoiler
99 sail panels
Full 2g body conversion
VIS Evo CF hood

My Story
I'm Hans Ertl and this is my 1991 3000GT. I'm member number 443 on here and my 3SI sticker says 432. The car was purchased brand new in March of 91 by my father and was handed down to me in April 1998. In the years I have owned it the car has gone through many setups and a lot of down time. It was the first car to have a documented automatic to manual trans conversion on 3si (back in 1999). This was after blowing up 3 automatic transmissions while spraying a 75 shot of nitrous.
The car also got a turbo conversion back in 2000. This was one of the first few to have been accomplished. Well, that lasted about 3 hours before it spun a bearing. After that, the car was put down for a while (about 9 years).
Last year the car was put together for the National Gathering in Memphis, TN. There the car won 2nd place best exterior modified. It made it to the East Coast Gathering in OC, MD this year as well as the National Gathering in Indy where it won 2nd place best exterior modified again.
Before the NG this year, Colt45GTO and I built a trailer out of the back half of a 97 SL to match my car. It was a gruelling 2 days with no sleep, but we pulled it off. Big thanks to him for the help. Without him and my neighbor we never would have had it done. Next on the list for the trailer is an integrated charcoal BBQ and a cooler.
This is what the car looked like for the 9 years it sat around.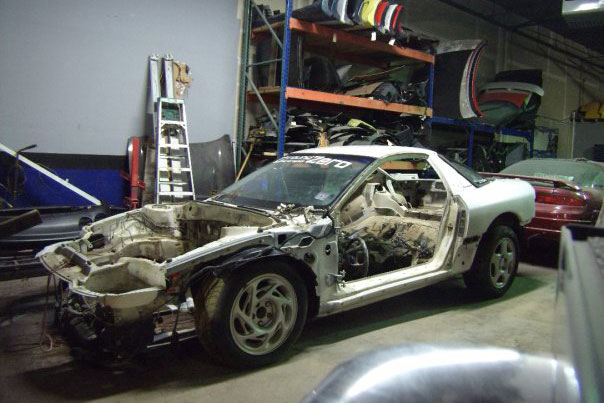 Here is what it looked like at last years NG and this years ECG.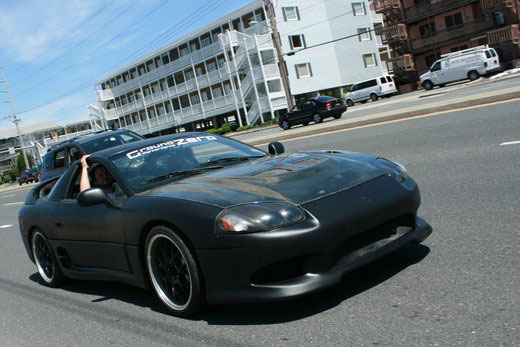 After the ECG I had wanted to change hoods. We had an old CF Viper hood that didn't fit (that we bought knowingly). Well, we went to test fit it, and low and behold... it did fit. So, we painted that to match the car and did a 6G74 swap in the process. The 6G74 has a set of twin turbo heads on it with oversized valves and turbo cams. It still has all of the same mods as the list above minus the TEC strut bar. With the new hood and engine, there just wasn't any room.
At the NG I did a quick reflash on the car's ECU which improved gas mileage 3 mpg while towing the custom trailer we had made (from 21 to 24 mpg). Big thanks to Gatecrasher for staying up late and making me a definition file before I left for the NG. At the last NG we had experimented with the flashing and found out that it works. So, this was the first 3/S with a flashed ECU. Lots of history with this car.
Here are some pictures of the car from this years NG with the custom car trailer.