GearheadVR4 (Michael)
Jump to navigation
Jump to search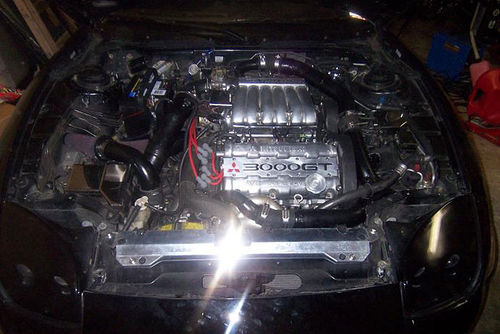 Ride of the Month Submission 3000GT/Stealth International May 2008
Engine Bay:
92 Rebuilt engine with forged crank
TD05 manifolds with MHI EVO 3 16g
Maximal solid mounts
basically a stock motor
front mount 3" w/custom intercooler and intake pipes (welded and fitted all by me) w/ Tbolt clamps
SS oil lines(feed and return)
MSD 8.5mm wires with NGK V-Power copper plugs
polished plenum, valve and spark covers, plus a engine cover kit from Ultimate Performance
kevlar timing belt
vacuum reduction done with new hoses
Optima Red Top battery
Walbro 255 fuel pump
Body:
97-98 Style front bumper
smoked headlights and clear turns
2nd Gen hood
2nd Gen sideskirts
99 Rear Center Garnish that goes perfect with the 1st Gen rear bumper
99 Sail panels (needs put on when I get off my lazy butt)
Drivetrain:
complete 6 speed transmission and drivetrain conversion
OFE Stage 3 Clutch (from Southbend Clutch)
Suspension and Wheels:
adj. control arms
Intrax springs with stock KYB
18x9 Blitz Type 03 wheels wrapped in Nexen N3000 tires
Electronics:
Blitz SBC i-D III boost controller w/ Power Meter
Maft Pro w/Speed Density
blitz dc2 turbo timer
LC1 Wideband
Palm m515 with custom mount and charging station
Interior:
Complete changeover to black/charcoal interior
new floormats and rit dyed carpet
custom visor mount for Blitz SBC i-D III boost controller w/ Power Meter
Intake & Exhaust:
Borla exhaust
gutted cats
stillen downpipe
k&n filters & custom intake pipes
Audio:
In-Dash DVD Receiver w/ 4" LCD & GPS
Infinity speakers all around
accidentally drove thru automatic carwash with antenna up mod....
changed out stock antenna for shark attack II

My story:
Just finished in time for the May 2008 ROTM! I'm happy to finally be a part of the 16g TD05 club. I'm slowly learning tuning so I've only had it up to 15psi so far. But even at 15psi she had some power. I could feel the VR4 really wanting to open up and haul ass. It was tough to keep it restrained. My benchracing dyno estimates the power to be right at +500awhp. :-) The new 6 speed shifts beautifully and the clutch really grabs great. I had to do a couple tuning tweaks and change my spark plugs and oil often. 720cc injectors will foul plugs easily if you don't have it setup right. The MAFT Pro has a learning curve and it's tough for a beginner tuner to figure this stuff out but I'm getting there.
The new interior is great. I'm so glad I went with jet black carpet, floormats, and headliner instead of the tan. Headliner will be in pretty soon. The charcoal seats (will be black with new leather) are in pretty good shape so i'm happy enough for now with them. If I could ever find the black interior peices I would change all of that too. I have the Maft Pro in the glovebox. I need to come up with a nice mounting plate for it, maybe some smoked plexiglass. I have a nice mount for the M515 logger that's easily readable, plus it charges the Palm at the same time. My visor mount for the Blitz SBC id and power meter is very slick looking. Pretty rare from what I've heard.
Just a little history... I got this car a couple years ago in rough shape. Flew out to Tennessee on a one way ticket scared to death I made the wrong choice selling my Supra turbo and Stealth TT. I did get the VR4 for a good price though. I have to tell you that the ride back from Tennesee with no A/C, no radio, in an unknown quality car was rough. It had 15g turbos and a couple supporting mods already done but the fit and finish just wasn't there. Wouldn't boost and just ran like shit and looked like shit. It was so bad that i was too embarrassed to show up to meets driving the thing. I had eventually got most of the mechanical bugs worked out when the timing belt slipped and trashed my heads. Once that happened I decided to do it right and go big. My dream has always been to have a 500+ hp car that makes me wet my pants when I hit the throttle. I think I'm almost there. We shall see soon...
Everything you see in my sig was done by me (with some technical help here and there from the local DFW crew, THANKS GUYS!) This car has been reworked from the ground up. Totally different beast now. The engine bay looks 10x better with polished parts, chrome covers and custom tdo5 intercooler pipes. The front bumper, hood, and side skirts have been swapped with 97-98 style for a more updated look. Perfect match for the huge intercooler. I have some 99 sails to go on and also considering a hoop spoiler too. Not sure yet. So much stuff was done that's not even listed that I don't want to even know how much it all cost. With the money I spent, I could have easily got another low mile VR4.
I'm soo happy right now! The first time that boost from the 16g hit I swear I got a stiffy.