Gatecrasher (Jeff VanOrsdal)
Jump to navigation
Jump to search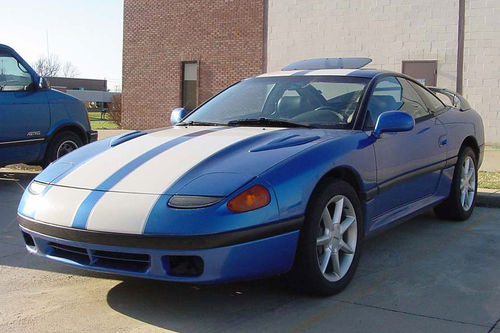 Message from the Community
In honor of all of his hard work and dedication, we've awarded Jeff's ESX the Ride of the Month Award.
I'll let Jeff's own words describe what he's done with this car.
Jeff's Story
After 9 long months, I finally have my car back It has actually been running for around 3 weeks, but I decided to hold off on announcing it to make sure the engine didn't grenade on me .
For anyone new to the board in the last 9 months, what we have here is a 1991 Stealth ES with a hybrid twin turbo engine. 1999 4-bolt short block assembly with 1992 heads and engine management system. I sent the heads out to GT Pro to be rebuilt (great work, by the way ) and bought a new OEM short block from Mitsu. I did all the assembly work and R&R work myself, with assistance from some friends.
I will be doing a full write up on the car and the integration process for the turbo engine, as well as the 2-bolt to 4-bolt block conversion. I let my April 8th date slip, but the end result will be good, I promise.
Some things I've noticed while I've been driving it:
Pros
DAMN is this car fast I haven't even taken it over 4000 rpm yet (trying to be nice during the engine break in). God knows what a 5500+ run will be like.
Cons
My car NEEDS a new suspension. Between the torque steer and the loose joints, this thing tracks EVERY little notch in the road, and tends to wander.
I have a lot of rattles to fix.
1st gear SUCKS. It's way to short for the amount of power I'm running through it.
Problems
Squeeky AC idler pulley. Gotta replace that.
My transplanted turbo brake calipers aren't in great shape. I need to rebuild or replace them. Brembo maybe?
My idle controller motor is acting funny. Most of the time it idles right at 700 rpm, but sometimes it bounces around or almost stalls. Gotta do something about that....
I won't really be happy till I'm sitting in a bar in Ocean City raising a glass to this monster. My knuckles are scared, my back is sore, and my bank account is dry. But so far, it's worth it.
I'll post more info when I have it.
Jeff "Gatecrasher" VanOrsdal