GTOGIRL3000 (Jackie Kassen)
Jump to navigation
Jump to search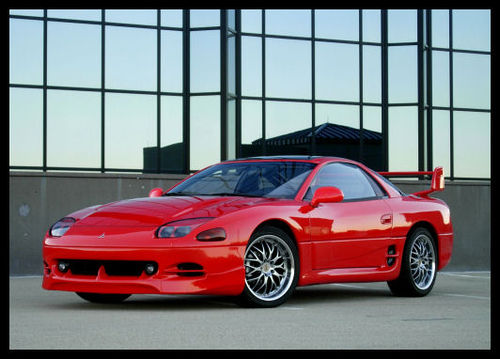 Ride of the Month Submission 3000GT/Stealth International September 2006
3SI Member #2569
Body:
Factory Paint Job (still Lookin like new!)
99' VR-4 Spoiler
Bomex Lip
Engine:
Twin Turbo Conversion (and supporting mods)
Automatic to manual trans swap
SFR LSD insert
ATR Exhaust
DNP Y-Pipe
Polished Plenum
Custom Powder Coated Valve Cover
Dave Best Polished spark plug plate
Walbro 255 Fuel Pump
Gutted Pre-Cats
Random Technology High Flow Main Cat
Exedy Clutch
3SX polished various covers
Suspension, Brakes, and Wheels:
KYB GR-2 Struts
Eibach lowering Springs
Addco front & rear sway bars
Cusco Rear Strut tower bar
3SX front strut tower bar
A.Z.A 18x8.5 wheels
Yokohama ES100 tires
Rotora Slotted Rotors
Axxis Ultimate Brake Pads
Electronics:
Defi Boost Gauge
Defi EGT Gauge
AEM Wideband 02
Apexi SAFCII
Apexi Turbo Timer
Interior:
3SX Shift boot
3SX e-brake boot
Autometer Gauge Pod
Audio:
Alpine head unit
Eclpise Amp
Kicker CVR 12" Sub
Custom sub box
My Website:

My story:
Well to start, I officially became the proud owner of my car August 3, 2001. I remember that day like it was yesterday, 5 years later. I didn't know much about it at the time other than knowing it was gorgeous to me, my first love. I had no idea that it would become what it has. Without my car I never would have met my other love (Andrew) and so many other great friends. My car remained stock for a couple years, then did some really minor bolt-on stuff. I became sick of driving an automatic eventually, and wanted my car to be faster. I tossed around the ideas of doing a TT conversion and switching to a manual trans. Talked to a few poeple about it and basically got the same answer "Why not just sell your car and buy a VR-4". That cleary wasn't an option to me, as I always have said to myself and will continue to say "I will never sell my car." So I then decided to start collecting parts for my 2 conversions and set a goal date for March '06 to start the projects. March came around, and the madness began. And yes, it was sooo worth it! I couldn't be happier with it, except for having no traction sometimes! But I gotta love it. Next years plans are coming together, another motor pull, more upgrades, more fun! I can't wait, stay tuned.

-Jackie